WHOLE 30 TIPS, RESOURCES, AND SHOPPING LIST
SHOP THE POST

Who else wants to kick off the new year feeling refreshed, healthy, and ready to take on 2019 like a BOSS? JOIN US as we crush the Whole 30 journey to get fit, eat clean, and build a positive community TOGETHER. In this post, I will provide you with Whole 30 tips, a shopping list, my recipe of the week, fitness fashion ideas, and other resources to get you off to a successful start. 
WHOLE 30 TIPS: Let's Do This
Heather from My Life Well Loved and I first introduced Whole30 to you guys 2 years ago. It was SO.MUCH.FUN. SO, by back by popular demand, we are doing it again this year, partnering with the oh so fabulous Jessica from Happily Hughes and the cutest mom Molly from Stilettos and Diapers. Jess is a fitness GURU and healthy living blogger, so make sure you check out her post about the Pros and Cons of Whole 30. Molly has an amazing Whole30 Meal Plan for January up on her blog that is such a great resource. One of my favorite posts from Heather was busy mom Whole30 must haves to help you stay on track while on the go. I highly recommend you check it out! Also, make sure you join the Life Lutzurious Facebook Group and Heather and Jess's Whole30 Honeys Facebook Group, where you can find Whole 30 tips, recipes, ideas, successes, etc. Both are awesome communities to share successes, vent, and inspire each other everyday. In my group, feel free to post your recipe ideas, questions, success stories, vent sessions (ha), or really anything fashion, style, mom, fitness, travel, etc related.
Preggos and breastfeeding mamas: I crafted a post JUST FOR YOU to help you complete the program successfully, while keeping your baby and milk supply healthy! You can find the Whole30 While Pregnant post here. As most of you know, I am still breastfeeding Holden, so I will be making some modifications with you. Also, here is a fun Whole30 Facebook Live that Heather and I recorded last year that includes a lot of great ideas for pregnant ladies and breastfeeding mamas.
Lastly, make sure you stay in touch via Instagram, Pinterest, and Facebook, so I can get to know you better! Feel free to email me anytime at [email protected] or DM on any of the above social media channels to introduce yourself. I love meeting my peeps! Lastly, make sure you join the VIP group, so you can get my MOST PINNED Whole30 Shopping List delivered to your email.
[full_width]
[/full_width] [one_half padding="0 2.5px 0 0″]
[/one_half][one_half_last padding="0 0 0 2.5px"]
[/one_half_last] [full_width]
[/full_width]
---
WHOLE 30 TIPS: WHAT DOES THE PROGRAM ENTAIL?
From the Whole30 website...this blurb explains the program perfectly:
"Certain food groups (like sugar, grains, dairy and legumes) could be having a negative impact on your health and fitness without you even realizing it. Are your energy levels inconsistent or non-existent? Do you have aches and pains that can't be explained by over-use or injury? Are you having a hard time losing weight no matter how hard you try? Do you have some sort of condition (like skin issues, digestive ailments, seasonal allergies or fertility issues) that medication hasn't helped? These symptoms may be directly related to the foods you eat – even the "healthy" stuff. So how do you know if (and how) these foods are affecting you?
Strip them from your diet completely. Cut out all the psychologically unhealthy, hormone-unbalancing, gut-disrupting, inflammatory food groups for a full 30 days. Let your body heal and recover from whatever effects those foods may be causing. Push the "reset" button with your metabolism, systemic inflammation, and the downstream effects of the food choices you've been making. Learn once and for all how the foods you've been eating are actually affecting your day to day life, and your long term health. The most important reason to keep reading?
This will change your life.
We cannot possibly put enough emphasis on this simple fact—the next 30 days will change your life. It will change the way you think about food, it will change your tastes, it will change your habits and your cravings. It could, quite possibly, change the emotional relationship you have with food, and with your body. It has the potential to change the way you eat for the rest of your life. We know this because we did it, and tens of thousands of people have done it since, and it changed our lives (and their lives) in a very permanent fashion. (Need convincing? Just read some of our stunning testimonials.)"
---
WHOLE 30 TIPS: BEST PRACTICES
Meal Planning: Sundays are my favorite day for this!

Plan out meals for the week
Grocery shop ahead of time
Prep your food (wash, chop, and organize)
Cook if you have limited time during the week
VERY IMPORTANT: Make sure you READ LABELS. If you are unsure about a food, check the label and apply the Whole30 rules.

Accountability // Communication

Participate with a friend or group (Join the Life Lutzurious Facebook Group to join a fun group to stay motivated!)
Make sure your spouse, friends, family, co-workers, etc understand what you are doing, so they can support rather than derail.
If you slip up, don't give up! Call a friend, write in your journal, and start over the next meal!

Stay OFF the Scale // Other Ideas to monitor progress

Measure before, during, and after
Take note of how your clothes fit
Take before and after pictures

Keep It Simple

Recipes are fun, but sometimes it's easier to cook a lean protein and veggies
Clean out your pantry to avoid a slip!
Utilize a food delivery service, such as Nourish Foods (use code LUTZ15 for 15% off) OR a grocery shopping service, such as Shipt (use this link for $10 off!)

Make It Fun!

AVOID thinking about the foods you CAN'T eat and FOCUS on the foods you CAN eat.
Reward yourself with small prizes throughout your journey
Do it with a partner!
New workout clothes! Purchasing new gear ALWAYS gets me excited about working out. Right now, I am LOVING Carbon38, Terez, Ultracor, and Beyond Yoga. I have linked the outfit you see in this post at the beginning and the end, as well as some budget friendly attire!
---
WHOLE 30 TIPS: SHOPPING LIST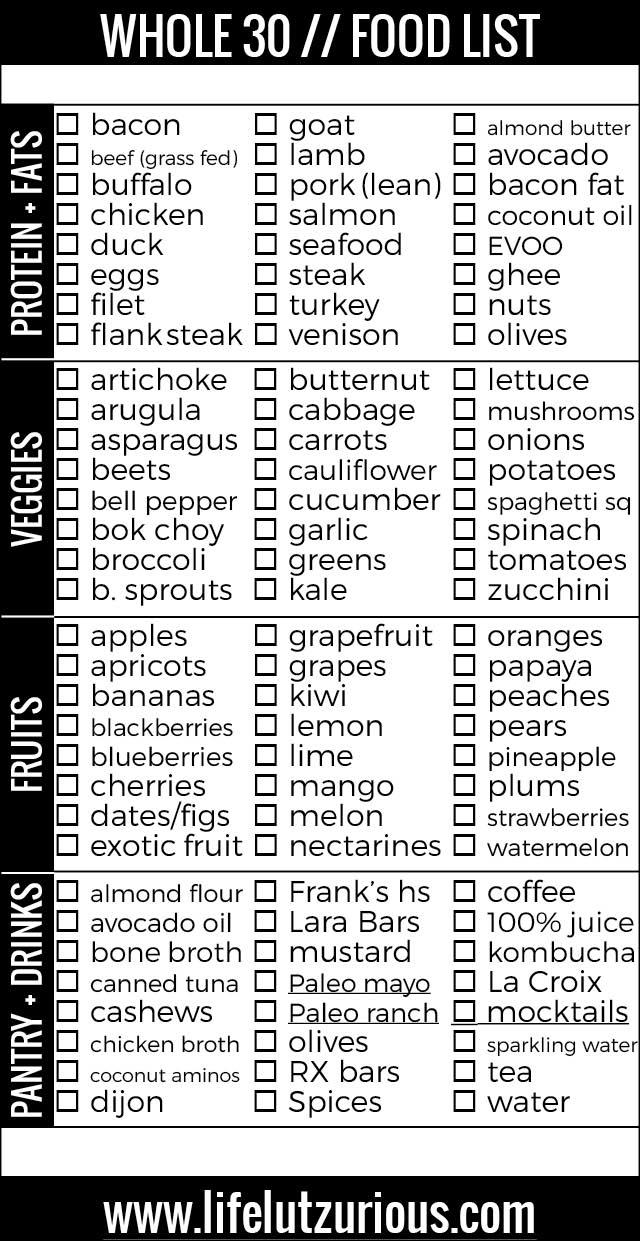 ---
WHOLE 30 TIPS: MEAL IDEAS
Recipes are a LOT of fun to make, BUT they are also very time consuming. Each Sunday, I will provide my "Whole 30 Recipe of the Week" to give you guys some inspiration for the week ahead. HOWEVER, do you want to know what makes my diet so successful? I keep it simple. Think meat + veggies or simple crock pot meals. We also double our portions, so we typically make 2 dinners and 2 lunches out of one "meal". Make sure you are following my Whole 30 // Pinterest Board for tons of recipes and resources.
Here is a typical day for me:
BREAKFAST: 2 eggs, half an avocado, small handful of berries, black coffee
SNACK: organic baby carrots and ranch (add this handmade ranch seasoning to this DELISH Paleo Mayo to make a Whole 30 approved ranch dressing). I am also OBSESSED with Tessemae's! Their ranch and mayo are TO DIE FOR.
LUNCH: Cold Crisp Salad (great recipes HERE and HERE) or super foods salad with chicken (LOVE the Naked Organic Rotisserie from Whole Foods for an easy option) or salmon
SNACK: RX Bar (these are CRUCIAL)
DINNER: 5 ounces of salmon, steamed veggies (try broccoli, red onions, garlic, and mushrooms with some salt, pepper, and turmeric), and a sweet potato
---
WHOLE 30 TIPS: Kitchen Tools
Here are some of my ride or die tools that make Whole30 much easier. You can also find these tools, some fitness fashion, and foods we eat in my Amazon Store under Healthy Living.
3 Tier Steamer Set (water in the bottom, protein in the middle, veggie on top…cook for 7-12 min, depending on the meat, and VOILA! CANNOT, and I repeat CANNOT live without this item.)
Slow Cooker (love this budget friendlier Crock Pot option)
Glass tupperware for food prep/storage
Fun Water Bottle (Keeps water SUPER cold, and it is perfect to use for wine AFTER Whole30 :))
Freezer Lunch Bag (One of my FAV purchases. It's great for storing breastmilk too mamas!)
Silicone Egg Cups (absolute MUST HAVE…so clutch)
---
WHOLE 30 TIPS: RECIPE OF THE WEEK
LINDSEY'S FABULOUS FRITTATA
I absolutely LOVE this frittata. It makes a TON of food that can really be eaten for breakfast, lunch, or dinner. It really will last an entire week. It is super clean but also very filling. Enjoy!
Ingredients
-1 medium tomato
-1 small bell pepper
-1 jalapeno (remove the seeds)
-handfull of mushrooms
-1 small yellow or Vidalia onion
–8 eggs
-1-2 tbs coconut milk
-bacon to put on top
-1 clove garlic
-1 cup of spinach finely chopped
-basil for garnish
-basil chiffonade for garnish
-salt, pepper, and hot sauce to taste
Steps
Preheat the oven to 350
Chop the veggies (I typically use a food processor)
Salute the onion and garlic in olive oil
Then, add in the rest of the chopped veggies, adding the tomatoes, mushrooms, and spinach LAST.
Add salt, pepper, and hot sauce to taste.
While this is cooking, whisk the eggs with coconut milk, salt, pepper, and hot sauce.
Once the veggies are done sautéing, add the egg mixture into the pan (cast iron or oven-safe pan)
Let this cook until the edges start to look done.
Once this happens, bake in the oven at 350 for 12-15 minutes. It will start fluffing up when it is close to being ready.
The last 2 minutes, I switch to broil.
Once it's done, top with bacon and basil chiffonade and SERVE with a side of fresh blueberries.
---
WHOLE 30 TIPS: ADDITIONAL RESOURCES
Original Whole30 book: I HIGHLY recommend you read this.
Instagram, following hashtags #Whole30Jan, #JanuaryWhole30, #Whole30, #Whole30approved, #whole30recipes
I LOVE these single serving Whole30 recipe ideas
---
WHOLE 30 TIPS: FITNESS FASHION INSPO
When I am working out, I love my gear to be stylish but more importantly COMFORTABLE. I typically prefer leggings over shorts, especially when running or knocking out my favorite WOD. This versatile outfit will take you straight from the gym to running errands. I love the neutral colors, and the liquid finish of the leggings adds some edge and sleekness to the look. A lot of you have heard of the Nike VaporMax sneaker…yall, they are DIVINE. I highly recommend these or the Adidas UltraBoost. If you are into Crossfit like me, I cannot recommend the Nike Metcon 4 athletic shoe enough. They are THE BEST! I just ordered the all black pair myself.
[full_width]
[/full_width] [one_half padding="0 2.5px 0 0″]
[/one_half][one_half_last padding="0 0 0 2.5px"]
[/one_half_last] [full_width]
[/full_width]
SHOP THE LOOK
TAKARA LIQUID LEGGINGS (wearing an XS)// RALLY TANK (wearing a SMALL) // NIKE VAPORMAX (sized up 1/2 a size)// SWELL BOTTLE // UNDER $100 GYM BACKPACK // CAMO SPORTS BRA (wearing a MEDIUM) // ROUND CAT EYE SUNGLASSES

---
WHOLE 30 TIPS: MORE HELPFUL BLOG POSTS
WHOLE30 // FAQs // PALEO RANCH // EASY TUNA RECIPE
Whole30 Approved Cauliflower Soup
HOW TO EAT CLEAN WHILE TRAVELING + A SUPER EASY TRAVEL OUTFIT
CAN I DO WHOLE30 WHILE PREGNANT?
NOURISH FOODS: IS IT RIGHT FOR YOU?
---
SaveSave