MY MORNING CLEAN SKINCARE ROUTINE
Alright ladies, are you ready to convert to clean beauty? I've got you covered with my morning clean skincare routine, and EVERYTHING IS 15% OFF. It will improve your skin drastically, smoothing out the texture, eliminating fine lines and wrinkles, and brightening your entire face. Plus, it may even help with certain skin issues. Seriously, let's get our glow on, amirite? To shop, click on the image or the name of the product. Let me know if you have any questions!
MY MORNING CLEAN SKINCARE ROUTINE: TOP 6 RIDE OR DIE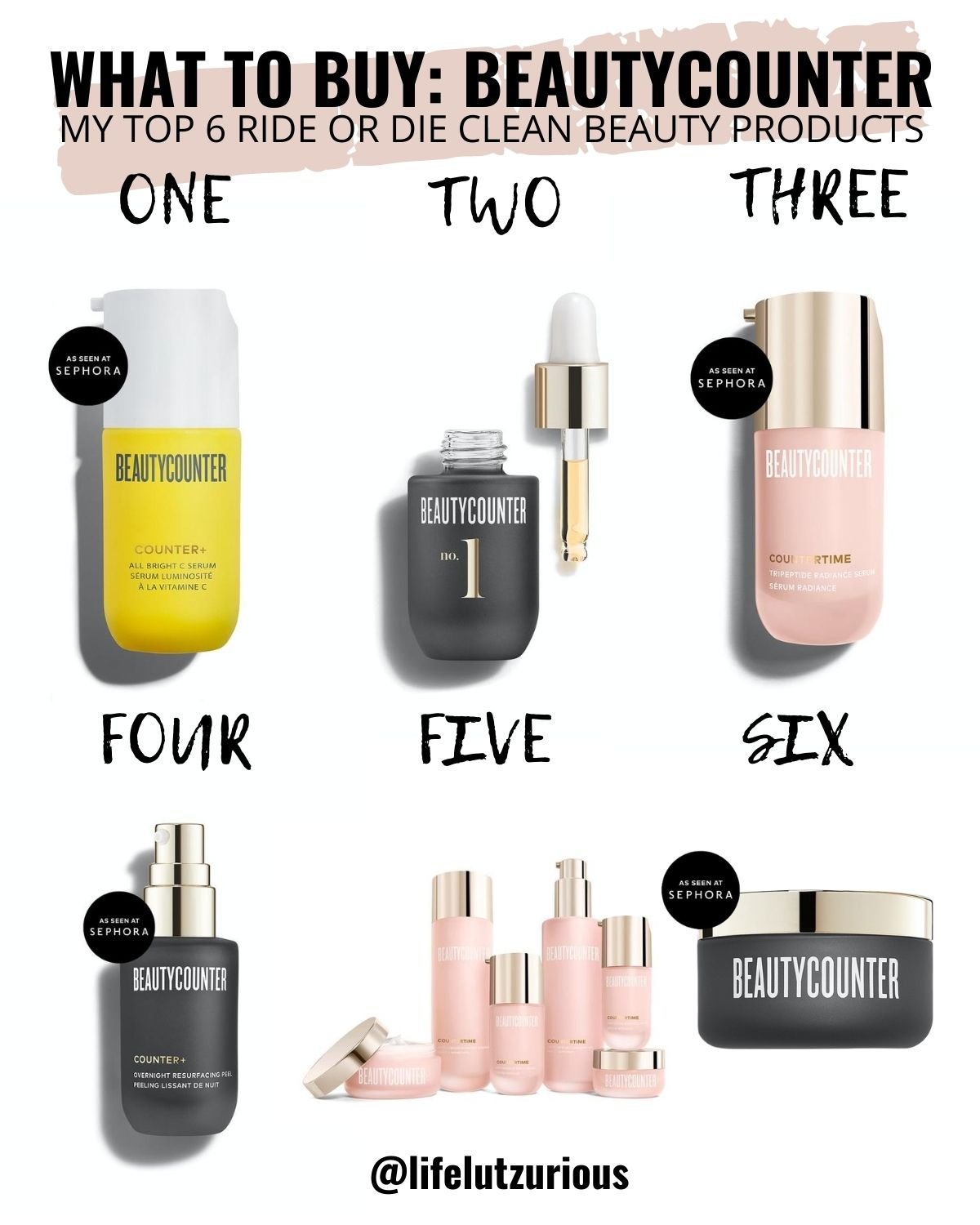 If you don't want to purchase everything but also don't know where to start, here are my top 6 products (ok, I lied…8 actually) in no particular order. You can read more about the products below, but I wanted to give you a simple list. They can be used day or night! In addition to these products, don't forget your sun protection (SPF 30 should do).
STEP ONE: CLEANSE
This cleanser is AMAZING. You apply it "dry," then rinse off. It's not greasy AT ALL (no excess oil) and removes all your makeup really well. I am not sure if you guys are familiar with Asian/Japanese technologies, but they are EXPERTS in skincare. This product was inspired by those technologies.
If you prefer a cleansing balm, this is it! I am OBSESSED with this product and alternate it with the cleansing oil. You can also use it as an overnight mask.
STEP 2: HYDRATE
MINERAL BOOST HYDRATING ESSENCE
I feel like this is similar to a toner without the toner "sting." That's the best way I know to describe it. Its purpose is to hydrate your skin to prepare it for the next steps. I pat it all over my face, forehead, neck, and chest. It has a milky texture that will make your morning clean beauty routine feel so glamorous.
STEP 3: BRIGHTENING SERUM
This serum has changed my life! It makes my face look smooth, bright, and hydrated. Even if I am lazy and skip the Hydrating Essence, I always use the serum as part of my morning regimen.
Another AMAZING option is the Countertime Tripeptide Radiance Serum. I use this one at night, and it has done wonders for my skin as well. I love the milky, non-greasy texture!
STEP 4: EYE CREAM
This product is change your life awesome. I have to admit, when I first started using it, I didn't notice a huge difference. BUT after about a week or two…whoa. I have not been drinking enough water, have been staying up way too late, and have been drinking way too much. And my undereyes STILL look so much better.
STEP 5: MOISTURIZE
For my morning routine, I LIVE for this product. It makes your face look bright, smooth, and tight. I love how it feels, leaving absolutely ZERO greasiness. It truly illuminates your face! Oh, and it's clean beauty as well.
If you want to stick to the Beautycounter regimen, this is the daytime moisturizer I use. It feels so velvety and smells SO GOOD. My skin feels hydrated and I love that. Additionally, this moisturizer absorbs really well and helps my makeup go on smoothly. It is formulated with Retinatural, which is a clean beauty alternative to Retinol. 
BONUS STEP: BRIGHTEN
Ok this is hands down my favorite BC product. If you watched my makeup tutorial on Instagram Stories, you saw that you can also mix this with your concealer or foundation to make the application smoother and less thick. You can also apply it after you moisturize to up your glow game. One drop is all it takes!
COUNTERTIME COLLECTION
COUNTERTIME COLLECTION REGIMEN
If you prefer to buy an entire regimen without dealing with the individual products, I highly recommend the Countertime Collection set. Everything you need is in this set (morning and night), but I want to break it down my morning routine specifically for you. Also, the great thing is you use the same products for day and night, with the exception of a moisturizer and a serum. There is a lighter cream for daytime and a supreme cream for nighttime. Also, I opt for the Bright C Serum for day and the Radiance Serum for night. You can also purchase the Countertime Mini Set (100% recommend), which is perfect for traveling or trying the products on your skin type without committing to the full size.
Tell me about your morning skincare routine below!
As always, if you have ANY questions, please feel free to email me. I am happy to help! This regimen has completely transformed my face, both from "switching to clean" to the way may skin looks. Lastly, if you are interested in becoming a consultant, please let me know. I can help you with that as well!