ASHER'S MODERN MICKEY 2ND BIRTHDAY PARTY
SHOP THE BIRTHDAY PARTY DETAILS

Ohhhhhh TWOOOOO-dles! Asher's Modern Mickey Birthday party is LIVE. If you guys know me, party planning is ranked right up there with Gucci, ranch dressing, chips and salsa, college football, and wine. While I do have a strong disdain for commercially licensed characters, it only made sense to celebrate our Main Man's 2nd birthday with his "girlfriend," Minnie Mouse! Remember his black and white, modern 1st birthday party last year? You will definitely see some similarities.
MODERN MICKEY BIRTHDAY PARTY TIPS
DO IT FOR THE KIDDOS
When creating my mood board for the party, I focused on 4 things: modern, monochrome, mickey-inspired, and of course FUN! For 2 year olds, there definitely needs to be some entertainment. I thought of bringing in Mickey and Minnie characters, but after I thought about it, I feared Asher would end up scarred for life and actually hating his self-proclaimed girlfriend. So, we moved away from that and decided to bring in a bouncy house and create a fun kid's table.
Although it was a cool 95 degrees out that day, the kiddos spent most of the afternoon in the bouncy house, throwing popcorn and food EVERYWHERE, and playing in Asher's oh so chic ball pit. Yes, I realize chic and ball pit should never be used in the same sentence, but this one really is cute. And what Mickey party is complete without Mickey ears??? Get out your ears, it's time to say CHEERS!
PARTY MUST HAVES
I knew I wanted a functional, yet adorable kids table, amazing food (and dranks) for the adults, balloon garland, and all the Mickey and Minnie and touches I could add to create a loose theme, all while keeping the party chic and modern. The food table with the cutest cake you ever did see was the focal point of the party (and that balloon garland though), setting up the Mickey theme alongside the adorable kid's table. I will MAKE SURE to create a tutorial on how to create the balloon garland. It is SUPER EASY. Maybe a YouTube video??
CHIC, BUDGET-FRIENDLY DECORATING TIPS
See, a kid's party CAN be chic AND fun. Here are a few tips:
1. Pick a theme and stick to it LOOSELY, adding touches here and there.
I loved giving everyone Mickey ears to wear, coordinating our outfits, and utilizing balloons and cookies to put it all together. If you notice, I chose a grid pattern to compliment all the Mickey. This created cohesiveness, while keeping the party chic and modern.
2. Utilize food staging to create a beautiful focal point of the party without spending additional money on decorations.
3. BALLOONS.
Another easy decor idea, balloons are simple and inexpensive and add a whimsical touch. This is a great way to establish your color palette without overdoing it.
4. KIDS TABLE.
I LOOOOOVE adding a kids table. It is less expensive to decorate, and you can use the tables AFTER the party. I paired 4 tiny kids tables with mix and match stools. All are from Ikea (I find it's easiest to order via Amazon). This proved to be cheaper than renting tables AND the kids had a blast sitting together.
5. CAKE.
Everyone loves cake, right? You are going to spend the money anyways, so use the cake as a another focal point of the party. I LOOOOOVE the naked cake featured below. We added black icing and a Mickey ear cake topper to keep the cake on theme without having to use a commercial Disney character.
6. PARTY FAVORS.
Again, something else you are going to provide for your guests anyways. When choosing favors, don't waste money on crap no one will use. For this party, we provided a koozie with the party logo for the adults, tattoos for the kids, and cookies for everyone to enjoy.
---
THE PARTY PICS
[full_width]
[/full_width] [one_half padding="0 2.5 0 0″]
[/one_half][one_half_last padding="0 0 0 2.5″]
[/one_half_last][full_width]
[/full_width][full_width]
[/full_width][one_half padding="0 2.5 0 0″]
[/one_half][one_half_last padding="0 0 0 2.5″]
[/one_half_last][full_width]
[/full_width][full_width]
[/full_width][one_half padding="0 2.5 0 0″]
[/one_half][one_half_last padding="0 0 0 2.5″]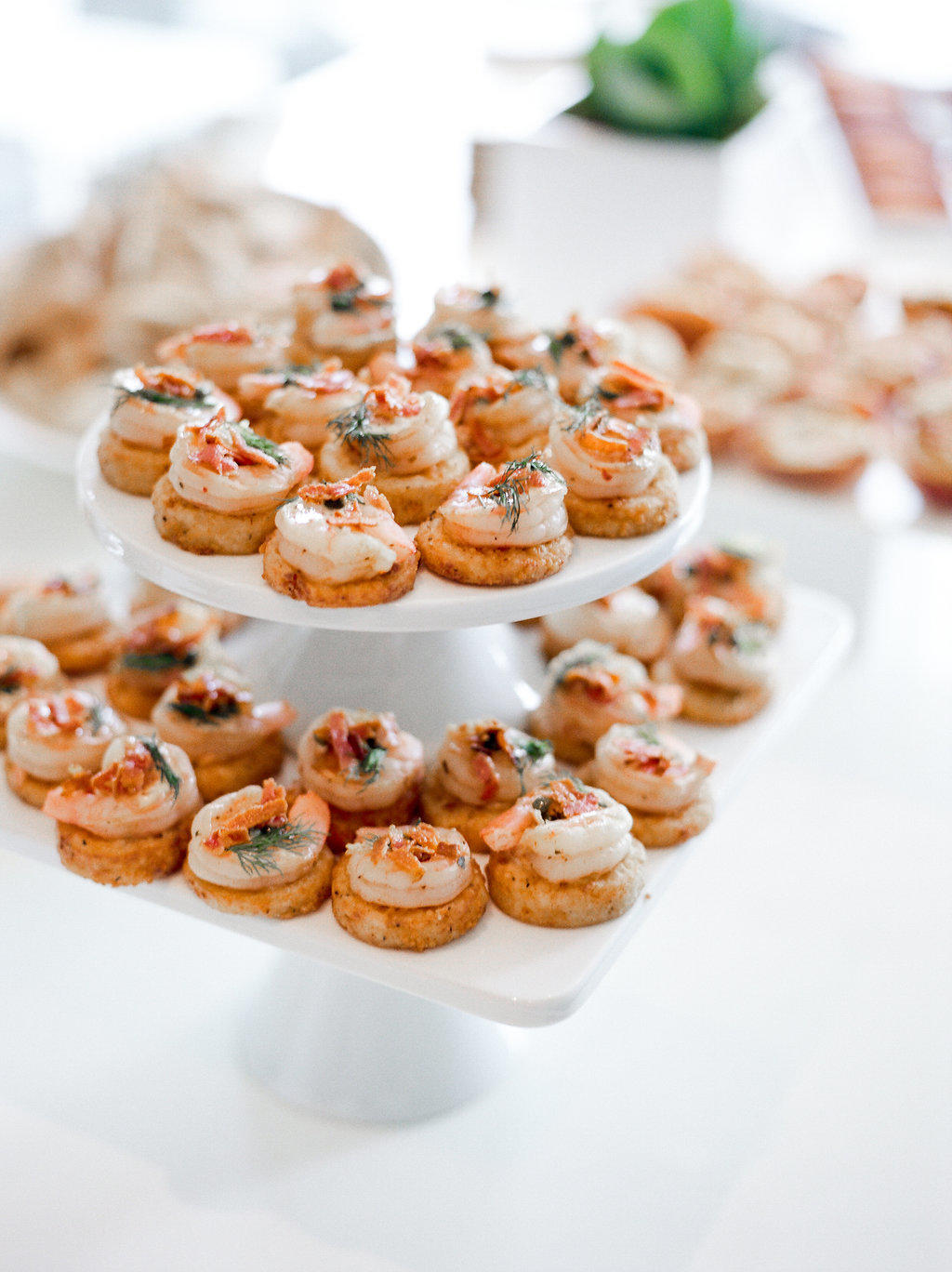 [/one_half_last][full_width]
[/full_width][full_width]
[/full_width][one_half padding="0 2.5 0 0″]
[/one_half][one_half_last padding="0 0 0 2.5″]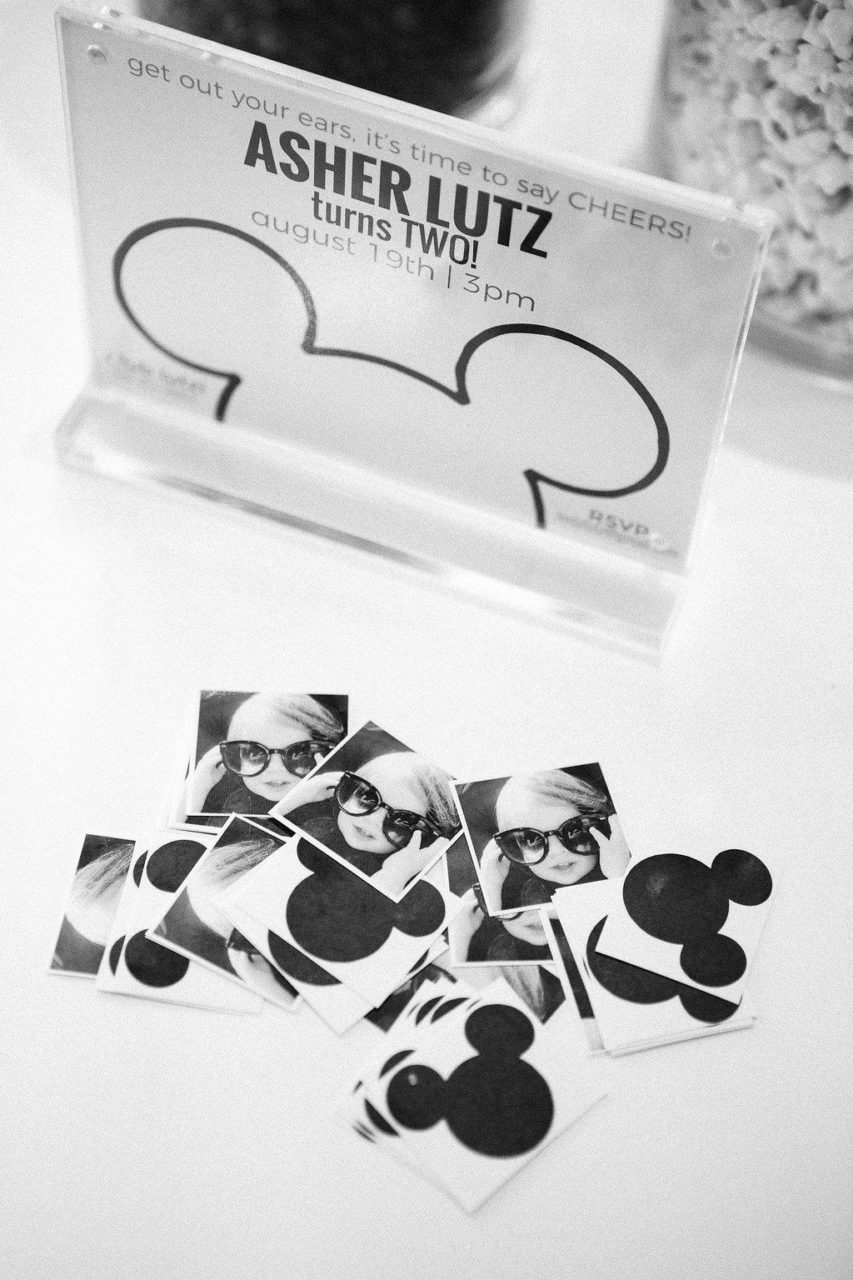 [/one_half_last][full_width]
[/full_width][full_width]
[/full_width][one_half padding="0 2.5 0 0″]
[/one_half][one_half_last padding="0 0 0 2.5″]
[/one_half_last][full_width]
[/full_width]
---
SHOP THE POST
kids tables: Ikea side tables
kids chairs: natural wood stools // white modern stools
plates: bamboo dinner plates // grid pattern plates 
drinkware: grid pattern cups // star cups // paper straws
silverware: natural wood forks
platters and cake stands: white and natural wood cake stand  // glass candy jars // bento rectangular platter // bento matte black platter // square cake pedestal // silver beverage tub
balloons: marble balloons // clear balloons // white balloons // jet black balloons // 2 balloon // confetti balloon // grey balloons // yay balloon
party favors: custom koozies // custom tattoos // grid treat bags
party decor: Mickey confetti // Mickey ears // acrylic picture frames // hot diggity dog light box and light box letters
outfits: Asher's grid pattern shirt // my grid pattern dress // star sneakers 

---
PIN IT