8 STYLE TIPS TO NAIL YOUR FAMILY PHOTOS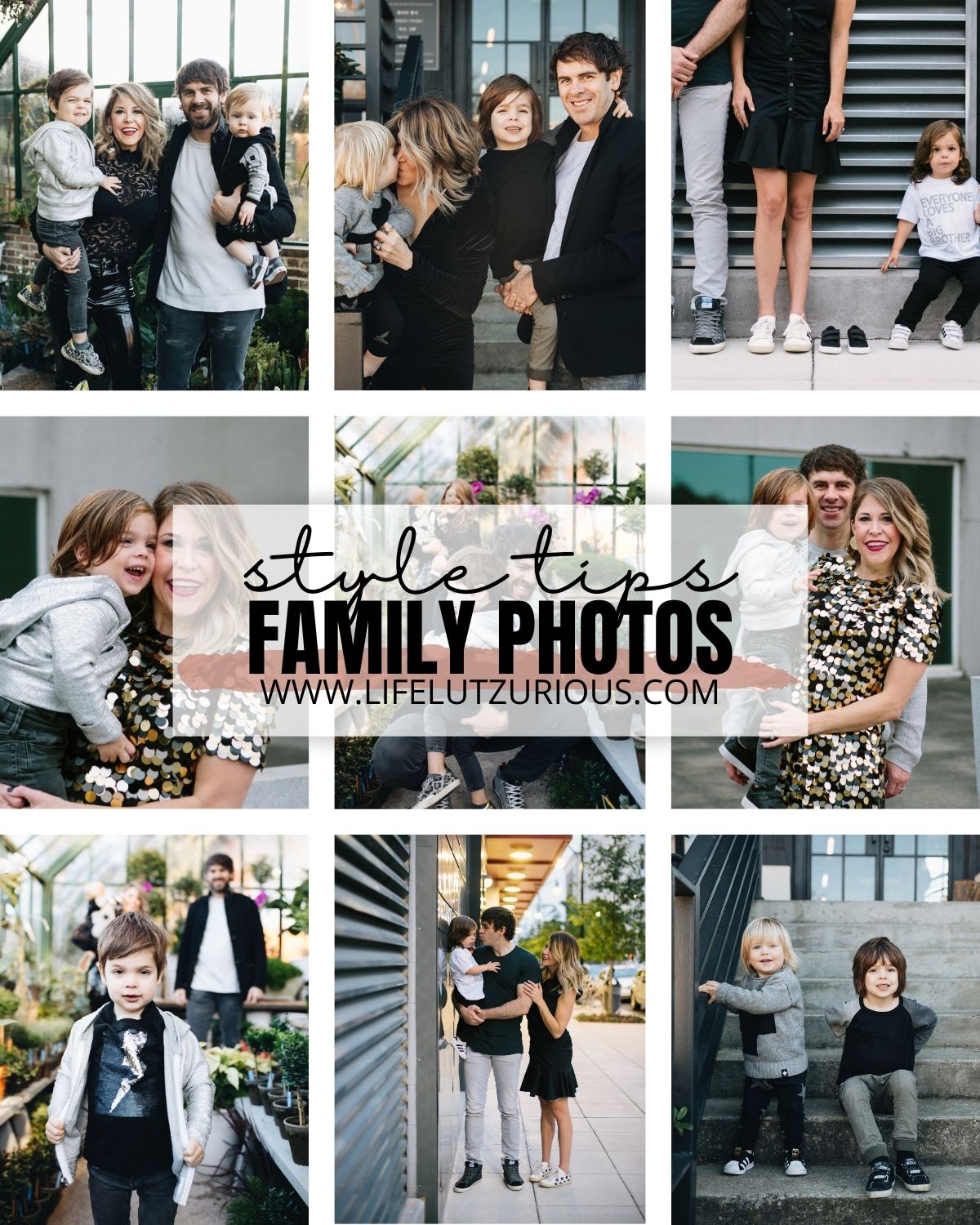 I know, I know. The thought of taking family photos makes you want to cringe–it does me, at least. BUT, it doesn't have to be that miserable and the memories make it SO worth it. And before you freak out, I am giving you 8 style tips to nail your family photos. Scroll to the end for my effortless styling formula that can be implemented time and time again.
COLOR SCHEME
Pick three or four colors and stick with them for every family member. Each person does not have to match exactly, but you want to coordinate in order to nail the color scheme in your family photos. I love a monochrome options for at least one of your family members. In the example at the end, we have Dad wearing an all grey outfit with white, black, and camel sneakers.
PRO TIP: Consider where you will be hanging these pictures in your home. You want to compliment the tones in that room.
For last year's shoot, we kept it simple with black, charcoal, and light grey. This year, we are opting for camel, grey, and black. I typically choose the color scheme after sourcing my outfit, then plan the kids' clothes and Ryan's outfit to coordinate.
TEXTURE PLAY
Another way to create interest is playing with textures. For fall and winter, I love knits, corduroy, velvet, suede, or leather. Try mixing leather with a cozy knit to elevate the texture in your shots. How fun are the large sequins with the denim and ribbed sweater!?
COMFORT IS KEY
I cannot stress this enough. It does not matter how fabulous you and the fam look if everyone is fidgeting, scratching, and complaining. Make sure the kids (and your partner) are comfortable. Something else to consider: your shoe choice. Last year, I wore a pair of skinny heels and instantly regretted it. Trying to chase the kids around with high heels proved to be a major #fail. Opt for block heels or boots with a low heel. Lesson learned.
DON'T FORCE A PHOTO…CANDID SHOTS ARE BETTER!
This is one I struggle with every single year. In my heart of hearts, I know candid shots are better. But, I also tend to pose and attempt to make the kids look directly at the camera. There is absolutely nothing wrong with that, but in my experience, it never turns out well. Try tickling your kids, kissing your husband, or making each other laugh to produce more authentic, memorable, and beautiful images. Allow everyone to be themselves, which brings me to my next point…
HAVE FUN!
Look, I dread family pictures every single year like many of you. And I take pictures all the time, so you would think I would be used to it by now. Bottom line: they are stressful for everyone. We always have to fight the kids on what to wear, to get in position, and to stop being wild animals. BUT as soon as I loosen up and try to enjoy the moment, they follow my lead. The kids (and your partner) will feed off you and your attitude. You obviously can't let everyone run wild, but try not to be too controlling. And if all else fails…
BRIBE THEM (AND HIM!) WITH TREATS
Having a cookie or cake pop or something similar on hand ALWAYS works. Another idea: take them to the park or to do a fun activity afterwards, so they associate family pictures with doing something enjoyable. This includes the hubby ;).
CONSIDER THE WEATHER
The irony of this tip living in the South does not fall on deaf ears, trust me. BUT, the later in the season you wait to schedule your shoot, the colder it will be. One year, we scheduled a gorgeous shoot inside Shoppe. It was one of my favorite shoots ever…except that it was 19 degrees and Holden was extremely difficult the entire time. Asher was stoic-faced in almost every picture, Ryan was complaining nonstop, and it was just miserable for everyone. But goodness, look how beautiful the shots turned out.
PLAN AHEAD
Another super ironic statement made by the queen of procrastination herself. BUT, do as I say, not as I do. ha. Seriously though. From the location to the date to the color scheme to the timing of the actual day, plan everything out. Family pictures are tough to nail, but they typically turn out much better the calmer and more prepared you are leading up to the shoot.
If you REALLY want to plan ahead…communicate a shot list with your photographer. But remember, try not to be too rigid on family picture day…your family will feed off you. Have fun!
FAMILY PICTURE STYLE GUIDE
Above is a simple styling formula to nail your family photos. This is most likely what we are wearing this year. I am deciding between this black puff-sleeved dress and this camel-colored dress. Scroll down to shop the rest of the looks. PS, my cat eye sunnies are a designer look for less from Amazon. You will die when you see the price!
MOM'S OUTFIT

puff sleeve black dress | chic boots | cat eye sunglasses
HOLDEN'S OUTFIT

leopard cardigan | black drop crotch pants | adidas 360 sneakers
ASHER'S OUTFIT

grey + leopard sweatshirt | black drop crotch pants | superstar sneakers
DAD'S OUTFIT

fitted ribbed sweater | grey denim | veja sneakers