JACKSON HOLE WYOMING TRAVEL GUIDE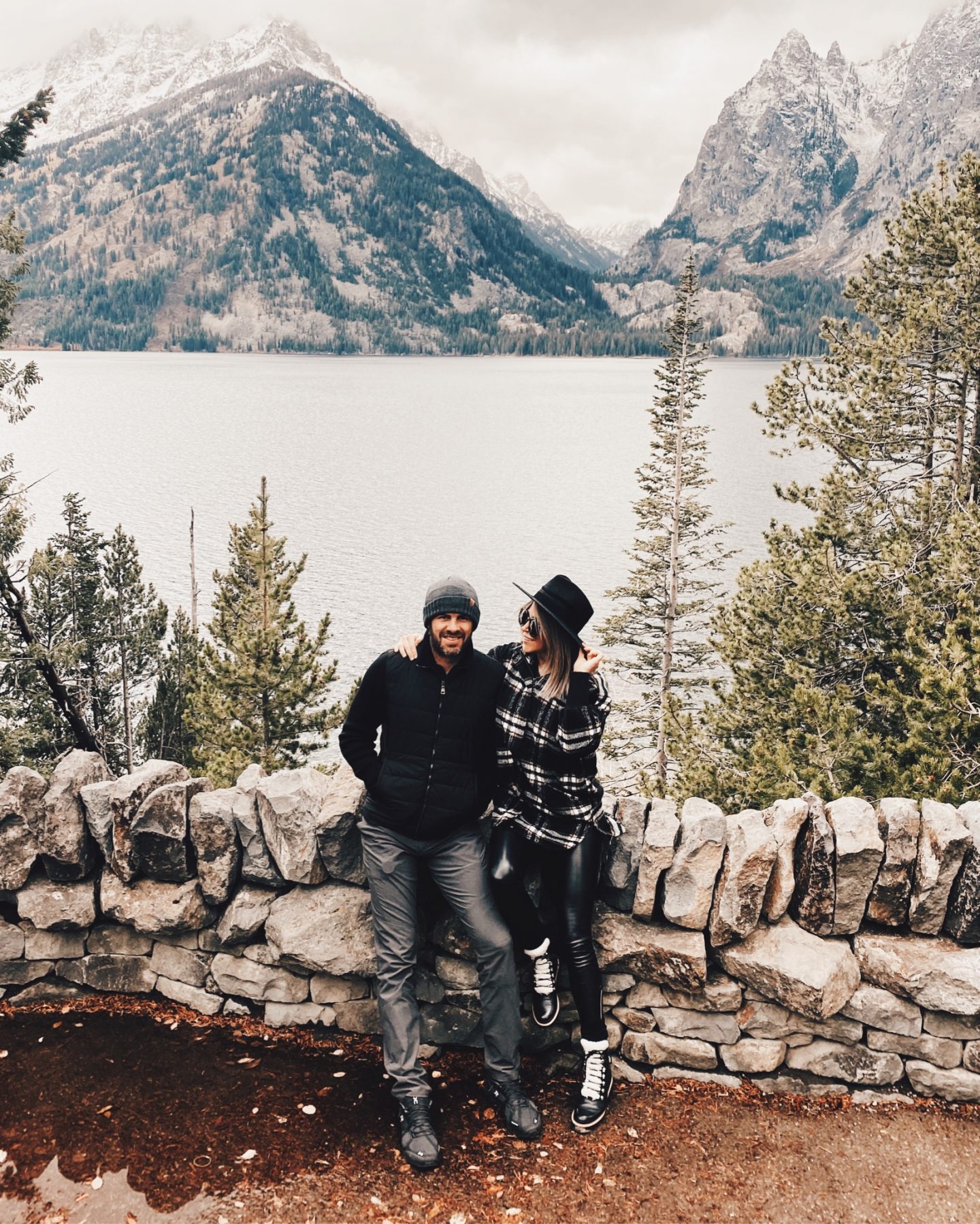 And just like that…it's SNOW SEASON! If you are anything like me, you are dying to take a trip somewhere snowy. So, I want to introduce you to Jackson Hole, Wyoming. I am sure you have heard of it, but I understand how difficult it can be to plan one of these trips, so consider this your official Jackson Hole, Wyoming travel guide. In the post, I am showing you how to get there, where to stay, what to do, and of course, what to eat and drink.
JACKSON HOLE WYOMING TRAVEL GUIDE
Jackson Hole is an ideal vacation spot, because you can visit year round, it's very outdoorsy, and is truly perfect for all travelers, including adventure seekers, nature lovers, and foodies. With all the outdoor activities, it feels safe with Covid and a place to truly escape.
HOW TO GET TO JACKSON HOLE WYOMING
What is the difference between Jackson Hole and Jackson? When you refer to Jackson Hole, you are actually referencing a 50 mile-long valley that runs North and South along the eastern side of the Teton Mountain Range. Jackson is the name of the main town located at the southern end of Jackson Hole. Jackson Hole Valley actually includes the town of Jackson, Teton Village, Wilson, the Aspens, Moran Junction, Moose, and surrounding areas. You have a couple options to get there: fly or drive.
FLYING TO JACKSON HOLE
The Jackson Hole Airport (JAC) is located at the base of the spectacular Teton Range, approximately 9 miles from the Jackson town square and an additional 12 miles to the Teton Village ski resort–about 20 minutes via car or bus. Since it's located entirely within Grand Teton National Park, flying into the Jackson Hole Airport provides a jaw-dropping, awe-inspiring start to your trip, sweeping by the Snake River valley to reveal the massive Teton mountains to the North.
The actual airport is one of the most beautiful airports I have ever stepped foot in. When you step off the plane, you immediately capture the grandness of the Tetons and are welcomed by a striking Elk Antler arch. With beautiful wood and stone finishes, the massive windows frame the spectacular Tetons. There are plenty of amenities, including free Wifi, gift shops, and various forms of ground transportation.
The easiest way to fly to Jackson Hole is to connect through Salt Lake City, which is approximately a 4.5 hour drive South of the Jackson Hole Valley. Salt Lake City offers direct flights from several International airports, such as ATL, DFW, LAX, IAH, and DFW and is a quick 36 minute flight, featuring sweeping views of the Snake River and Teton Mountains. Of course, you could always fly private. #goals
DRIVING TO JACKSON HOLE
Because of the natural geography of the "valley", there are actually only a few roads leading in to the Jackson Hole valley:
If you're driving in from the South
You will most like take U.S. Routes 191 or 89. These two meet and become one north of Hoback Junction, leading you directly to the town of Jackson (approx 20 minutes). Route 191 comes from Pinedale and Rock Springs, Wyoming which is about 3 hours away where 191 intersects Interstate 80. From Salt Lake City and southern Utah, you take highway 89.
If you're driving in from the West
You can take U.S. 89 from Alpine, Wyoming and drive up 45 minutes to Jackson from there, or drive in over the famous Teton Pass Hwy 22 from Victor, Idaho.
Approaching Jackson Hole from the North 
This is more difficult because of the Yellowstone National Park bordering on this side. While the two lane road through Yellowstone is very scenic, it can also become very slow very quickly. Your best bet is to drive to Victor, Idaho and approach from the west on Teton Pass Hwy 22, OR U.S. 26 over Togwotee pass from Riverton, Wyoming. 
Driving to Jackson Hole from the East 
This is the most straightforward. Come in over Togwotee Pass on U.S. 26 from Riverton and Casper, Wyoming.  If you are driving in from further East, take Interstate 80 to Rock Springs, Wyoming, then take U.S. 191 north 3 hours to Jackson as described above "driving in from the South."
If you choose to drive, please consider road conditions.
Summer driving is easy peasy, but there is an almost 3,000 foot elevation gain when climbing the Teton Pass on Hwy 22.
Road quality during the snowy months is rarely an issue, but you will want to check the weather forecast to make sure you aren't approaching the area during a storm. Roads can close or become unsafe quickly during winter storms, especially Teton Pass.
Please utilize the Wyoming Department of Transportation (WYDOT) website to look up webcams and updated road conditions for each route.
THINGS TO DO IN JACKSON HOLE WYOMING
WHITE WATER RAFTING
Did you know that the white water rafting was thought to have been invented on the Snake River? You can usually book a trip through your or find a company like this one that specializes in this type of excursion. This probably isn't available in the winter, but Dave Hansen or Mad River Whitewater companies are both good once it warms up.
FLY FISHING
Although we did not fly fish in Jackson Hole, we did when we were in Park City. And honestly, this is a MUST DO. It's relaxing, exhilarating, and something you will never forget. Yours truly caught the biggest white fish our guide had ever seen. PRO TIP: Dress in layers. It can get rather cold in the water. And HIRE A GUIDE.
GRAND TETON NATIONAL PARK TOUR
We booked our tour through Amangani, and I HIGHLY recommend. We left as the sun was coming up around 7am and traveled throughout the park via car. Our guide took us down to Jenny Lake and other glacier lakes. This was truly memorable. He even took us super close to a family of bears and showed us a huge camp of Elk making their way down a mountain. PRO TIPS: Bring a camera, dress in layers (it can get COLD), and get ready to be blown away.
HIKING + BIKING
SUPER IMPORTANT TIP: BUY BEAR SPRAY. If you go with a guide, they will most likely have some on hand for you. BUT, I cannot stress how important this is for your safety during hikes. You cannot travel with bear spray, so you will need to purchase it once you arrive.
● Delta Lake – Tough hike but WORTH IT.
● Bradley/Taggart Lake – Very easy, awesome view. Most likely will be crowded.
● Phelps Lake – Death Canyon trailhead is more difficult; Rockefeller Center trailhead is easier but will be more competitive for parking. There is an awesome jumping rock on this trail as well.
● Bike from Dornan's to Jenny Lake. You can rent bikes at Dornan's.
TETON VILLAGE HANGS
Ride the gondola to the Deck for drinks.
Take the Aerial Tram to 10,500 feet (in 9 minutes!) and have waffles and a beer at the top.
Visit the Handle Bar at The Four Seasons and make sure you get the Bloody Mary!
SKIING + SNOWBOARDING
There are THREE options for skiing and snowboarding: Snow King, Jackson Hole, and Grand Targhee. There are also options for cross country and backcountry skiing as well. You can choose to stay at a resort on the mountain you are skiing or stay somewhere centrally located.
PLACES TO STAY IN JACKSON HOLE WYOMING
AMANGANI
With sweeping views of the Teton mountains, this luxury hotel is less than 20 minutes from downtown, the slopes, and Teton National Park. The hefty price tag is worth it–the service is impeccable, the views breathtaking, and the cocktails perfectly crafted. Breakfast and transportation into town are included as well. The food at the resort is amazing, and your room will be so cozy, you won't ever want to leave. Our suite had a huge balcony, the most gorgeous hillside views, and a fireplace to warm up after a cold day outside. Don't forget to take a dip in the heated infinity pool and hot tub for the ultimate polar bear plunge.
HOTEL JACKSON
We ate lunch here (FIGS-highly recommend) one day, and I vowed to stay here next time we visited. It was truly modern, mountain-chic and absolutely beautiful. It's located right smack dab in the middle of downtown, so it's very walkable to all the hip spots. Hotel Jackson also offers complimentary town car service within a 2-mile radius of the hotel year-round.
HOTEL TERRA
Rated as Jackson Hole's #1 resort in the 2020 Condé Nast Traveler Readers' Choice Awards, this modern boutique hotel located is located at the base of one of the world's most iconic ski destinations. Indulge in upscale amenities and breathtaking mountain scenery with an easy walk to the tram and gondolas.
CALDERA HOUSE
Want to stay where the Karadashians stay? Well, this is the spot. This ULTIMATE LUXURY resort is almost like a private residence. With multiple bedrooms and a chef's kitchen in each "room," you can truly escape from it all–and drop a year's salary in the meantime.
WHERE TO EAT AND DRINK IN JACKSON HOLE WYOMING
The BEST part of Jackson Hole (IMO) is the FOOD! Let's take a quick foodie tour on where to eat and drink in the valley.
DINNER
● King Sushi – Get there early and sit outside for amazing sushi.
● Snake River Grille – Fancy, white cloth restaurant in town. Try the tuna tartare or the pizza for an appetizer.
● Glorietta's – Hip atmosphere, AMAZING Italian. Cozy up in the corner with a cocktail and order all the things. One of our favorite restaurants from the trip.
● Teton Tiger – Excellent Thai food, good drinks, cool vibe. There are several great Thai options.
● Thai Me Up – Great brewery/thai food
● Local – Restaurant side is great for date night. Bar side has cheaper prices for burgers/salads with a fun atmosphere.
BRUNCH + LUNCH
Cafe Genevieve – AWESOME brunch, outdoor seating. The eggs benny are the bomb, and I had one of the best Bloody Mary's EVER. LOVE this spot!
FIGS – Mediterranean spot in the Jackson Hotel. Food, cocktails, and atmosphere are great!
D.O.G. – The best breakfast burrito ever. And the best hangover cure…so they say.
The Bird – Burgers/wings, great patio for a beer with mountain views.
Dornan's – Beer and pizza after hike or activity in Grand Teton National Park
Persephone Bakery – Sister restaurant to Cafe Genevieve. Famous spot.
Pearl Street Bagels – Grab and go breakfast/coffee, good local spot. But whatever you do, don't ask them to toast your bagel.
Creekside Market – Sandwiches on the way to the park or ski resorts. Sloshies are in liquor store, don't miss these.
GRAB A DRINK
● Bin22: We LOVED this adorable wine bar. Grab a glass of wine and sit outside with a charcuterie board or pick up some bottles to take home.
● Spirit and SPice: Speaking of bottles to take home…their wine selection was LEGIT. We grabbed a few bottles for the room and to take to dinner.
● Teton Village: Osteria and Spur are great spots. Check out the Deck for a fun place to get drink and ride the Gondola.
● The Silver Dollar Bar at The Wort Hotel – Tuesdays are Bluegrass night, but all it's fun whenever you go.
● The Cowboy Bar – The oh so famous Cowboy Bar…you won't want to miss the live music and saddle barstools. Guaranteed to be packed with tourists, it's always fun late night.
FUN FACTS ABOUT JACKSON HOLE WYOMING
JAC IS THE ONLY AIRPORT IN THE US LOCATED IN A NATIONAL PARK
And honestly, it's the only airport you WON'T want to leave.
MANY FILMS SHOT IN JACKSON HOLE
"Shane," "Rocky IV," "Django Unchained," and "Any Which Way You Can" were all filmed in Jackson Hole.
THE NATIONAL ELK REFUGE IS THE FINAL DESTINATION OF THE SECOND LARGEST ELK MIGRATION IN THE CONTINENTAL US.
AND it contains almost 9,000 elk! In the winter months, it is also home to the largest single herd of bison that is under federal management with over 1000 bison.
WYOMING HAS A STATE DINOSAUR
AND it's one of 6 states to have one. Wyoming's dino is the triceratops. Did you know that Wyoming also has the lowest population in the country? The more ya know!
LIONS, TIGERS, AND BEARS…OH MY!
Not actually, BUT there are almost 728 grizzly bears living in the Greater Yellowstone Ecosystem. We actually saw a family of 3 bears when touring the Grand Teton National Park.
SHAKE, RATTLE, AND ROLL…
Yellowstone National Park experiences between 1,000 and 3,000 earthquakes each year.