NORDSTROM ANNIVERSARY SALE EARLY ACCESS MUST HAVES + TRY-ON HAUL
Happy #NSALE, yall! Exciting? CHECK. Overwhelming? UM YES. Basically, at this point I'm living on a prayer…and coffee…ok, who am I kidding…WINE. I am not going to lie, when I first looked at the 2019 Nordstrom Anniversary Sale catalog, I was extremely overwhelmed. However, as I shopped yesterday, my mission became clear: how can I help my Lutzurious Ladies create a capsule wardrobe of sorts that is 1) fun 2) stylish 3) different from everyone else 4) comfortable 5) versatile 6) accessible (everything is under $100). I really focused on outfits that could be mixed and matched and taken from the office to happy hour. Don't worry, I will also be covering BASICS, BEAUTY, KIDS, HOME, and MEN'S, but for now, let's get down to business with my Nordstom Anniversary Sale Early Access Must Haves Try-On Haul.

THIS PLAID BLAZER, YALL
OUTFIT 1 DETAILS: OVERSIZED PLAID BLAZER // SUEDE MINI SKIRT // BLACK BODY SUIT | OUTFIT 2 DETAILS: OVERSIZED PLAID BLAZER // BLACK OVER THE KNEE BOOTS | OUTFIT 3 DETAILS: OVERSIZED PLAID BLAZER // BLACK BODYSUIT // BLACK OVER THE KNEE BOOTS // TIE TWILL PANTS

It WILL sell out. It can be worn as an oversized blazer or as a dress and is priced so wonderfully at $99. Grab it now to wear to the office or out with your honey. In the first look, I paired it with this ADORABLE suede skirt AND THE BEST BODYSUIT you will ever own. Again, this one WILL also sell out, because there were literally 2 sizes left in the store. In the second look, I styled it with an amazing pair of black over the knee boots. I own a bazillion pairs, but these Steve Madden OTK boots were SO good, I had to grab them.
The 3rd look was the crowd favorite over on Stories. These high-waisted twill pants come in black and this rust color. And let me tell you, I am hear for both. Again, paired with the bodysuit, blazer, and OTK boots. In total, you can purchase all 3 outfits for less than $300.
LEOPARD SLIP DRESS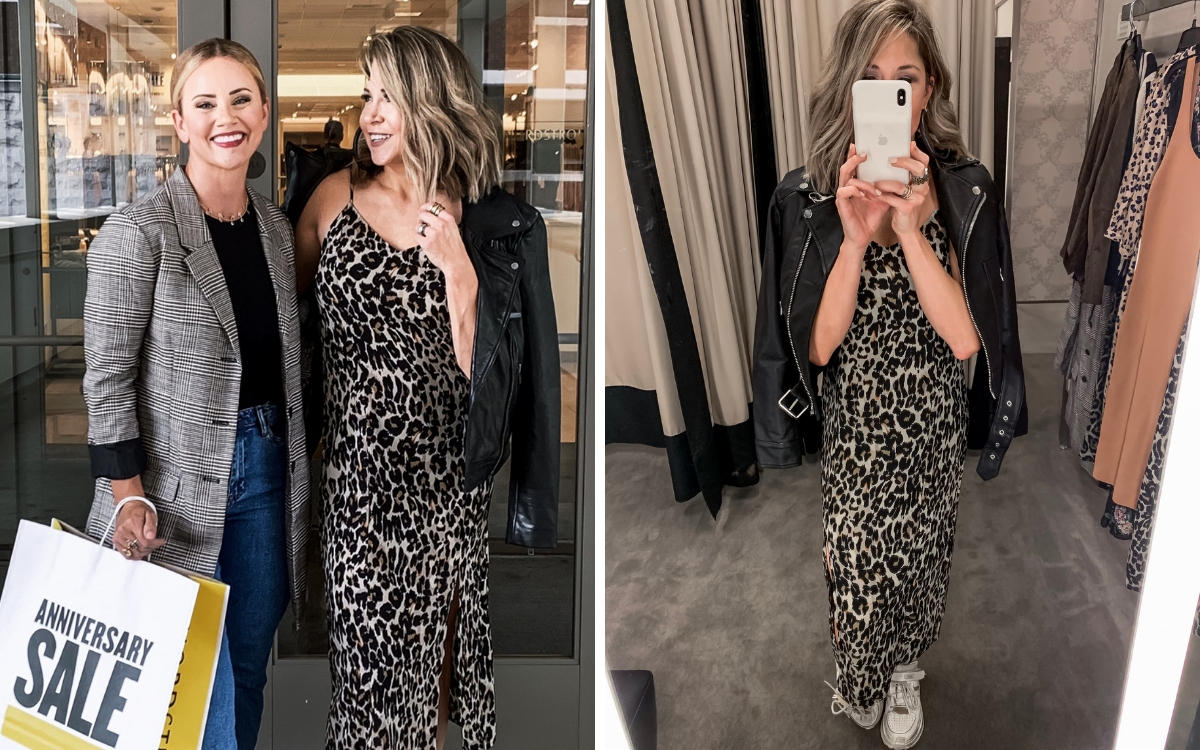 OUTFIT DETAILS LINDSEY: LEOPARD SLIP DRESS // WHITE DAD SNEAKERS // BLACK VEGAN LEATHER MOTO JACKET // | OUTFIT DETAILS BROOKE: OVERSIZED PLAID BLAZER // BLACK CREWNECK TEE  // MADEWELL DENIM

This precious leopard slip dress is another high sell out risk (only $39!) and is EXTREMELY versatile. In this look I paired it with a black moto jacket (holy moly, you should see it in gray) and white dad sneakers(OBSESSED with these Steve Maddens for only $52), but it would look adorable with a black tee underneath and black pointy toe boots (ordered these!). You could also pair with a skinny black belt and a black blazer (love this JCrew blazer too but size way way way down) for a work-appropriate outfit. I sized up, because it was slightly tight in the chest.
LEOPARD MIDI SKIRT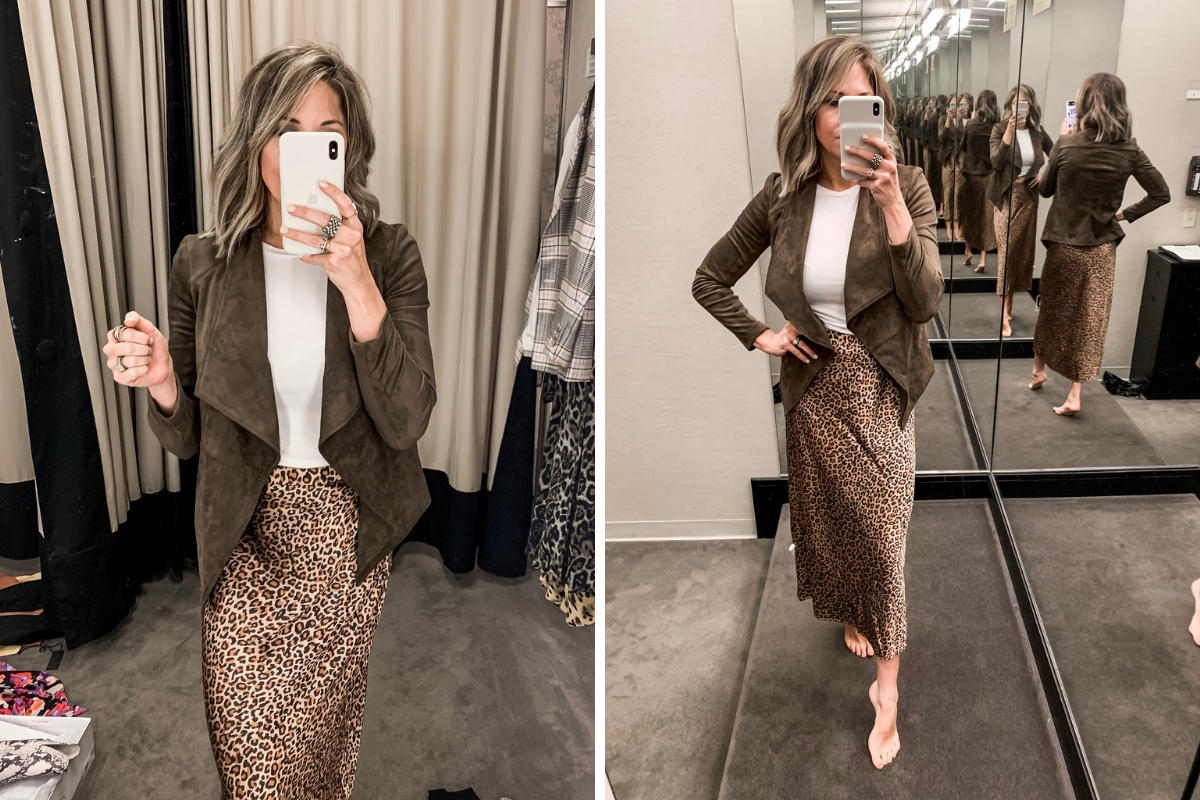 OUTFIT DETAILS: LEOPARD MIDI SKIRT // WHITE TEE (higher quality white tee HERE) // BROWN SUEDE JACKET

If you are more of a skirt girl, then THIS LEOPARD MIDI is for you my friend. I held it up next to this Anine Bing leopard skirt, and it looked JUST as luxe. I love the length, the fit, all of it. I am showing you how to wear it TWO WAYS here. You could easily take the brown suede jacket from the office to out, but if you wanted a little more edge, simply trade in the suede blazer for my favorite vegan leather moto. TWO outfits total cost: less than $200.  BOOM. Speaking of the black moto with the leo skirt…
BLACK VEGAN LEATHER MOTO JACKET
OUTFIT 1: LEOPARD MIDI SKIRT // WORST WHITE TEE EVER (better option HERE) // BLACK MOTO

AAAAAAND if you can't tell, this vegan leather moto jacket is a MUST HAVE…this white tee, NOT.SO.MUCH. More on that in a bit. How precious is the moto ($62.30, yall) with this leopard midi skirt? Ok back to the white tee. MAJOR #NSALE FAIL ALERT. This white tee by BP is SO SO see through. Do NOT buy it unless you want to wear a cami underneath it. This white tee is a much better option and is perfect for layering. It is more expensive but higher quality that won't show the tatas.
GRAY GRANDMA CARDIGAN

Ok guys, when you look at this cardigan online, it is not cute. HOWEVER, I tried this on in store, and it is ADORABLE. Add a little front tuck, and you are good. to. go. I paired it with both the suede skirt you saw above AND the best jeans I found. The Jamie's are high-waisted, stretchy, and have a frayed cuff. So on trend! Speaking of…
HIGH-WAISTED RIPPED HEM JEANS

Go ahead and grab em guys. I sized up twice and opted for the longer hem. I am typically a 24 or 25 in Topshop denim, but I opted for the 26/32 in this pair. They look FAB with these snakeskin booties. GRAB THIS LEOPARD HOODIE while you are here. It WILL sell out. It is soooo soft and is the perfect length. I can't wait to wear it with these Spanx biker shorts.
SUEDE MINI SKIRT

I think this mini may end up being the hidden gem of the sale, honestly. This suede mini skirt is PERFECT. It is high quality, and most importantly, makes your legs look super skinny and long. You can wear it with sweaters, blazers, silk tops, you name it. I LOVE it with this snakeskin top and knee-high boots.
RIBBED DRESS

Have you caught onto the color scheme, yet? You can literally mix and match all of these items so easily. This ribbed dress pairs so beautifully with this plaid blazer and is the perfect summer to fall transition piece. Wear it now, and wear it later. You can take it straight from the office to happy hour for a chic, versatile look. Want a trendier option? Pair the dress under the plaid trench you see above. I mean, whaaaaaat. PS, I predict the printed trench will be HUGE for Spring…stay tuned.
THANK YOU!
I really had a lot of fun shopping the sale this year. I wanted to focus on items that you guys requested and keep the prices under $100. It means the WORLD to me when you guys use my links. Honestly, it what keeps Life Lutzurious rocking and rolling. Love you guys soooo much. If you have ANY questions abut these items, please feel free to DM me on Instagram or shoot me an email.
Before I leave you for now, make sure you check out my Nordstrom Anniversary Sale Prep post for more information and follow along on the Nordstrom Anniversary Sale tab in my menu for a full breakdown of my favorites. I will be updating these tabs throughout the sale. Lastly, don't forget to download the LIKEtoKNOW.It app and follow @lifelutzurious there for exclusive content not shown anywhere else. And of course, Instagram will be the fastest way to access my posts. Happy Shopping!