CHAMPAGNE TASTE + BEER BUDGET?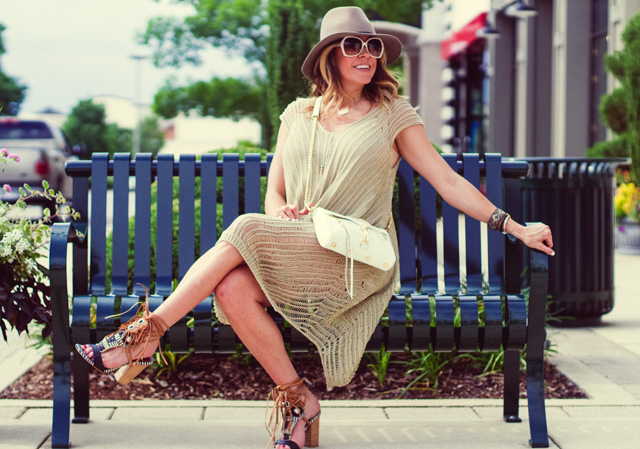 Well, isn't THAT the truth! I think this is something we can ALL relate to! It seems I am always looking for something CHAMPAGNE but on a BEER BUDGET. Well, I have some awesome news! Think back to around Christmas time. Remember the shopping/foodie trip to ATL that the hubs and I took? If you recall, I was actually pregnant and did not know it, as we ate and shopped our way through Atlanta. I featured some amazing over-the-knee boots and a TO-DIE for Rebecca Minkoff FRINGE Cross-Body bag. One of the posts from this trip was titled OVER IT and can be found HERE. I also featured the bag in my IT GIRL Gift Guide right before Christmas. I received SO many emails about that bag after those posts went up. Both times, the bag literally sold out in HOURS.
Well, I have GREAT news. THIS WEEK, Gus Mayer (Nashville + Birmingham) is hosting a Champagne Sale on Thursday, June 11th from 4-8pm. Go ahead, mark your calendars, so you don't forget. For ONE HOUR ONLY (4-5pm), they will be selling 3 select styles of Rebecca Minkoff bags at a highly discounted price, including the FRINGE Cross-Body in WHITE and COGNAC that I have featured in my OVER IT post and my IT GIRL Gift Guide. The other styles include the FRINGE Mini Mac in BLACK and COGNAC and the Mini Mac in FATIGUE, GREY, and WHITE, which is what I am featuring in this post. Wanna know what's even better? For this one hour, they will be selling these bags for $99, instead of the regular $195 price. Y'all, let me repeat that…$99!!!!!! 6 months ago, you couldn't even FIND this bag. Make sure you get there EARLY. Fashionistas will be LINED UP, and the bag will sell out very quickly!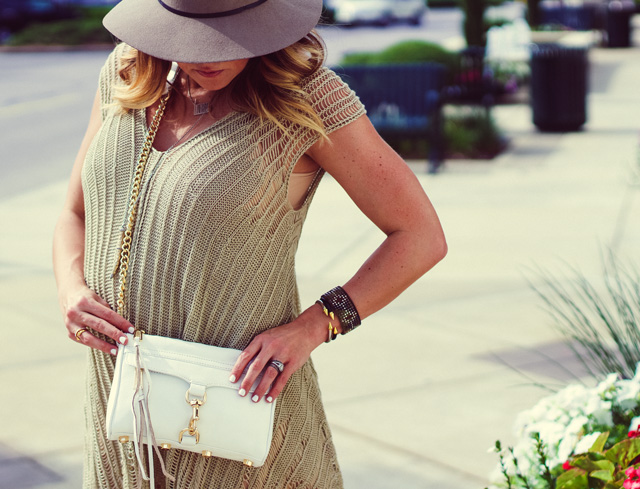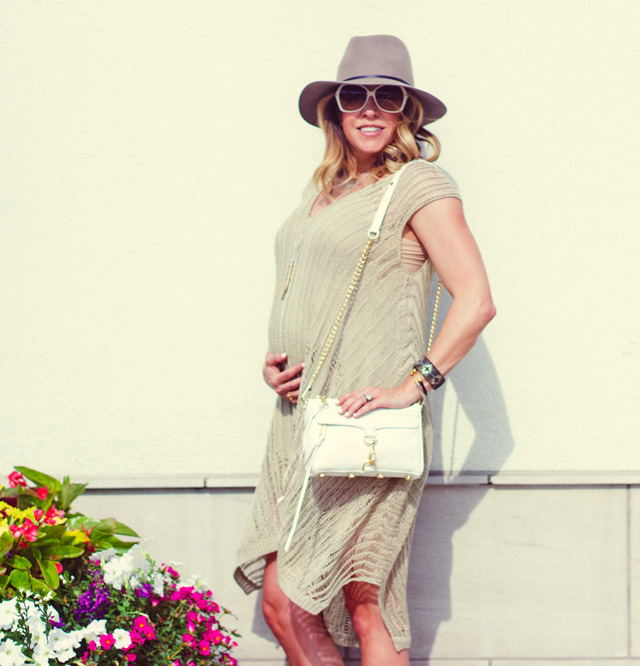 So, how do you style this bag exactly? FRINGE continues to be HUGE this year, AND as you can see from my posts, you can rock this bag year-round. The leather is an amazing quality, and the bag holds the perfect amount of stuff. I can typically fit my credit card holder, a few cosmetics, and my cell phone. Also, the strap can be removed, so you can dress the bag up and wear as a clutch. The cross-body option is perfect for summer festivals, a shopping day, or as your go-to summer bag. Since I already own the cross-body in silver, I am going after the WHITE Mini-Mac. I'll race you for it! How AMAZE does it look with this outfit from Urban Zen (Donna Karen's new line and very much champagne-priced rather than beer)? I love how the elegance of the bag the Jackie O-esque sunnies dress up the outfit, while the fringe on the bag and the shoes keeps the look feeling boho-chic. And of course, I paired with the oh so fab Janessa Leone hat. That's the GREAT thing about the bag and shoes. You can pair lower-priced items with very expensive items to create a super-glam look. With the exception of the hat, the entire outfit can be found at Gus Mayer! If you are interested in this look, stop by the store, shoot me an email, or call (205) 870-3300.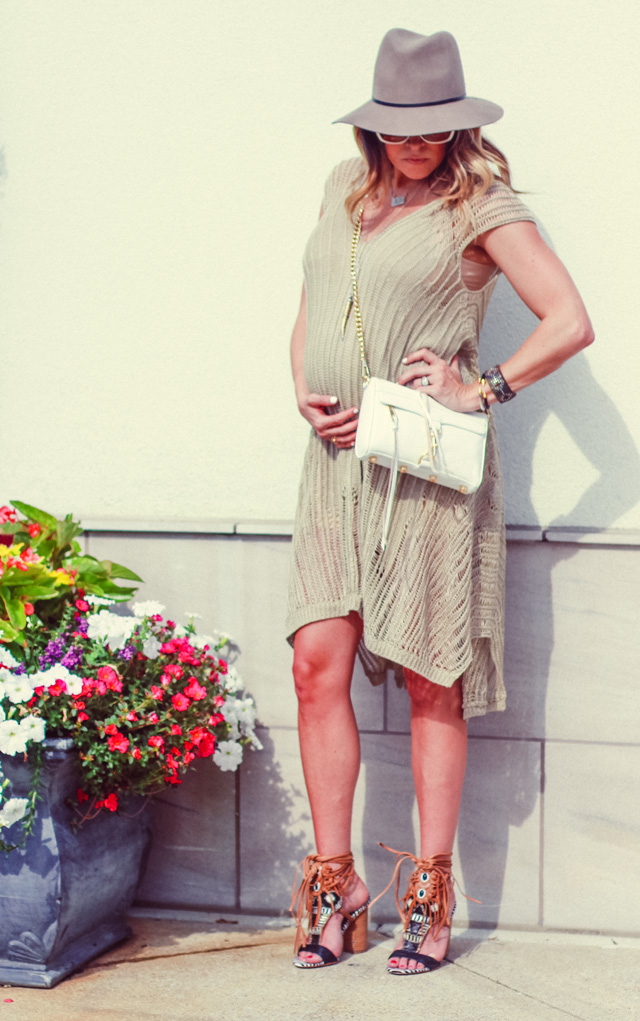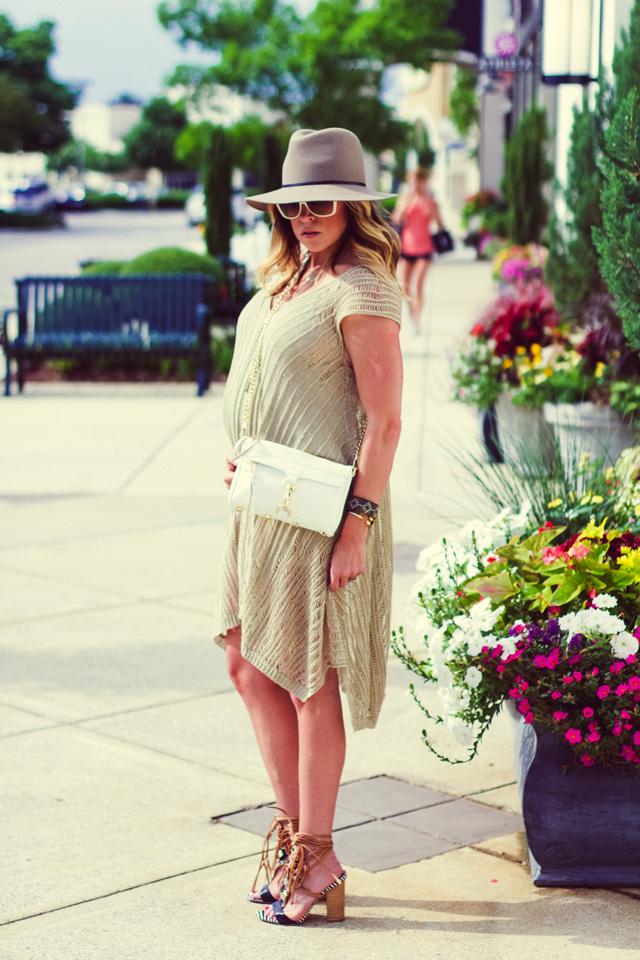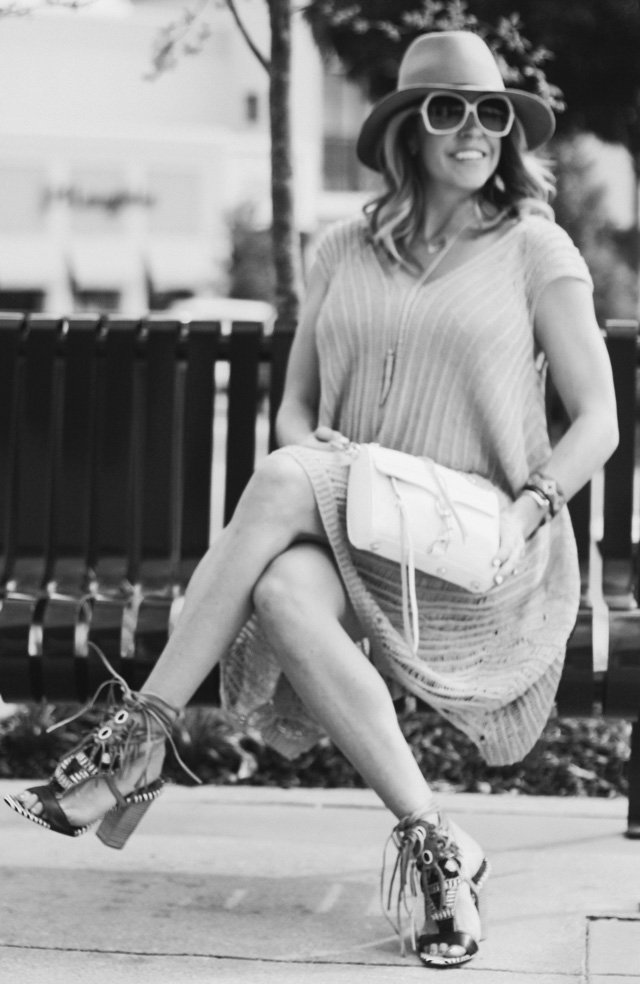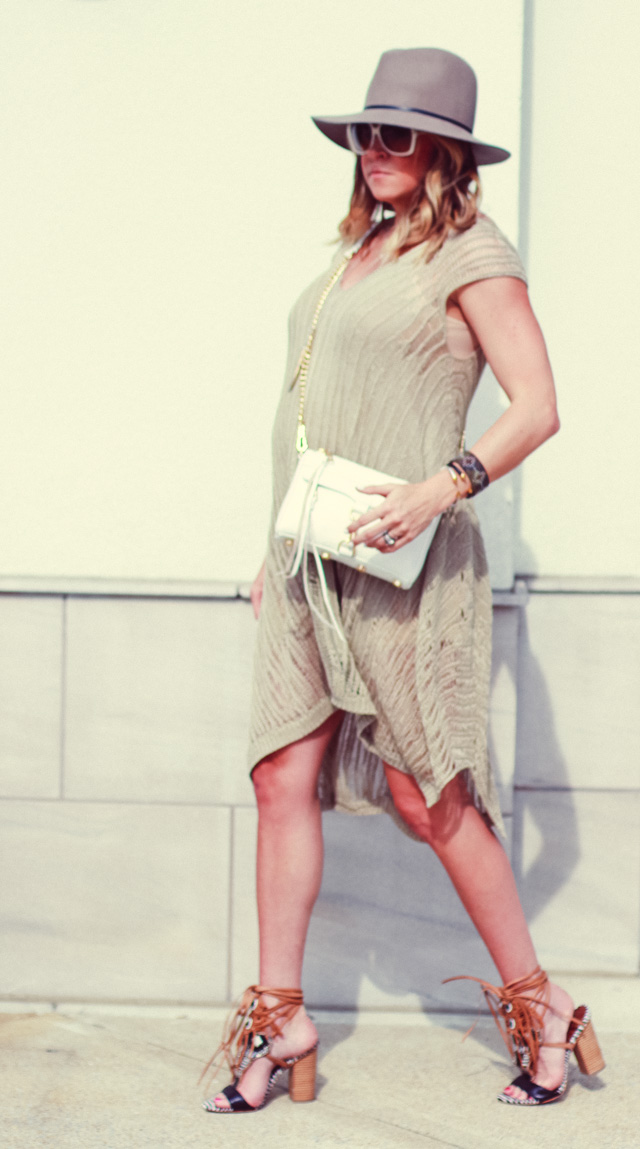 In addition to the Rebecca Minkoff bags, here are some more one-hour ONLY door-busters you can find from 4pm-5pm on Thursday:
$12 Trina wristlets in fun prints. Reg. $28
$29 contemporary short sleeve tops in 7 colors. s-xl. Reg. $58
$35 Shrug cardi in cool colors. s-m-l. Reg. $65
$39 Michael Aram porcelain sea urchin candle. Reg. $99
$49 Lola and Sophie double layer tanks, 4 colors. s-xl. Reg. $125
$49 Fringe summer ponchos, one size. Reg. $98
$99 Rebecca Minkoff handbags. 3 styles. Reg. $195
$20 gift card with any $100 cosmetic or fragrance purchase
I look forward to seeing you all there!! PLEASE PLEASE share this post with your friends on FB, Twitter, and PINTEREST (see sharing icons at the end of the post). Why? Because that's what friends are for!
General info:
Champagne Sale, Thursday, June 11 from 4pm to 8pm (One Hour Specials from 4pm to 5pm)
Gus Mayer will close from 3pm to 4pm to prepare for the event.
Champagne and Hors D'ouevres will be served from 4pm to 8pm.
60% off summer fashions*
60% off Regina's 'Choice' Jewelry*
50% off rack shoes*
Entire stock not included. Does not apply to prior purchases, gift cards, special orders, trunk shows, alterations, cosmetics or fragrance. Other exclusions may apply.
Have a GREAT week, and I will see you ALL on Thursday!
I was compensated for this post, but don't worry, all STYLING and OPINIONS are my own.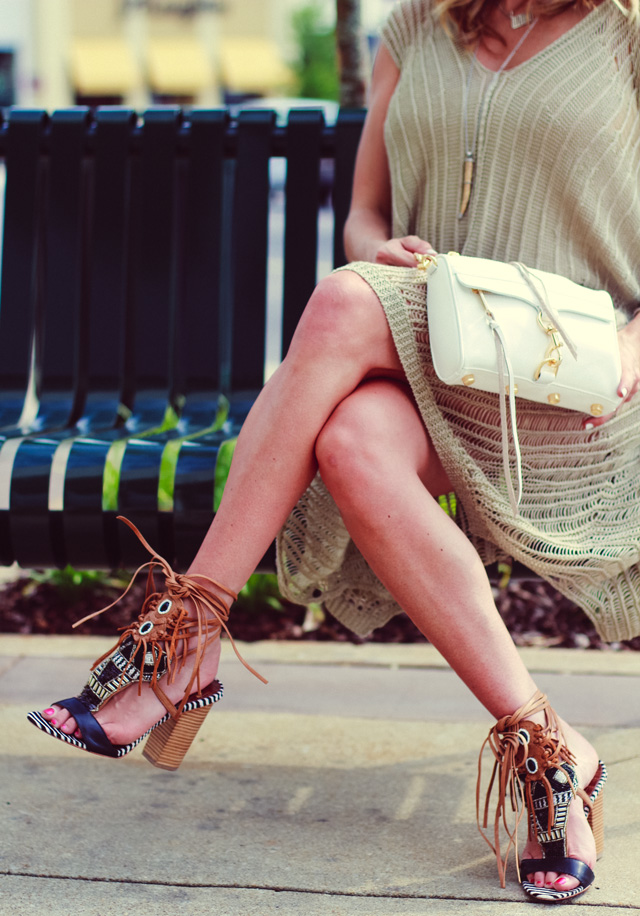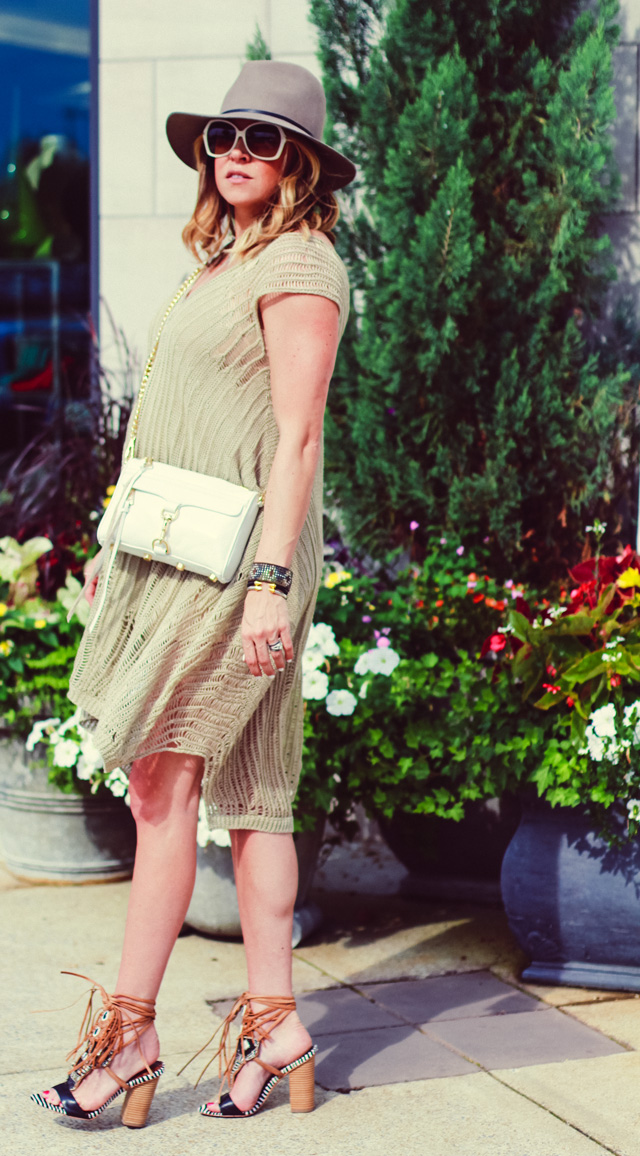 ---
DRESS Urban Zen • SHOES Sam Edelman • SUNNIES Tom Ford • HAT Janessa Leone Lola • NECKLACE Tat2 Manhattan South • BRACELETS Vita Fede + Will Leather Goods
---
---