Happy New Year ya'll!  I hope everyone had a FABULOUS holiday season.  I have thoroughly enjoyed the time at home with the hubs and our families.  Now, it's back to the real world and time to show 2015 who's boss.  Don't get me wrong, 2014 was AMAZE…But, I CANNOT wait to see what this year has in store for us.
On Christmas Day, the hubs and I traveled to the ATL on a MAJ shopping and eating spree [don't worry, full review coming].  And boy did we end the year in-style, fat, and happy.  Over the next few weeks, I will be blogging all of our finds.  Ryan COMPLETELY revamped his wardrobe, while I snagged some MUST-NEEDED staples.  I am telling you, he seriously has a knack for finding the BEST pieces on sale.  Me on the other hand…not so much.  Let's just say I slept in, while he hit up the early morning Saks and Neiman's sales.
Ok, so on to the point of the actual post: OVER THE KNEE BOOTS.  Seriously, I die over these Rachel Zoe boots.  I know what many of you are thinking…over the knee boots can be WAY over the top.  Well, not so fast.  They can be worn casually or dressy, but they are always a showstopper.  For this outfit, I dressed them down with a pair of faux leather leggings, MY FAVORITE ISABEL MARANT SHIRT IN THE ENTIRE WORLD, a bad-ass jacket I picked up on sale [also by Isabel Marant], and one of my FAV Christmas gifts: a metallic turban headband by Eugenia Kim. What else is there honestly?  The gold toe on the boots provides JUST enough glam, while the suede material adds a touch of class.  And that fringe bag, though.  I could dedicate an entire post to this fabulous piece. [Another awesome Christmas gift from my "It Girl Gift Guide"]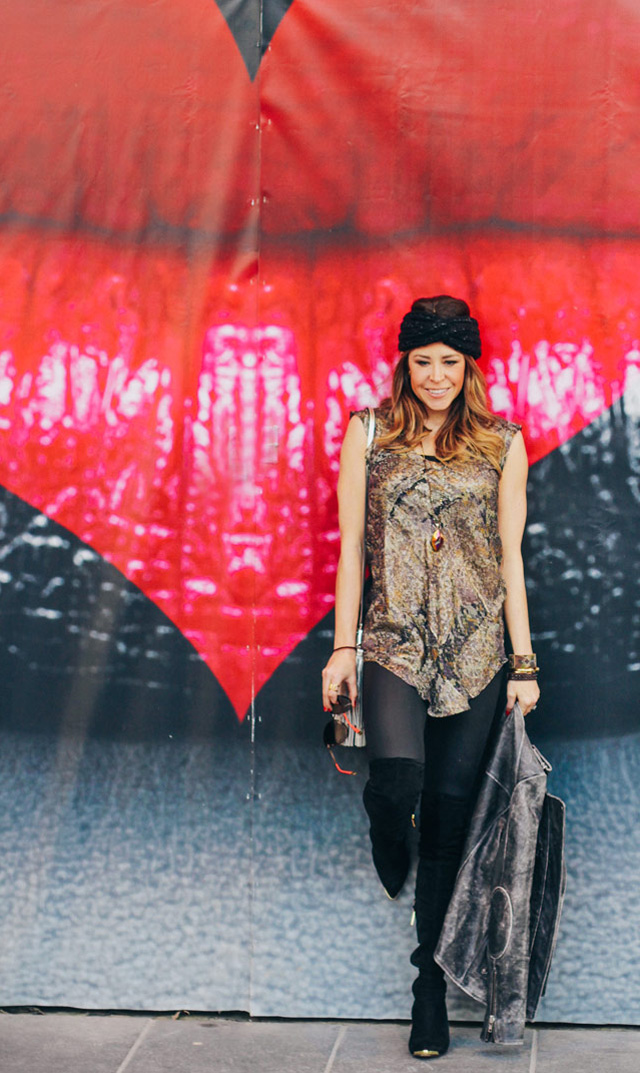 So, when it comes to boots, frankly, I am just OVER IT…as in OVER THE KNEE.  These Nico boots have become THE ultimate staple in my closet.  I hope you guys have a great rest of the weekend are ready to kick some ass in 2015!!!
♥ always-LL
---
TURBAN Eugenia Kim • SHIRT Isabel Marant (60% off!!!!) • PANTS Kova & T (sold out but lot's of options in widget below) • BOOTS Rachel Zoe Nico (also, similar on sale HERE) • JACKET Isabel Marant (60% off!!!!) • BAG Rebecca Minkoff • SUNNIES Fendi • NECKLACE Native Gem • BRACELETS Vita Fede & Vita Fede, WILL Leather
---
SHOP more options for the entire look here:
Rebecca Minkoff 'Julian' Backpack with Fringe • Rebecca Minkoff • $395.00
Rebecca Minkoff Finn Metallic Fringe Crossbody Bag, Silver • Rebecca Minkoff • $195.00
Rebecca Minkoff Finn Metallic Fringe Crossbody Bag, Rose Gold • Rebecca Minkoff • $195.00
Vita Fede Titan Two Tone Bracelet • Vita Fede • $325.00
Vita Fede Titan Mini Two-Tone Bracelet, Black/Rose Gold • Vita Fede • $275.00
Vita Fede Mini Titan Two Tone Bracelet • Vita Fede • $240.00
Vita Fede Mini Titan Two Tone Bracelet • Vita Fede • $240.00
Vita Fede Mini Titan Bracelet • Vita Fede • $225.00
Vita Fede Titan Bracelet • Vita Fede • $275.00
Rachel Zoe Women's Nico Over-the-Knee Boot • Rachel Zoe • $745.00
Rachel Zoe 'Nevana' Over the Knee Boot (Women) • Rachel Zoe • $372.49
Isabel Marant Étoile Bacuri Moto Jacket • Etoile Isabel Marant • $489.00
Eugenia Kim Lula Metallic Turban Headband • Eugenia Kim • $100.00
Isabel Marant Metallic Snake-Pattern Parma Tunic • Isabel Marant • $239.00