BEST AFFORDABLE THANKSGIVING OUTFITS IN 2020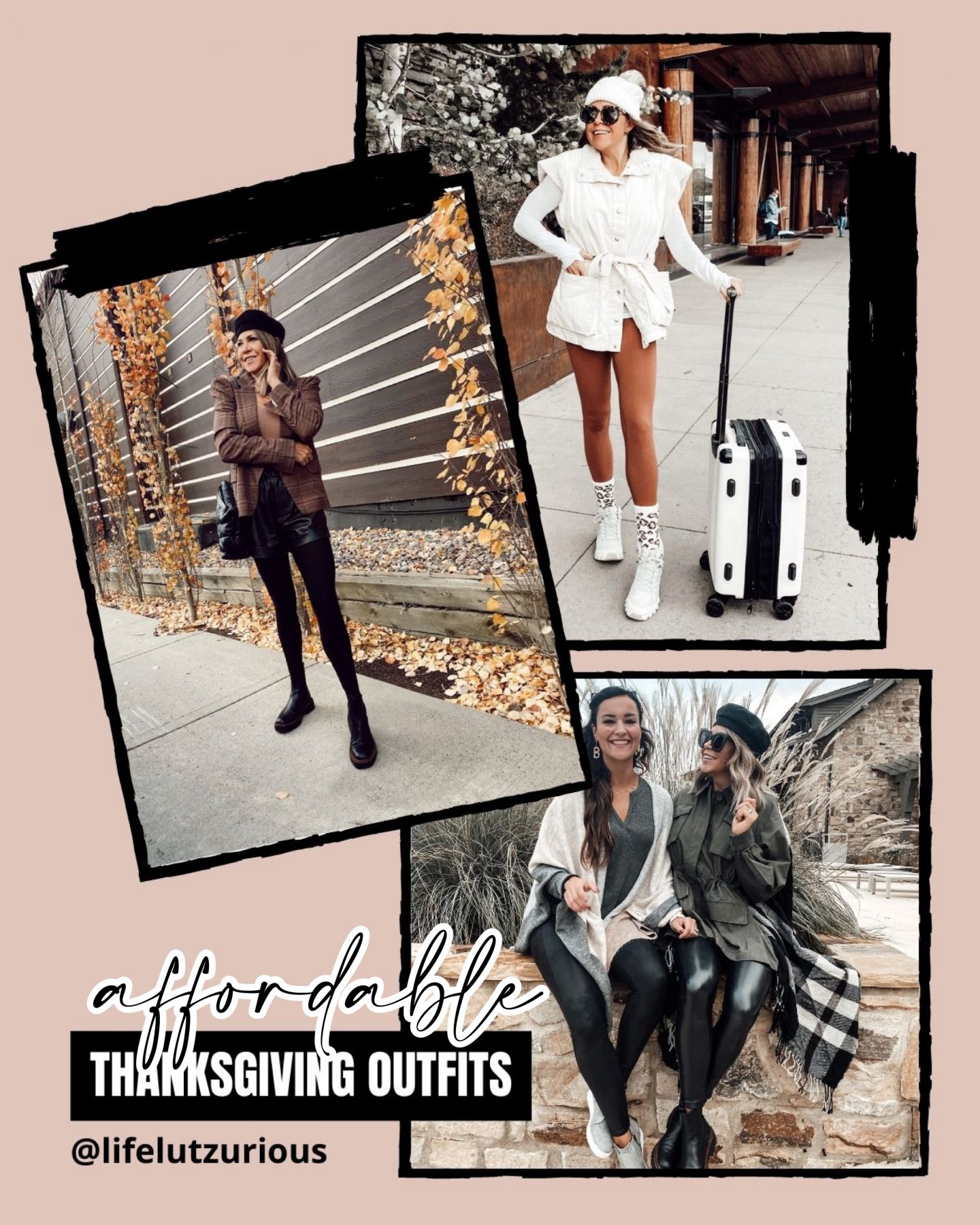 Trying to plan your Thanksgiving outfit but not sure what to wear this year? We all know Thanksgiving Day and Friendsgiving will look different in 2020, but there's no reason not to look cute for the occasion!
Comfort is key this year. Just like the rest of 2020, feel free to rock yoga pants, midi dresses, or even a two-piece loungewear set. Honestly, at this point, bring on the matching PJs. Nothing is off limits this year–thanks Covid. Still want to get fancy? Let's do it. We all need a reason to celebrate these days.
WHO VOTES LEGGINGS ARE ACTUALLY PANTS?

This affordable Thanksgiving outfit totally proves my point. You can be comfy and cozy in the softest leggings ever, while looking oh so chic in this sherling vest. While they are a splurge, I am OBSESSED with these OnCloud hiking boots. However, these under $80 white sneakers from Amazon would be a great alternative. The leopard socks will be perfect once you kick off your shoes to watch some football.
ONE FRINGE BENEFIT OF COVID THIS THANKSGIVING

Ok, total silver lining here: we get to be as comfy cozy as we want this Thanksgiving. I LOVE this fringe sweater as an option for an affordable Thanksgiving outfit. Guess what? It also comes in the oh so popular rust color. Pair with high waisted jeans, Vegan leather leggings, or even a satin midi skirt to dress it up a notch.
AND IF THIS OUTFIT DOESN'T SCREAM PASS THE PUMPKIN PIE, THE I DON'T KNOW WHAT DOES!

OBSESSED with this affordable Thanksgiving look!! The little puff sleeve plaid blazer (ON SALE for $109) and the lightweight sweater bodysuit are two of my FAVORITE recent purchases. Pair with Vegan leather shorts or jeans, and you are ready for some turkey! You are going to dieeeee when you see the price points of each piece! If you haven't purchased these waterproof Chelsea boots, now is the time. At $149, they will be your most worn boot of the season. Happy Thanksgiving, friends! Make sure you are following along on Instagram and in the LTK app for more exclusive holiday content!