6 WINTER WARDROBE STAPLES
It looks like we are in for some REALLY cold temperatures over the next several days. In fact, we are expecting a decent amount of SNOW here in Birmingham, so its time to bust out the snow boots. I don't know about you, but when it's freezing outside, I don't even want to leave my house. However, you can still bundle up and look stylish. In fact, I highly recommend layering to take your winter wardrobe to the next level. Here are my six winter clothing staples to ensure you stay cozy, comfy, and chic from now until Spring.

[full_width]
[/full_width]
[one_half padding="0 2.5px 0 0″]
[/one_half][one_half_last padding="0 0 0 2.5px"]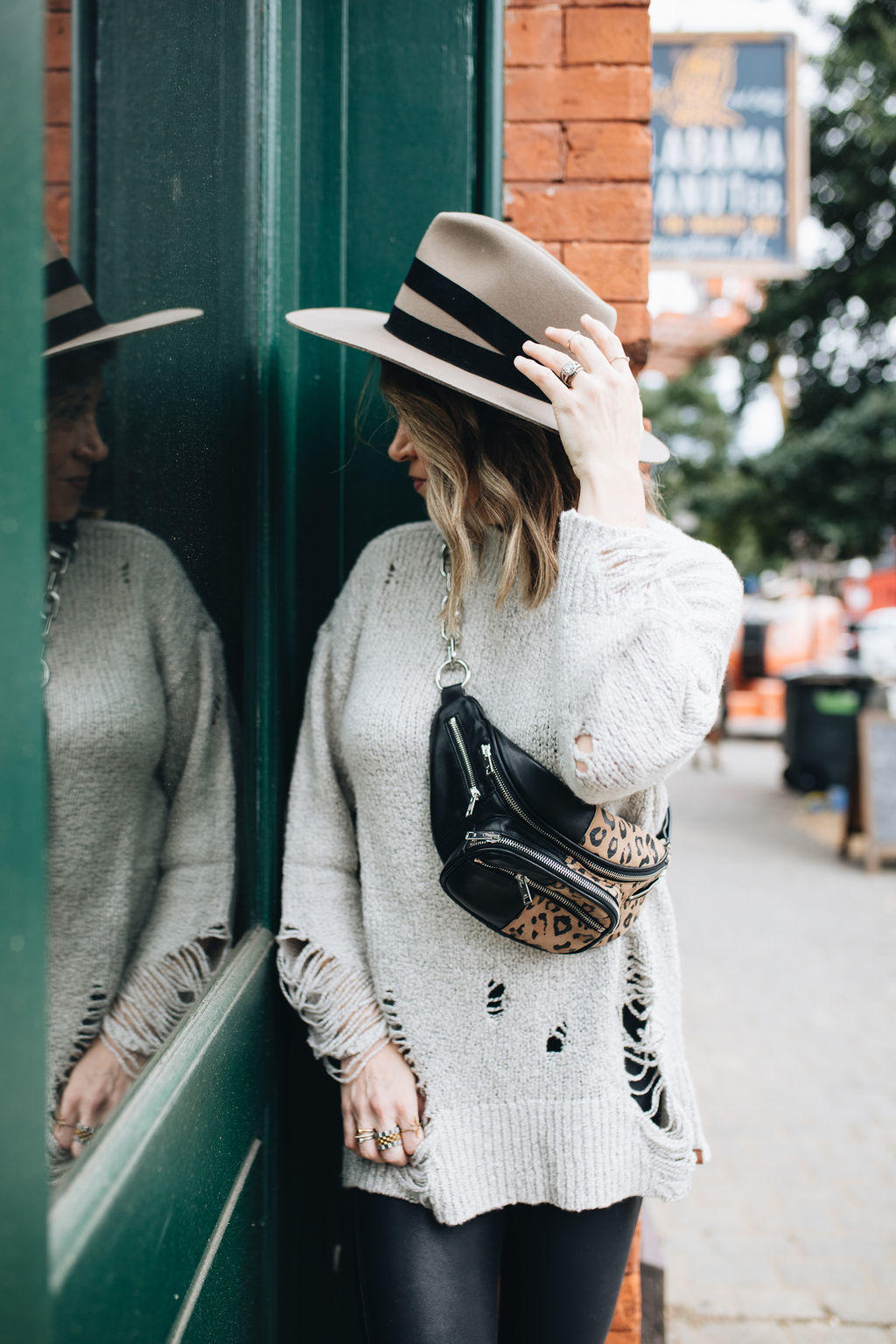 [/one_half_last][full_width]
[/full_width]
gray laddered sweater // black faux leather leggings // Janessa Leone hat // leopard fanny pack // Gucci Princetown velvet slippers
WINTER WARDROBE STAPLES: FAUX LEATHER LEGGINGS
Do not walk, RUN to grab these faux leather leggings. At less than $100, they are so worth the cost. These liquid leggings are pretty damn fab too for $15 less. You can dress them up for date night or down for running errands. The outfit you see featured in this post would be perfect for date night. Try pairing them with a black puffer vest and pom pom beanie for running around town.

WINTER WARDROBE STAPLES: BEANIE OR WOOL HAT
[one_third padding="0 3px 0 0″]
[/one_third][one_third padding="0 3px 0 0″]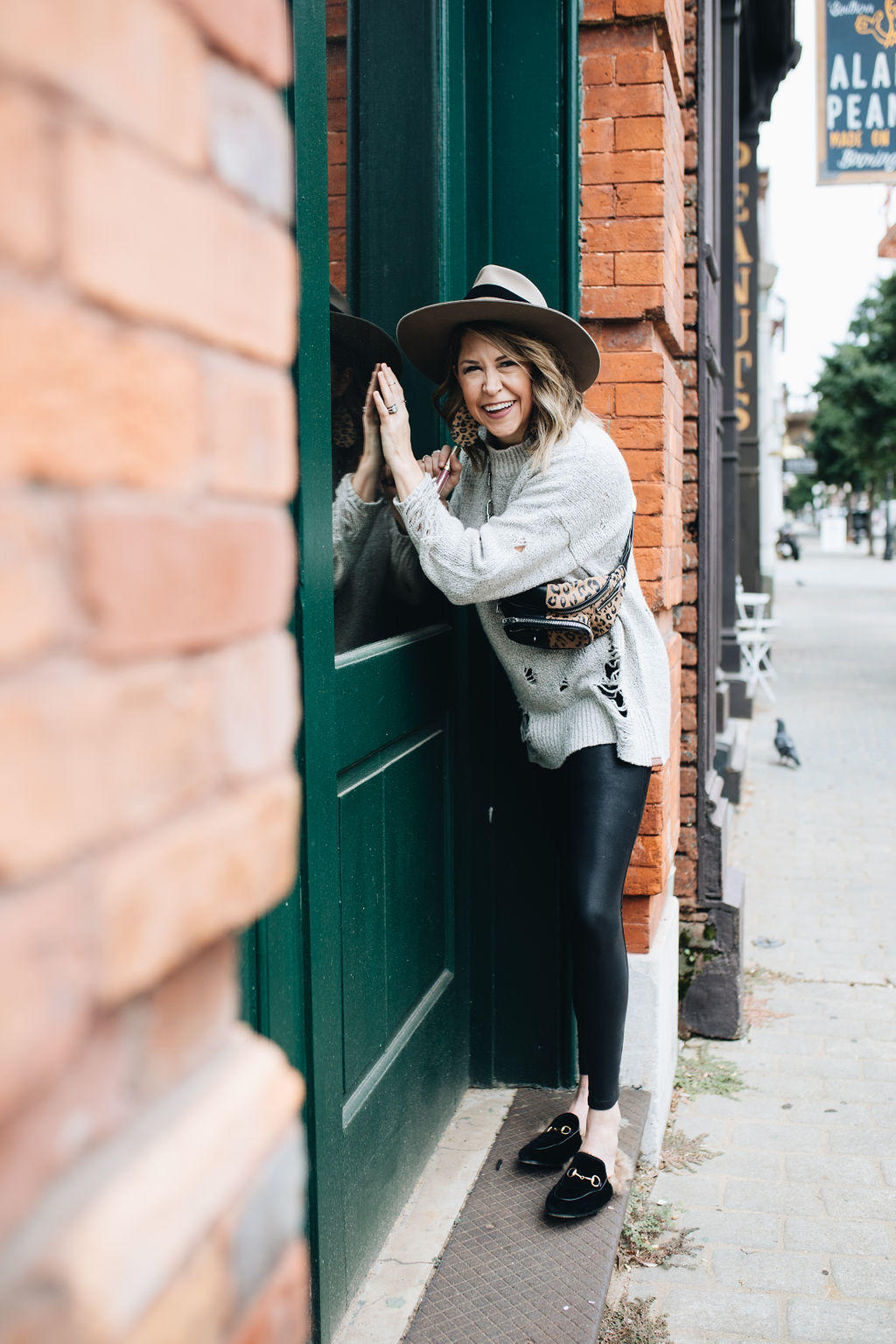 [/one_third][one_third_last]
[/one_third_last]
Throwing on a beanie or a stylish wool hat adds an instant cool girl vibe. I realize hats can be tricky, But my biggest piece of advice is to just throw it on. Don't think about it too much. Hats are a great way to add interest, texture, and of course, warmth. They are also perfect for a bad hair day and can be worn inside as well. Right now I am loving this pom beanie and this wool beret.

WINTER WARDROBE STAPLES: WATERPROOF BOOTS
I HIGHLY recommend a pair of waterproof boots. SO MANY of you suggested the Bean Boots and the always stylish Sorel boots. Honestly, you cannot go wrong with either. As a mentioned above, we are expecting snow on Tuesday. I just ordered a pair of these Sorels, so I could play with Asher in the snow. They would also look super cute with your faux leather leggings, puffer vest, and pom beanie.
If you live in the South, some days we get 65 degrees, the next day we get 25 degrees. I have LOVED my fur slides, wearing them nonstop from October to April. If it's colder, pair with fleece-lined tights or stirrup leggings.

WINTER WARDROBE STAPLES: OVERSIZED SUNGLASSES
Sunnies make any outfit look chic! And the sun can be the brightest on those cold winter days, ESPECIALLY in the snow. I am loving my Gucci sunglasses (Bham folks you can buy them locally at Gus Mayer) and the crowd favs by Quay for a budget friendly option.

WINTER WARDROBE STAPLES: LONG COAT
[one_third padding="0 3px 0 0″]
[/one_third][one_third padding="0 3px 0 0″]
[/one_third][one_third_last]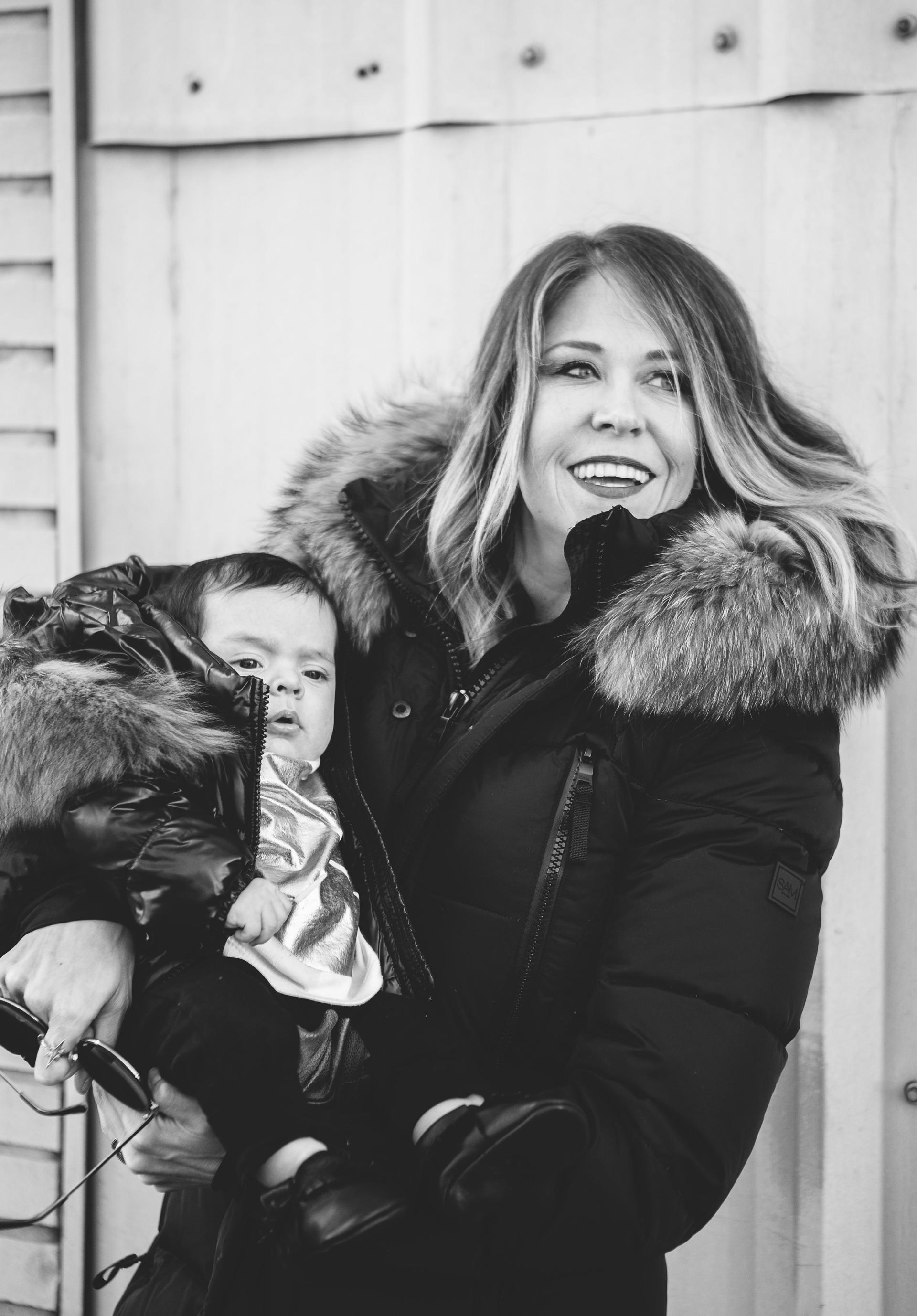 [/one_third_last]
*Side note: I ran across these pictures from Winter 2015 and HAD to include them. Look how timeless my puffer coat/leather legging combo was! And look how tiny Asher was. OMG.
The two coats I wear the most are a plaid long coat and my SAM Outerwear down jacket. The puffer is an investment piece, but I have had it for almost 4 years. It's warm, stylish, and flattering. You can literally pair the plaid coat and the puffer with anything and everything. Today I wore the plaid coat with biker shorts, a cropped sweatshirt, and my dad sneaks. SO STYLISH. Here is a great long puffer coat on sale for $165 and another puffer for $116! Another great option is a long puffer vest that covers the booty.

WINTER WARDROBE STAPLES: ALL. THE. SWEATERS.
This one is pretty obv, am I right? But the perfect sweater is seriously hard to find. Here my favorites, including the gray distressed sweater (on sale for $88) you see featured in this post. Also, a lot of you suggested lot's and lots' of pullovers. I have been living in my Alo Foxy Sherpa! Also, here is a teddy bear coat for less than $100.

WINTER WARDROBE STAPLES: PATTERNED TIGHTS, BECAUSE DATE NIGHT.
[one_half padding="0 2.5px 0 0″]
[/one_half][one_half_last padding="0 0 0 2.5px"]
[/one_half_last]
Look, I hate wearing dresses in the winter as much as you do. BUT, sometimes you gotta put on your big girl panties patterned tights and paint the town red. These leopard tights are my favs, as well as these polka dot tights. If you are looking for more warmth, I am obsessed with these fleece-lined tights. I wear them nonstop. Flattering, warm, and chic!

WINTER WARDROBE STAPLES: READER SUGGESTIONS
Thank you all SOOOOO much for all of your fabulous suggestions!
Glossier Priming Moisturizer. I CANNOT WAIT to try this. My skin is so dry right now!
Marula Oil. PRO TIP: Keep next to your bed for face and nail/hair cuticle protection. I love this clean marula oil by Drunk Elephant.
Chic layers. YAS YAS YAS YAS. The plaid coat I showed you earlier pairs so well over a bright red hoodie.
Cozy socks. Socks are a MUST. When working out, I am obsessed with the Lululemon socks. To wear with boots, I am loving these merino wool socks that are super lightweight but also warm. If you are wanting some cute socks to peek out of your boots, these Barefoot Dreams socks are cozy and chic.
Endless pullovers. Obsessed with my Foxy Sherpa pullover/jacket. And this Wubby Fleece Pullover is a huge crowd favorite.
Hand cream. This Grown Alchemist body cream is TOO LEGIT TOO QUIT. It's made with "bioactive, certified organic ingredients to soothe and nourish even the driest skin."
Lip Balm. I am LOVING this all-natural tinted lip (and cheek) balm. SO SO good. My husband swears by Little Seed lip balm, made locally in Nashville.
Fingerless or texting gloves. I am including my favs in the widget below!
Thank you ALL so much for reading. Don't forget to SHARE and TAG ME on Instagram, so I can see your looks. Also, make sure PIN this post to your favorite style board. Looking for more inspo? There are a ton of fashion posts on the blog, such as How to Rock Trends on a Budget! Love ya, mean it.