WHAT TO WEAR POST-QUARANTINE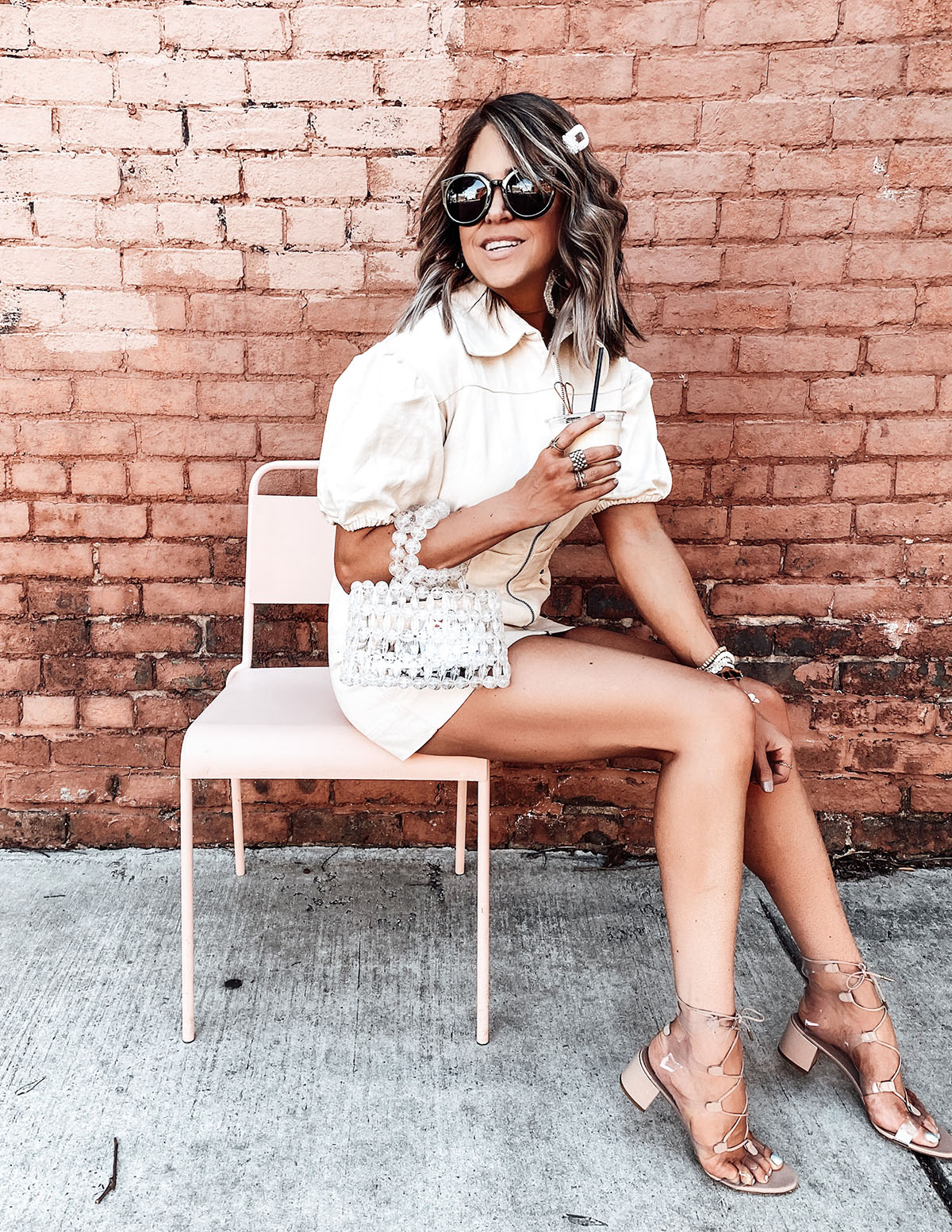 Is it just me or are you guys completely out of practice when it comes to picking out outfits to wear after so many months at home?! The other day I literally was wearing a cute leopard print blouse with bike shorts underneath for a Zoom call for work. If your state is like Alabama, then some of the social distancing and stay-at-home orders are being relaxed and that means we are going to have to slowly start re-emerging from our homes….in real clothes.
When I put up a question box asking for topics that you would like me to cover here on the blog, several of you asked for suggestions on what to wear once quarantine is over. Today, I am going to share five of my absolute favorite looks to wear post- quarantine, once real clothes become a mandatory instead of a special occasion.
WORK IT GIRL
I have actually worked from home for the past 13 years, but nothing has made me crave going into an office like working from home with my husband and two kids under 5. Do you feel me? Somedays I would literally daydream of what working in peace and quiet might feel like. If you do find yourself lucky enough to slowly be going back into the office in the next few months, I have a feeling that things might be a little more relaxed and casual as we all get back into the swing of things.
Just because things are casual doesn't mean you can't be comfortable and look pulled together. A dark, clean wash pair of denim is the perfect option for what to wear to work post quarantine. I am loving the flare leg trend and this pair is so chic and really sucks you in! I also love the idea of bringing one of the hottest trends of quarantine- tie-dye- into the workplace with this really subtle tie-dyed bodysuit that is under $100! Pair it with a white blazer and you are work-ready. The best part is the bodysuit has the cutest cut-out back, so all you have to do is take off the blazer and you are ready for a post-work happy hour….remember when those were actually part of our lives. #thegoodolddays.
A DONUT RUN
I donut know about you, while we might be able to go out of our house a little more frequently, I think our love of cozies has been pretty well established during quarantine. I love the bright spring colors of this adorable dip-dyed set from Splits59. You know, donuts, but make it fashion. If you want to try the tie-dye or dip-dye trend, but don't want to invest a ton of money in it, I have found some great sets that you can get for under $100 below.
TIE-DIE SWEATSUITS UNDER $100

MOM CAN WE GO TO THE PARK
Y'all even my kids are going stir crazy. My boys are usually in daycare (Ryan and I both work full-time), so I sometimes forget that this has been a huge disruption to their schedule too. As much as they love being home with us and getting all of this extra time together, I can totally tell they are missing the stimulation of their friends and teachers and the structure of going to school. We try to get them outside as much as possible- because hello they are wild- and if I am chasing after them I want something that is both comfortable and stylish and allows me to wind sprint after them easily.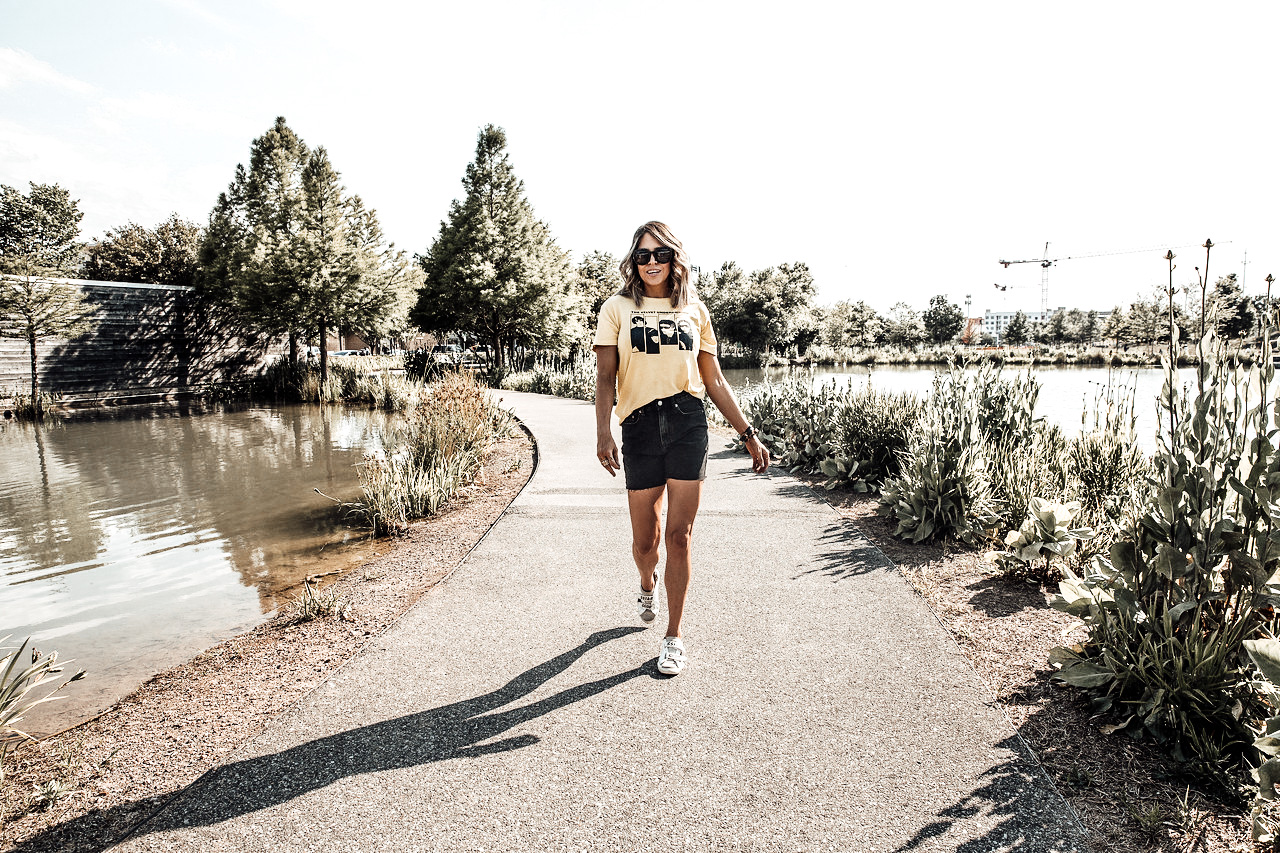 I love a good graphic tee and the unexpected pop of yellow was what drew me to this one. This guy is pricey, but the quality is absolutely amazing and I know I will grab it to throw on all summer long. Band tees have been such a huge trend this year, and I don't see them going anywhere anytime soon. I found some really amazing options under $50 (with a lot of them under $25) if you want to snag one, but don't want to spend the big bucks on a t-shirt.
BAND TEES UNDER $50

GET ME A DRINK
If I am coming out of this quarantine with one new skill, it is going to be an increased tolerance. Am I right? I don't know about you, but I am longing for time with my girlfriends. Not getting spend time with them has honestly been one of the hardest parts of quarantine for me. I am hopeful that there will be lots of girl's nights out in my future and I can promise you I will be wearing this dress to at least one of them. It is so comfortable and you know I have a thing for puff sleeves.
TAKE ME OUT
Who is in dire need of a date night? I know I am! Ryan and I are pretty good about getting time together without the kids and that has REALLY suffered during quarantine. We are so grateful to get a few nights out during our beach trip, and I am most definitely looking forward to them becoming a more regular thing in the upcoming months.
I absolutely LOVE this red, cropped balloon sleeve top. It is so versatile and easy to dress up or down. I paired it with one of my favorite snake-skin skirts, but it would look just as cute paired with a pair of high-waisted black denim. I will say it is a pretty high crop, so if that makes you uncomfortable either wear it with something very high waisted, like my skirt, or just pair it with a black tank top underneath when wearing it with black jeans.
SHARE YOUR FAVORITE POST QUARANTINE OUTFIT
Which outfit are you looking most forward to wearing to work or date night? Make sure you head over to my Instagram for tons of beach and summer post quarantine outfits and pin this post to your favorite style board!.