26 End of Summer Outfit Ideas Over 40
26 End of Summer Outfit Ideas Over 40
When you're young and don't have the responsibilities of kids, a career, and a hundred other daily duties, it's easy to keep up with the trends and spend time on your style. But, as you age, it can sometimes be harder to stay fashionable. 
Clothes don't fit the way they used to and often companies don't even market to your demographic. Even if they did, who has time to browse tons of stores and shop for the perfect outfit? But, ladies, you still deserve to look and feel fabulous.
As a woman over 40, you have more style than ever! You know yourself well, you have confidence, and you have a lot to represent and be proud of. Because of this, you shouldn't feel limited in your style options. So, today, I am going to make it super simple for you. Here are 26 end of summer outfit ideas for any of y'all looking for that perfect summer ensemble:
26 End of Summer Outfit Ideas Over 40
First up, we have a lightweight maxi dress that comes in a modern two-tone color scheme. Something you always want to avoid when you're over 40 is anything that looks dated. Retro can work, but it's a fine line when you're over 40. But, you won't have to worry about any of that with this dress. This maxi dress is trendy and stylish, while offering full coverage to any parts of your body you're not satisfied with.
The tie will help define your waist and the criss-cross strap adds visual interest, drawing the eye upward to make you look taller. This dress is ankle length, which means you won't be tripping over it while you're out and about, but also means you need a good pair of strappy sandals.
Finally, add the finishing touches with this beaded strange bracelet, these thick gold hoops, and a fun handbag! This look is great for vacation or brunch with the girls.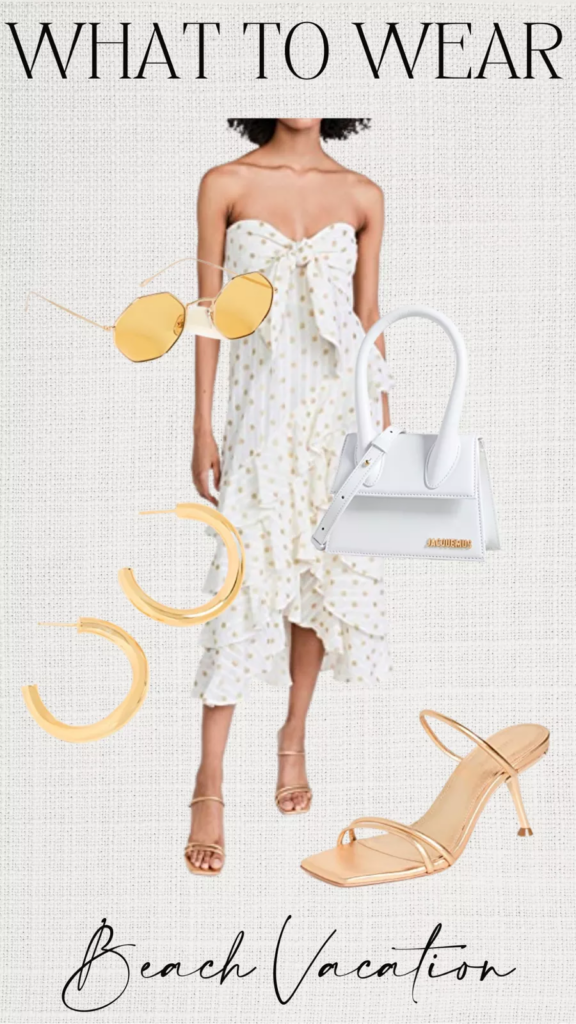 No matter your age, playing with shape is always a good call. It helps ensure your clothes are flattering and you're dressing to your body type. [Link body type article when live.] This is vital when you're over 40! The right fit and the right clothes will make you look youthful and make you feel confident.
This flowy, strapless dress perfectly hugs the parts of your body you want to flaunt and covers what you don't. The asymmetrical ruffles are so cute and add a lot of exciting curves and body. This shape is juxtaposed with the angular handbag and shades for a perfectly balanced look. Add gold sandals and the timeless gold hoops from the last outfit, and you've got a show-stopping look. These can take you into fall as well!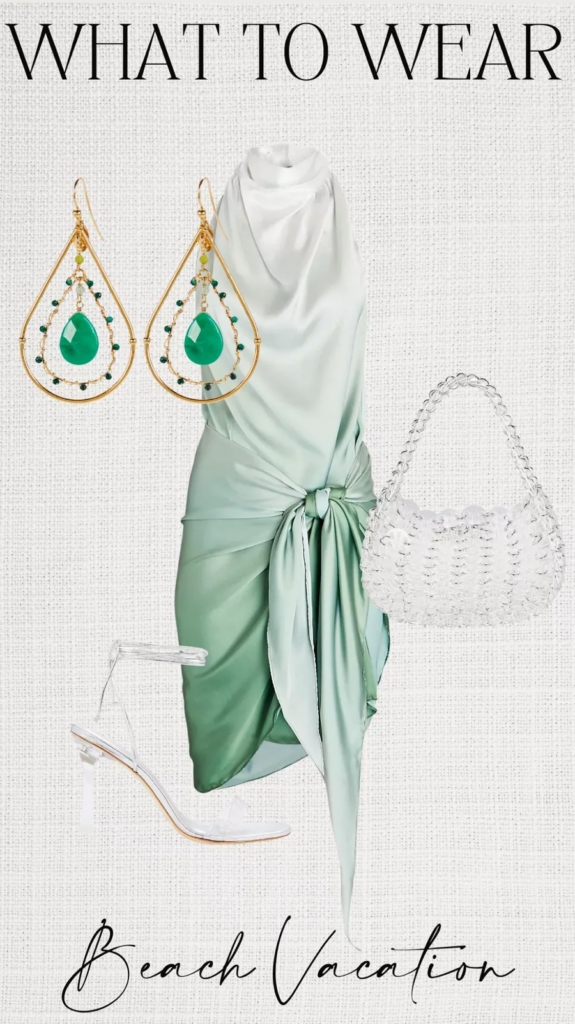 This next summer find is sophisticated and unique with this one-of-a-kind ombre, satin green dress that is just GORGEOUS. The shape and color is dynamic without being too wild. It's important to continue taking risks with your fashion. It'll make sure you always look perfectly chic.
Speaking of taking risks, this outfit needs this 1969 Paco Rabanne shoulder bag. It's a throwback, but it's modernized. Totally fitting for dressing over 40! This bag adds the perfect amount of conflicting hard edges and angular shapes that the silky dress needs to be balanced. Add matching clear sandals and emerald earrings for a complete outfit.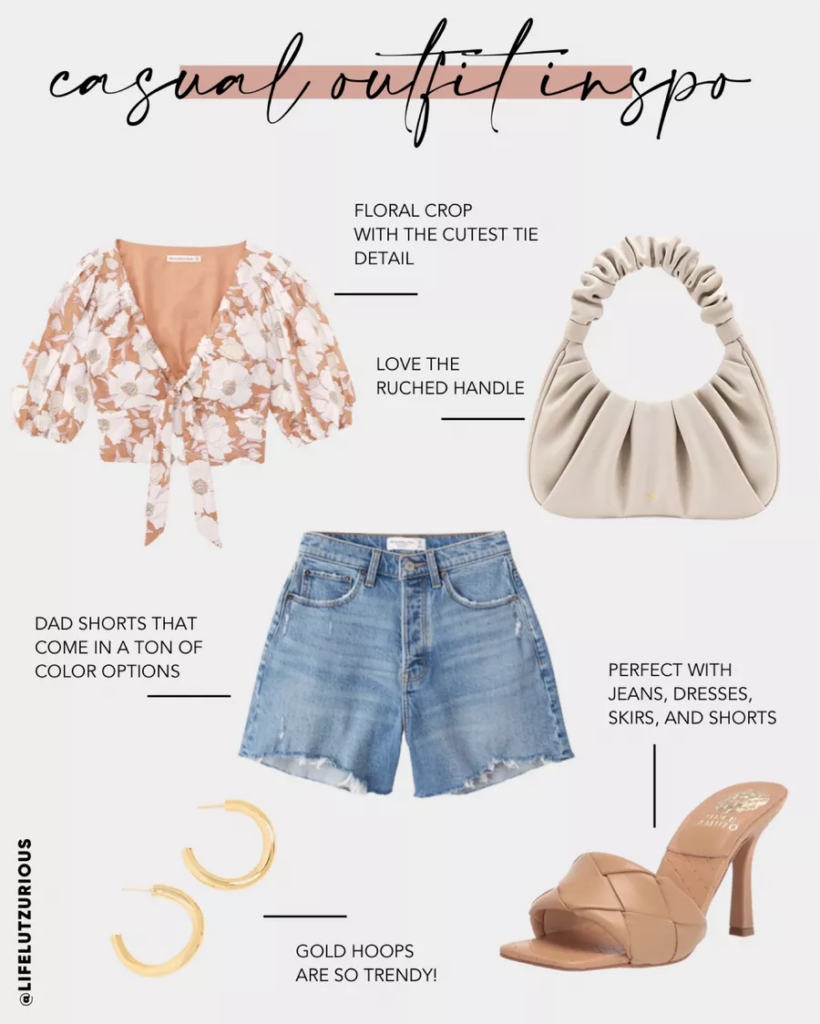 High rise bottoms are the perfect choice for women over 40! Chances are, many of us have a little extra chunk around the tummy from age or popping out a couple of babies. High rise pants will cover this while still giving you a flattering flat-looking stomach and defined waist. (And, never be afraid to wear shorts and flaunt those gorgeous legs.)
Combined with a floral print crop top, this high waisted shorts outfit has naturally slimming and heightening effects. This means you'll look taller and thinner with this thoughtful summer look. (And, there are those gold hoops again. I'm telling you! They're the ultimate versatile and timeless jewelry piece.) [Link timeless jewelry article when live.]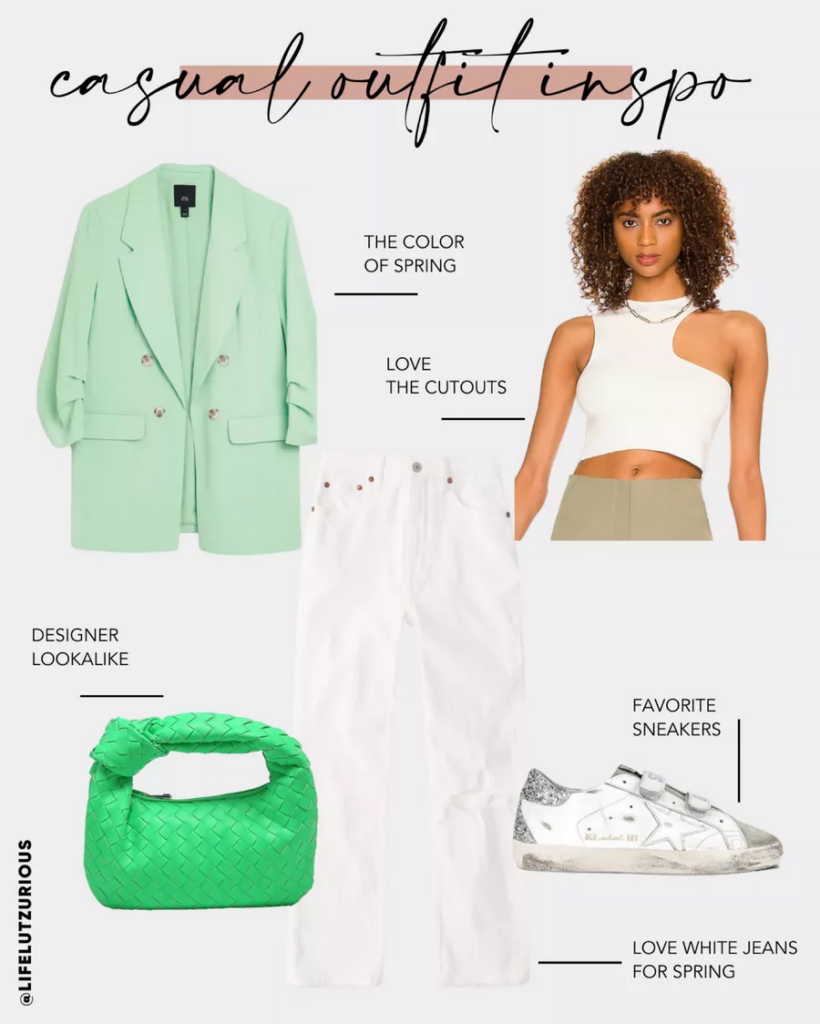 Remember what I said about risks? Oh yeah, because this one is all about being a little funky. Start with a cut-out crop top and high-waisted white jeans to form your figure. Then, add a bright green blazer and handbag for an unexpected pop of color. Finish it out with old school sneakers.
These retro kicks combined with the neon colors will give you flashbacks to high school in the 80's. Back when we were all wearing too much hairspray and Olivia Newton-John was inspiring everyone with her legendary bright workout wear. (Let's get physical!)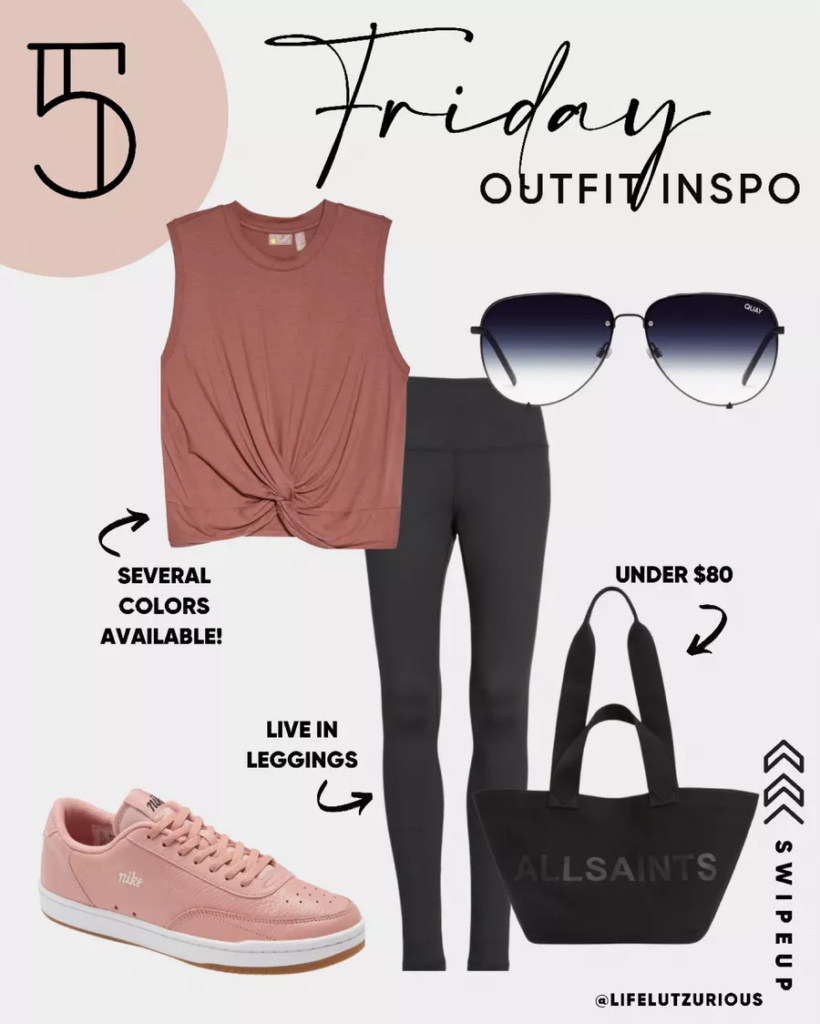 Alright, here's a more casual outfit for you busy ladies out there. It's super simple. Just grab a twist front tank in any color (it comes in SO many colors), and these super-comfy and cute black leggings. Elevate it with some matching sneakers and your favorite shades, and you're ready to go! Well, first you'll need a bag. If you've got big mom energy like me, you like to carry around all your essentials. And how perfect are these colors for Fall?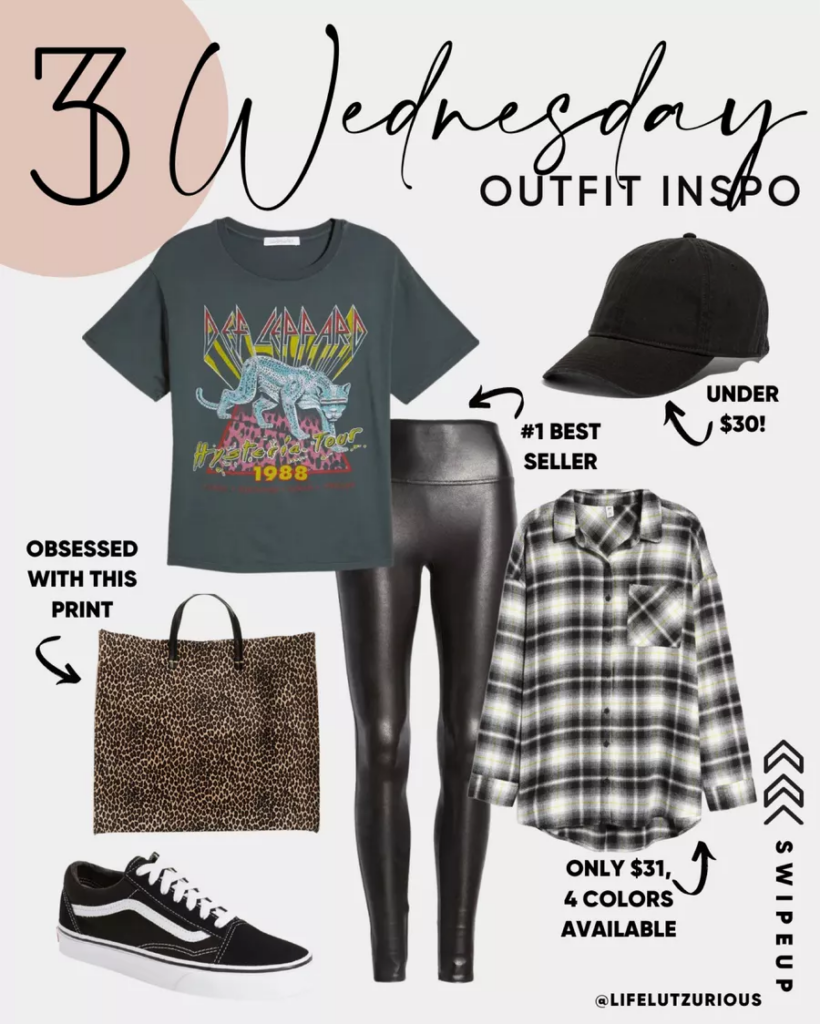 Here's an outfit that'll make you feel young again! And, guess what? Totally appropriate for all y'all over 40. Start with your favorite graphic tee. (Maybe a band concert shirt you can revive?) Then, use a flannel as a cardigan and sport some leather leggings. The mixture of textures creates an outfit that looks totally stylized and expensive [link expensive look article when live]. And, the shape is totally flattering and will garner tons of compliments and confidence!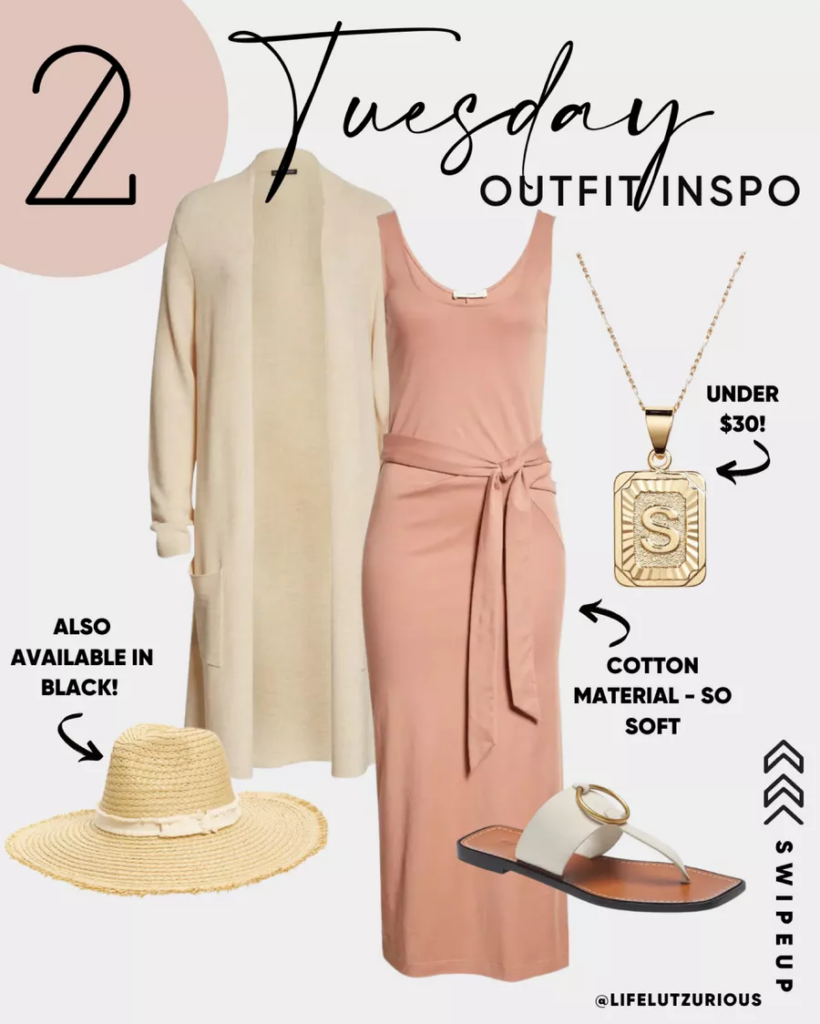 This Pima cotton dress is both elegant and sexy, with its sleek fabric and classic shape. To elevate it, add a personalized gold pendant necklace and classy sandal. And, to balance it out and tone it back with texture, I've added a long cardigan and a straw hat [link straw hat]. It's an outfit that could go out or stay in. Super comfy. Super cute.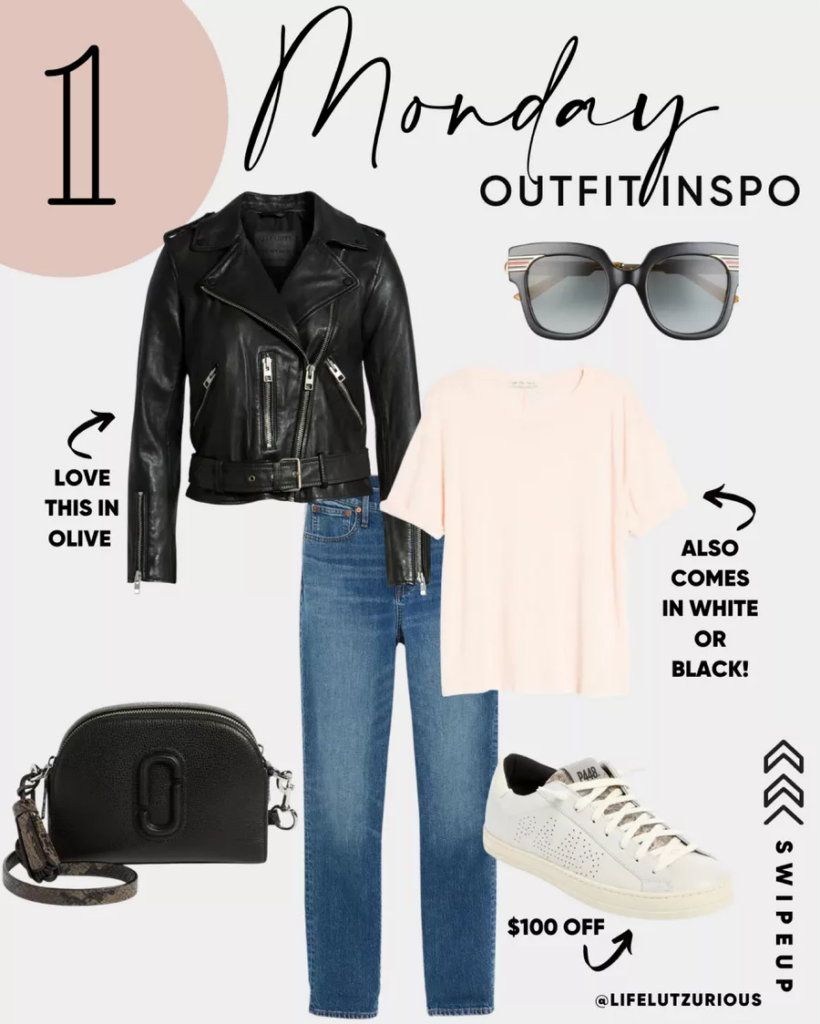 Yes, mom jeans might seem rather fitting at this point, but it's not just about the name. It's a real style! They come up higher on the waist and have a relaxed fit below. They're comfortable and great for minimizing wide hips.
With these mom jeans, grab a simple loose fitting white tee and a pair of shades. But to finish it all off and give it a little edge, you've gotta get this AllSaints leather biker jacket. It is the perfect piece to add shape to your top half and highlight all your best features!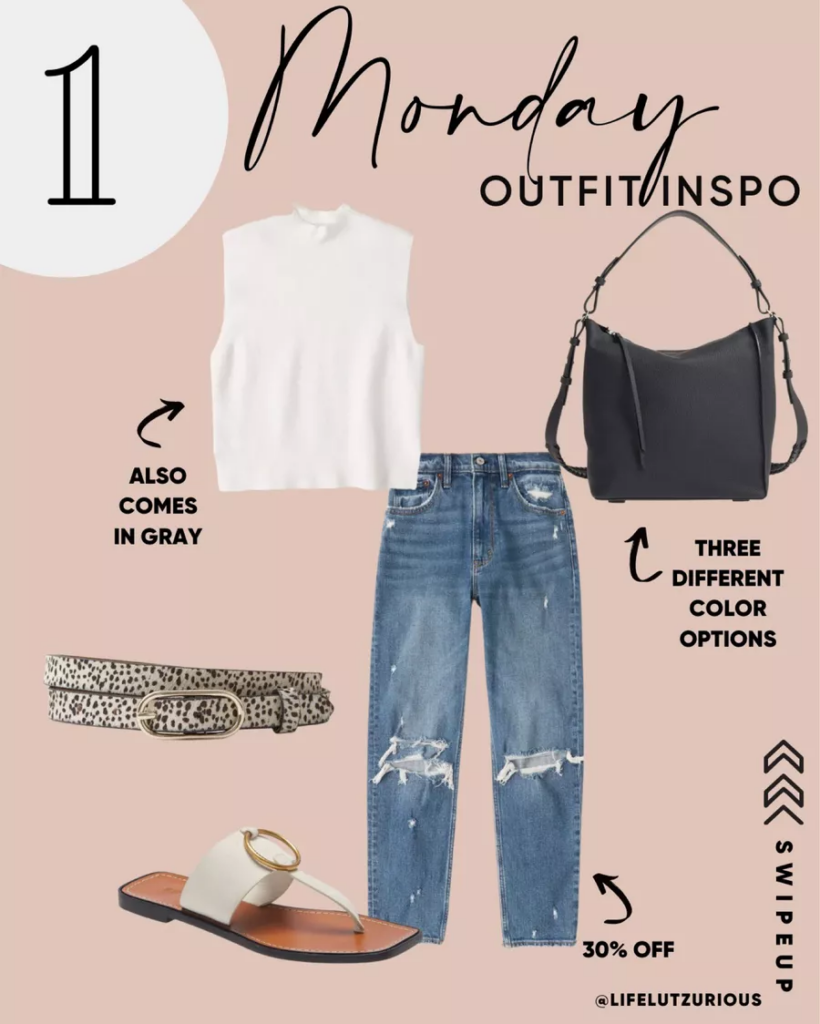 Did you know that sweater vests are in this season? It's true. They come in all sorts of cuts and styles now that are super flattering and add the perfect texture variety to amplify your outfit.
Grab a sweater vest and pair with these distressed mom jeans! (If you just can't with the tears, it comes without them too.) While you're at it with the mom jeans, grab a mom bag too. This AllSaints Kita leather shoulder bag adds a little function and a little luxury. A perfect outfit and just in time for Fall!
Here's an outfit that can be casual wear, street wear, or work wear! It has just the right level of sophisticated and easygoing. Pair a loose fitting animal print top with leather leggings for the base. The sleek, form fitting leggings will be perfectly complemented by the flowy blouse.
For accessories, a simple gold chain with a matching black leather Saint Laurent shoulder bag and Vince Camuto slide sandal. This outfit honestly has so many great basics that you can mix and match with dozens of outfits. Especially those leather leggings! This is a great outfit to start and bounce off from if you want to develop a capsule wardrobe.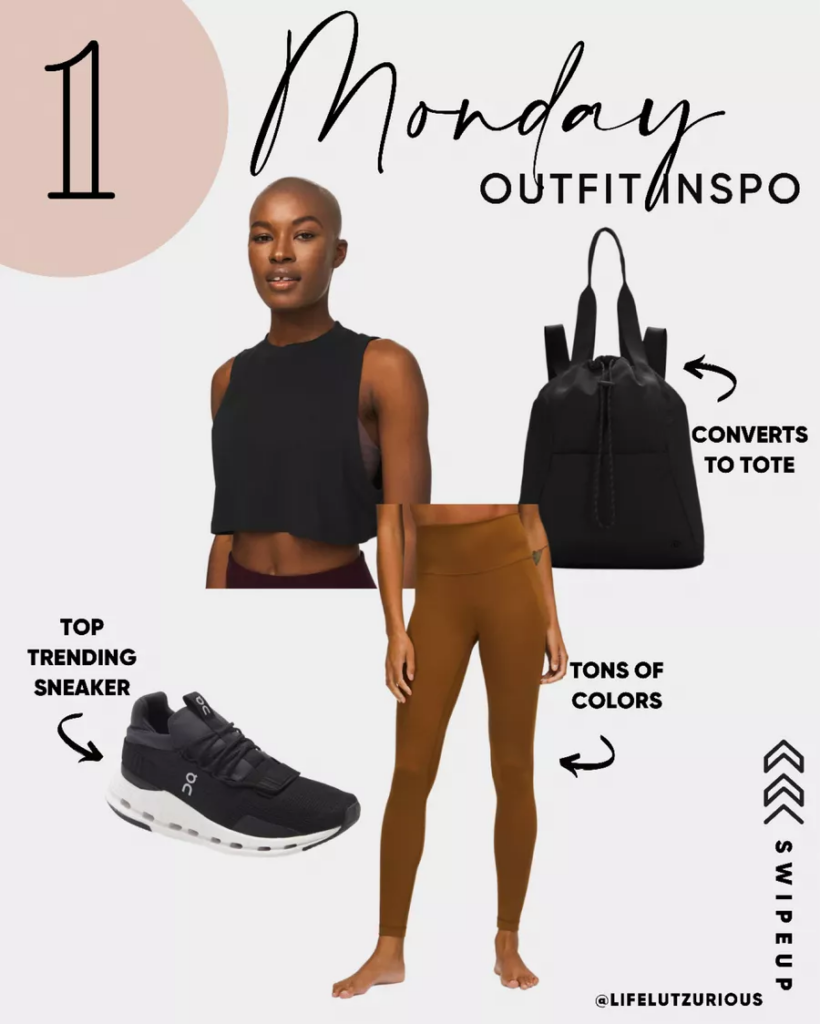 These Cloud Nova sneakers are EV-ER-Y-TH-ING. And, they're a great start to an outfit for a mature woman who's on the go or working out! You can get them in five different colors, so you can find the perfect color for your palette.
To assemble the outfit, you'll need to go on a Lululemon shopping spree. (Yes, please!) Take these high-rise Align pants in your desired length and color. (Y'all, this comes in 21 colors!) Then, pick the perfect All Yours crop tank to go with your leggings. I totally recommend going for one of the bright colors. Finish it off with this super modern and super versatile dual function backpack!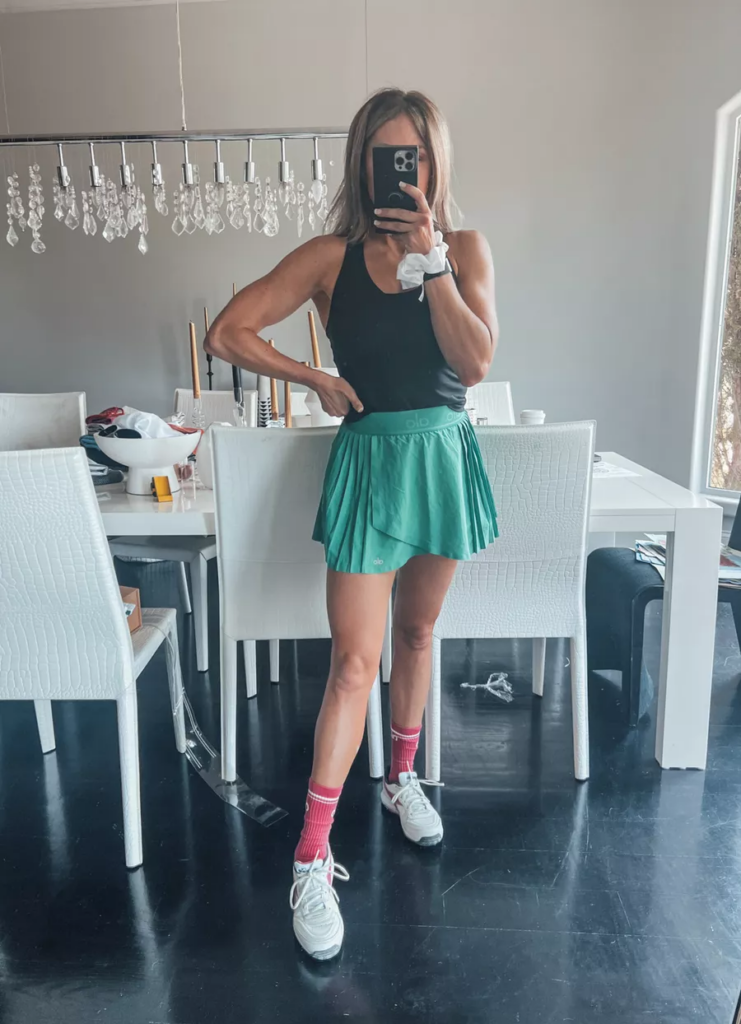 If you're looking for the perfect summer outfit, a tennis outfit is totally it. You don't need to be grabbing a racket to rock this either. Just pick a fun color scheme, and then assemble the perfect outfit combo. Simply pair this Aces tennis skirt and this Lululemon racerback tank. Both come in a lot of colors! Complete the look with these bold Alo throwback tennis socks and white sneakers. This look will keep you cool and stylish.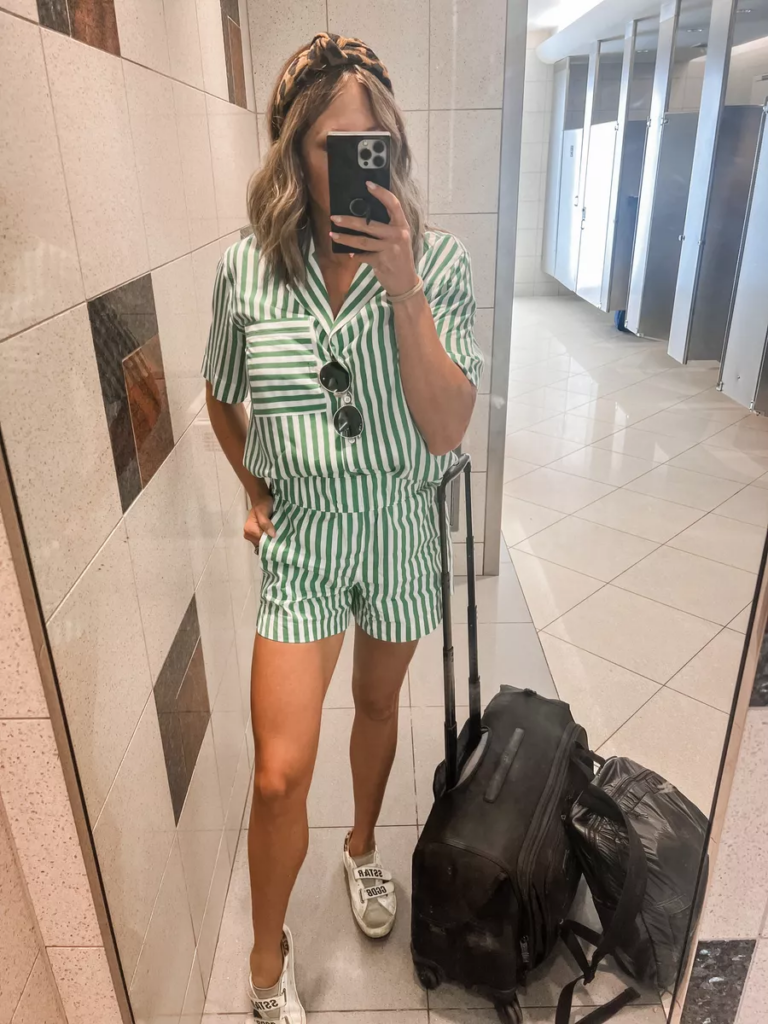 Two piece matching outfits are adorable and so easy to style! You don't have to think about a bunch of pieces to assemble, because your outfit will always be ready to go. This two-piece set features a green vertical stripe pool boy top and staycation short.
Don't feel confident in vertical stripes? You should! They draw the eyes up and down and make you look taller and thinner. While you're being a little brave, keep the single tone, monochrome look going [link monochrome article when live] with an emerald bag and green shades. This outfit is totally wild, but totally cute—and easier to pull off than you think!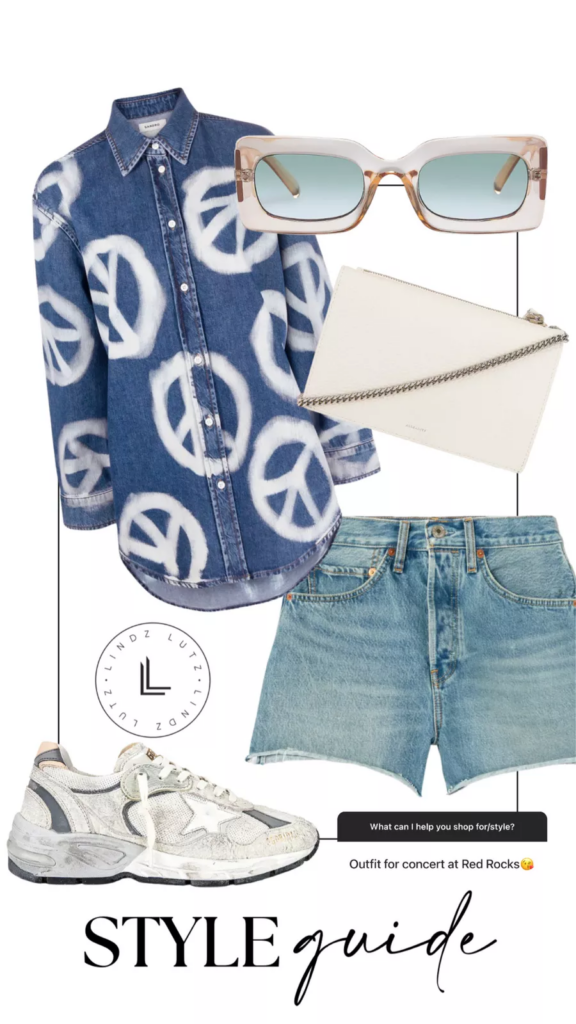 Here's an adorable denim on denim look that's perfect for a summer concert, outdoor event, or really anything this season has for you. This denim button-up has spray painted peace signs that are totally retro, but super fun. To continue the vintage look, add these 50s-inspired cut offs!
If this look doesn't make you feel energized and youthful, then these accessories will. This AllSaints crossbody wallet and Le Specs transparent shades will have your outfit screaming with all the rockstar, hippie vibes! (And in all good ways, ladies!)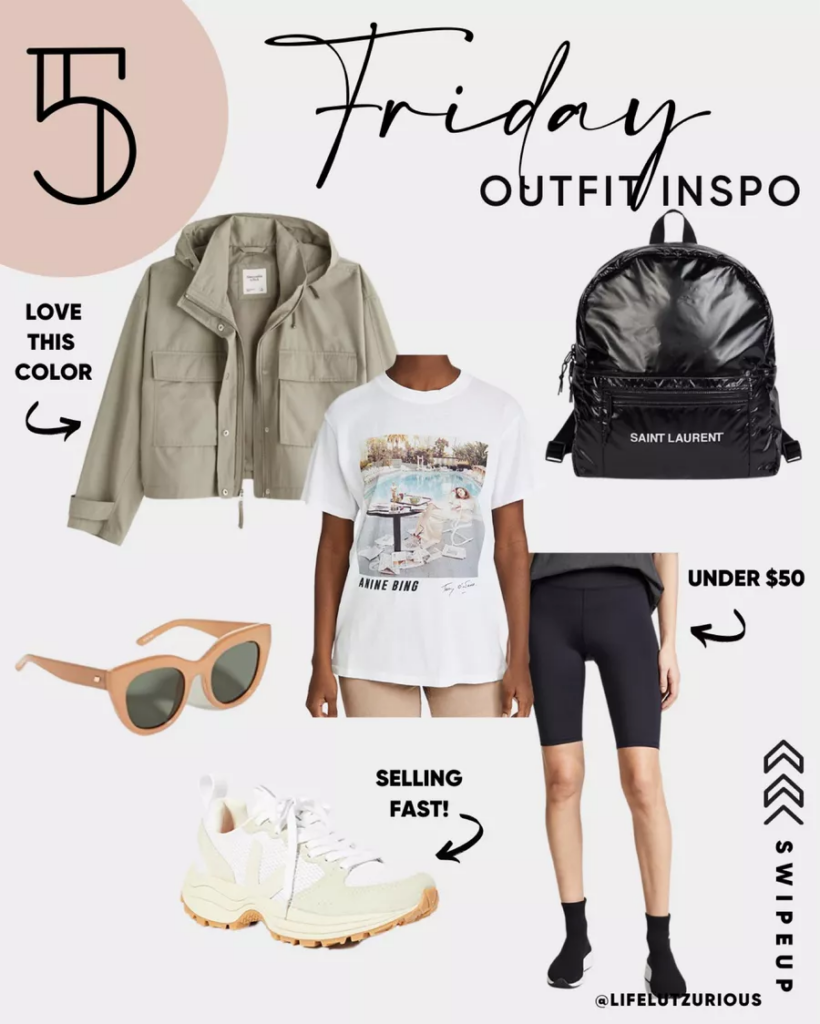 Okay, we've been a little on the wild side. Here's something a little more approachable. It's really simple. Just grab a pair of biker shorts and a Anine Bing graphic tee. Add a cropped utility jacket, faux leather backpack, and heart sunglasses. Even though the elements are simple, the varying shapes and cuts create a ton of visual interest and a totally flattering silhouette.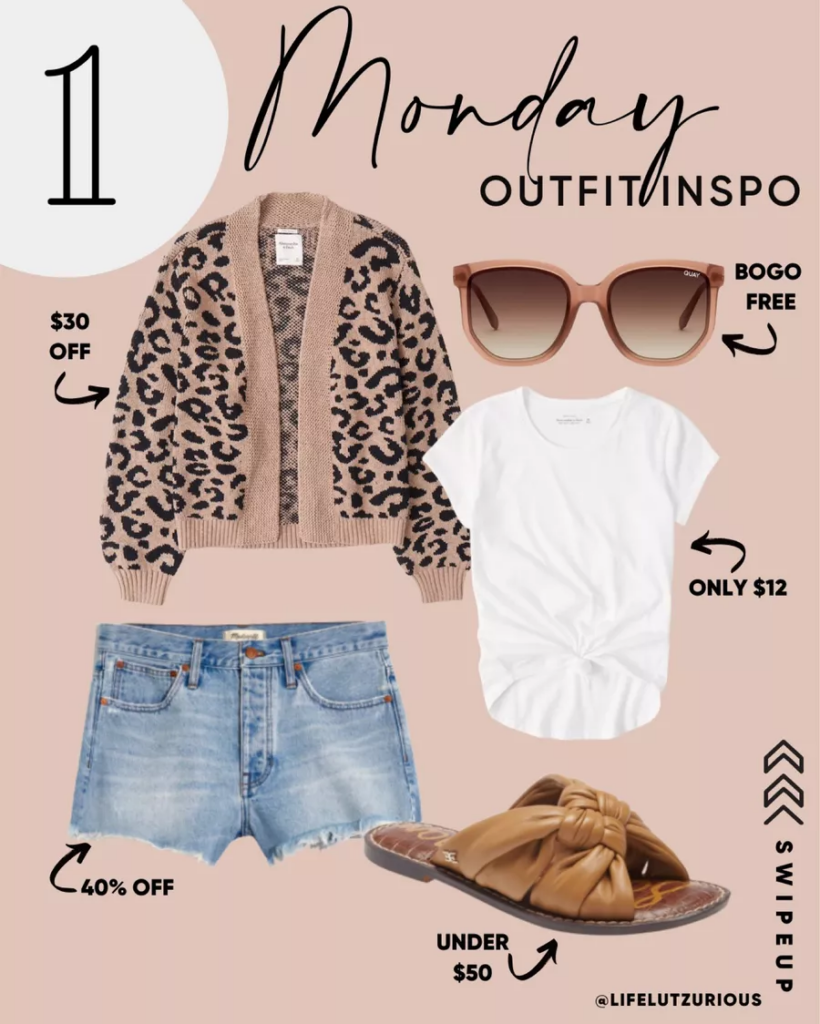 Knotted tees are so perfect for women over 40, because they cover any undesirable extra weight or skin that we tend to acquire around the midsection. So, for this outfit we have a knotted tee and a pair of relaxed denim shorts. This outfit will show a little skin around your abdomen – but in the most tasteful and flattering way, because of the coverage of the shirt and length of the shorts.
To add more coverage and balance out your showing skin, add an animal print cardigan. All the pieces combined will create a perfect ensemble for Summer that's totally preppy, totally chic, totally age appropriate, and easy to transition to Fall.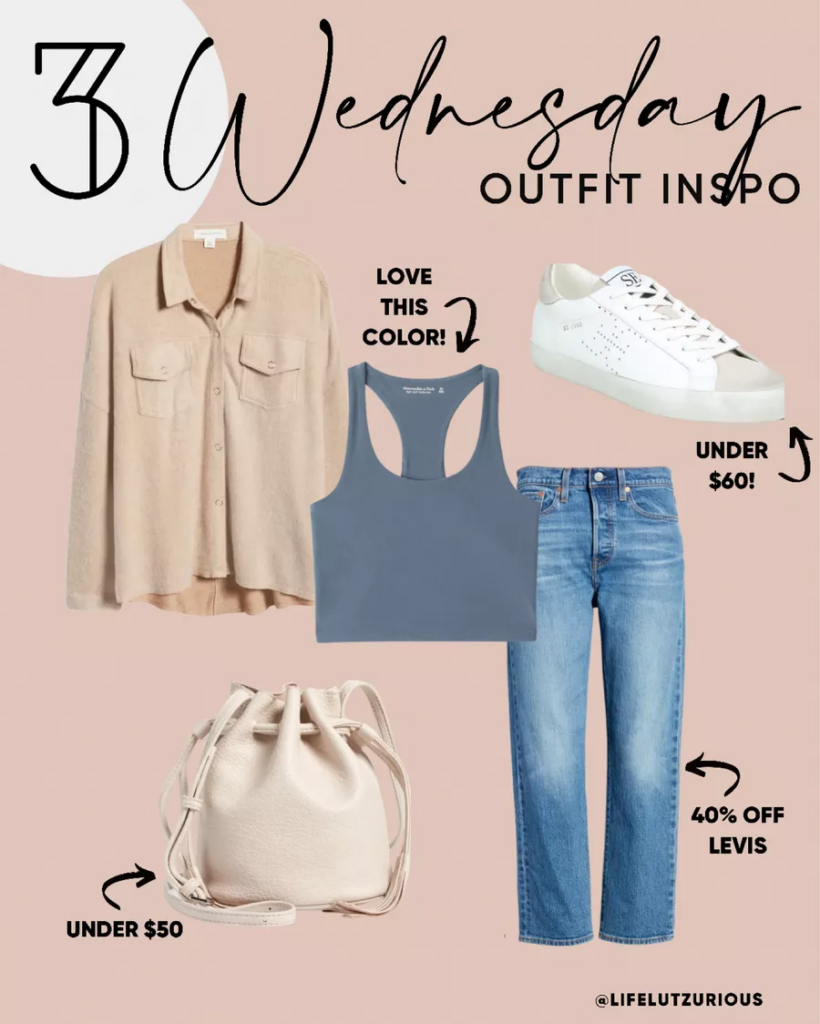 If you don't feel confident in tight-fitting clothes, or don't think they flatter your body type, we've got outfits for you too. This one has a relaxed fit, but it doesn't make you look frumpy. Just make sure you get the right sizes. Fit is EVERYTHING when you're over 40. Anyway, for this outfit you just need high-quality straight legged jeans, a colored tank, and this flowy fleece shirt. It's perfect for a busy day or a relaxing weekend.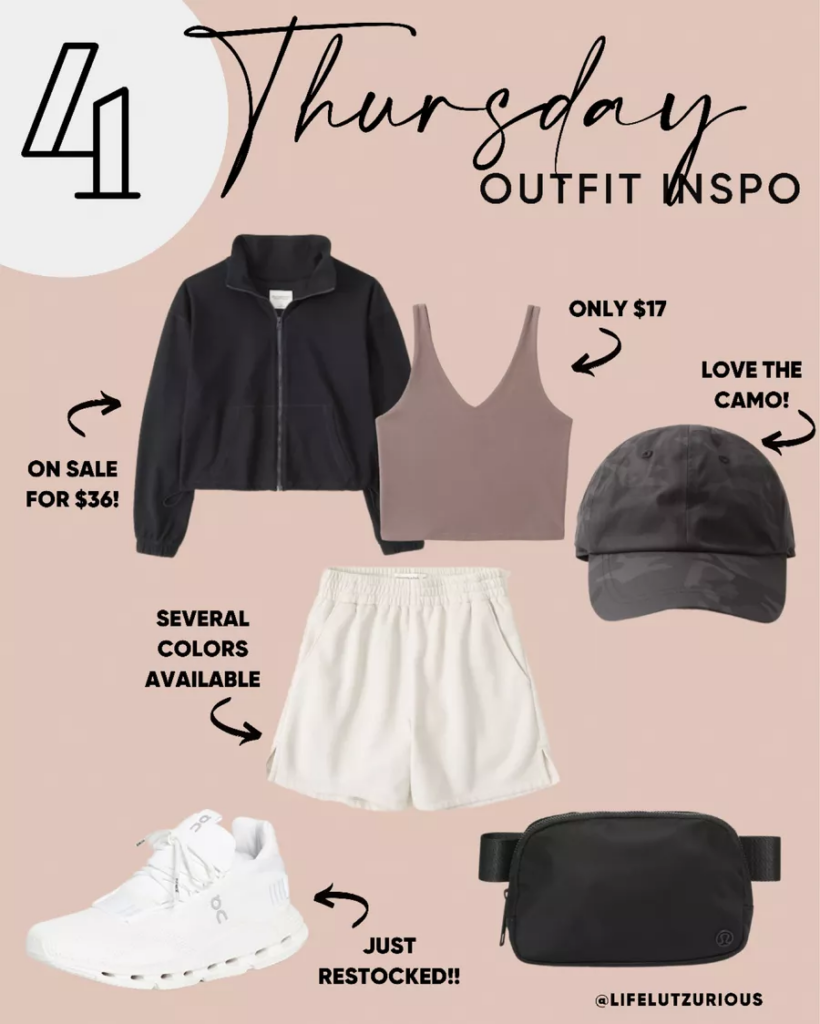 Here's a super cute activewear set! First, you need some cute loose athletic shorts and a cropped v-neck. V-necks with thin straps are perfect for women with pear or hourglass figures, because you can break up your narrow shoulders. This will balance you out if you have wider hips or thicker thighs.
Next, add a cropped, fleece zip-up and a baseball cap! (Caps are great for drawing the eyes upward and making you look taller.) Finally, you need this must-have Lululemon belt bag and these gorgeous stark white Cloud Nova sneakers! Now, you're ready for a run or a crazy day of errands.
Extra style tip: Play with bold colors here. Balance black, white, or other neutrals with bright colors to make a really spunky workout wear outfit.
This buckle dress is super modern and super wearable for women of any age. It comes in a neutral topaz that has a natural tanning effect due to its light tones. The buckles, folds, and pockets add unique shape to the dress while defining your figure.
To balance out the geometric dress, add this shapeless drape knit blazer in any color! Then, to accessorize, elevate with this Saint Laurent leather bag and this ultra-modern statement gold necklace. Now, you've got a sophisticated and high-fashion ensemble.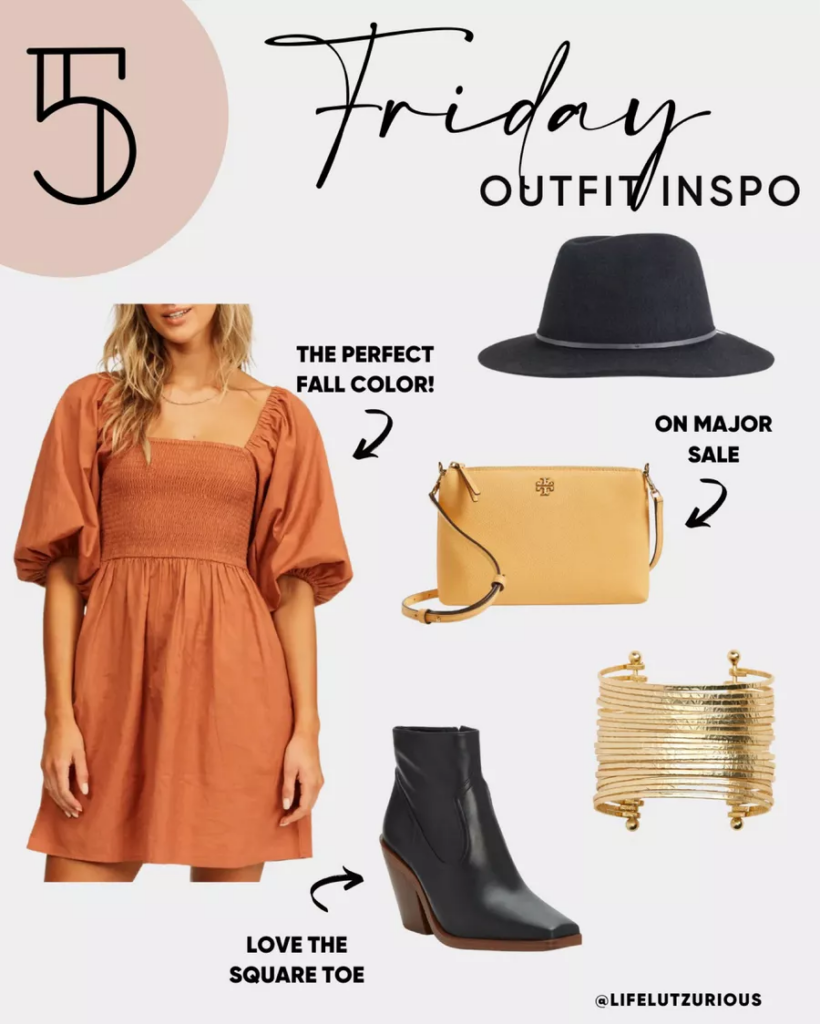 As much as I LOVE this puff sleeve midi dress, it's not sold anymore. But, I think this tropical patterned minidress with puff sleeves works just as well for the summer season! It's bold on its own, so the accessories will tone down the vibrant print. A Brixton wool fedora (a fav of mine), this Tory Burch leather wallet bag, and a gold cuff will smooth the look and frame your trendy dress.
Y'all, it's not Labor Day yet, so wear all that white! (That's a bogus rule anyway.) A white fleece jogger set creates a super cute monochrome look that is totally in right now! Plus, this ensemble is super comfy and practical. To finish it up, layer an 80's style denim jacket (maybe you still have one to repurpose!), retro sneakers, and a leather baseball cap. You've remixed this retro style by using a monochrome set and texture variety. SO fashionable!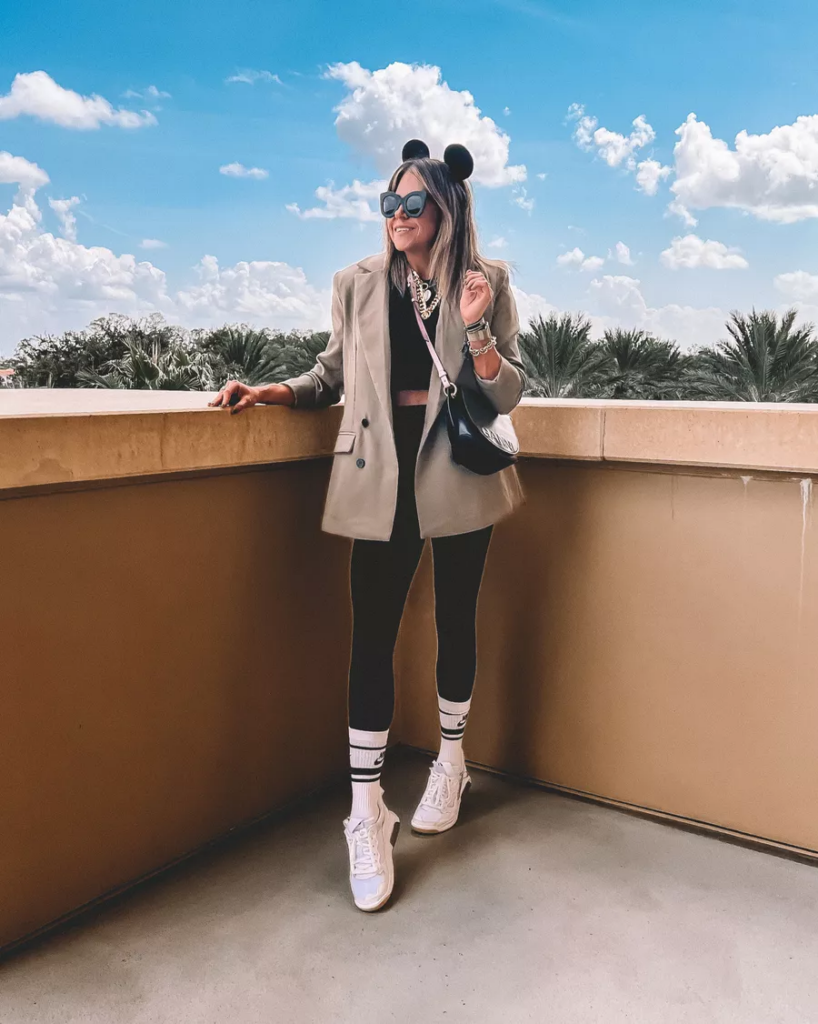 Do you travel a lot? For work or for pleasure? Either way, you know airport fashion is a thing. It's gotta be both comfortable and stylish. You want to walk into your next destination with pep in your step, because you're confident in your rockin' ensemble.
For airport-wear, I love this black leggings set. The dark color is naturally slimming and flattering, and obviously it's comfy. Layer on an oversized blazer that makes you look powerful, but also feels like a cozy blanket for airplane naps. Then, grab some high-quality Jordan sneakers for all the rushing around. And, don't forget a Ganni saddle bag for your travel necessities. This outfit is all function AND all fashion.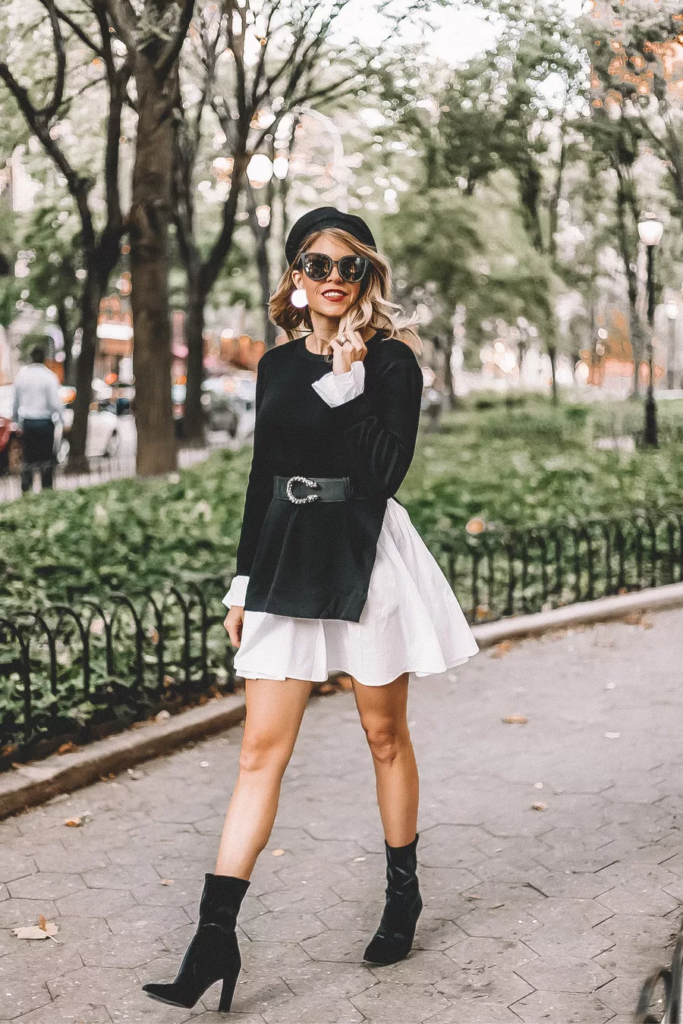 Here's something a little more posh and cute. Start with this English Factory knit combo dress that offers full coverage, a flattering length, and lots of visual interest. For any of you over 40, add a waist belt to shape your waist and craft the perfect figure. Finish this look with some boots or black heels and the perfect pair of shades ($15!). If this outfit doesn't scream Fall, I don't know what does!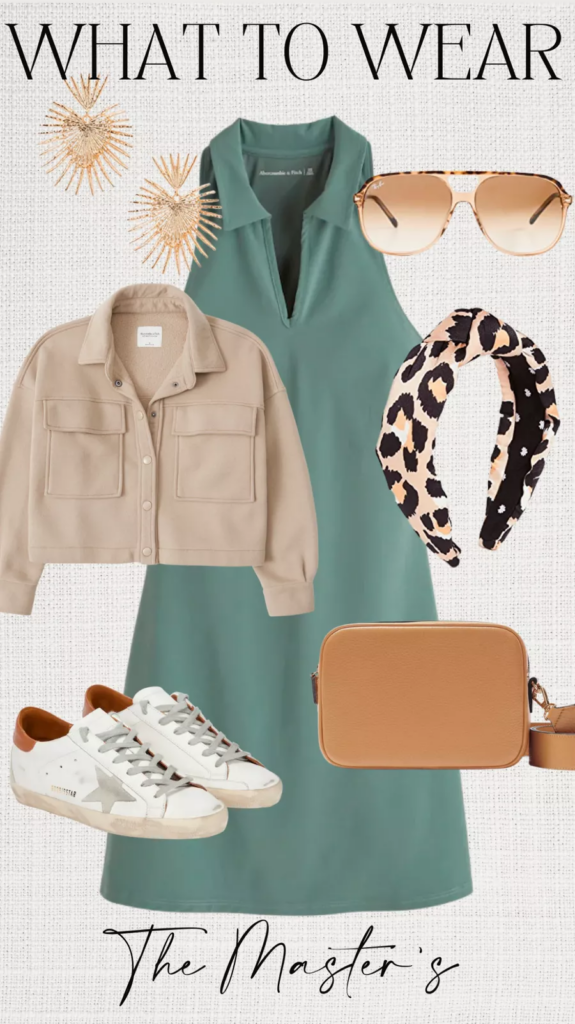 This polo mini dress is a little formal, a little sporty, and a little casual. It's a great summer pick! Wear this soft cropped shirt jacket over top of the sleek, simple dress. Then, don these ICONIC superstar leather sneakers and this adorable leather camera bag. This outfit is super practical and will charge you with energy and confidence.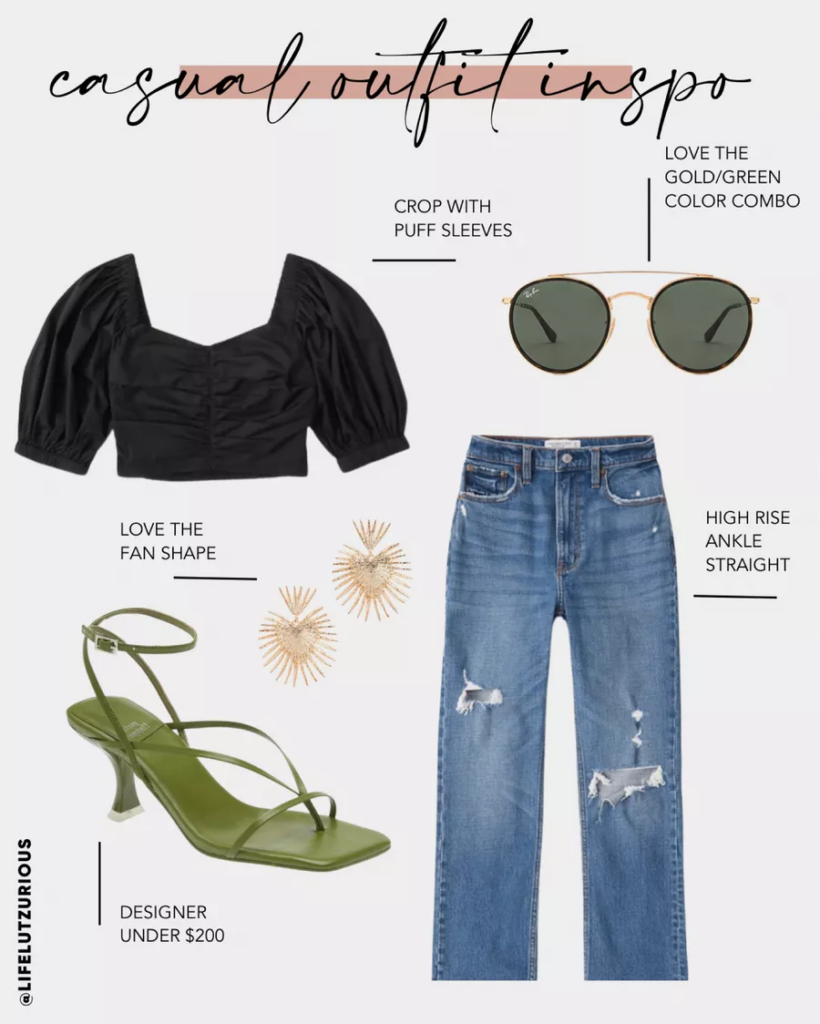 This casual summer outfit pairs a puffy poplin top and high-waisted, straight jeans that cut off at the ankle. Perfect for a look that elongates your figure and exaggerates your hourglass shape. (You can also do this with wide legged pants.) To accessorize, add a little color with strappy heels and these vintage-inspired green Ray Bans. And, don't forget the gold accents for a little glam!
Dressing yourself over 40 should NOT be bland and boring. Don't be afraid to be bold, glitzy, and sexy with these summer ensembles!
When you hit a certain age, your life is super busy, and your body doesn't look like it used to. It's at this point in life when it gets really easy to give up on fashion. But, y'all, you deserve to look and feel fabulous! Pick a few of your favorite outfits and experiment with shaping your figure, highlighting your best features, and taking trendy risks every day. I believe in you!
If you want more style tips and lifestyle advice, check out my blog. I have tons of content for women of any age and life path. And, if you're looking for even more inspo, check out my Insta. There, you can scroll through hundreds of stylish outfits you can TOTALLY pull off. Let's do this!