How to Wear a Sweater Vest
If you're like me, you at some point rocked the 90s fall trend of an argyle sweater vest over top of a white t-shirt. YIKES. Maybe these memories have made you steer clear of sweater vests, but the sweater vest trend is back and is cuter than ever!
Sweater vests have made a comeback, and I'm in LOVE. They're so versatile and talk about comfy! When worn right, they can really elevate an outfit, and I swear they fit into any style. Chic, edgy, trendy—sweater vests can do it all! (seriously!)
If you're skeptical or feeling intimidated, stay with me, girl. I'm here to help. Today, I'll walk you through how to pull off this modern twist on a classic trend!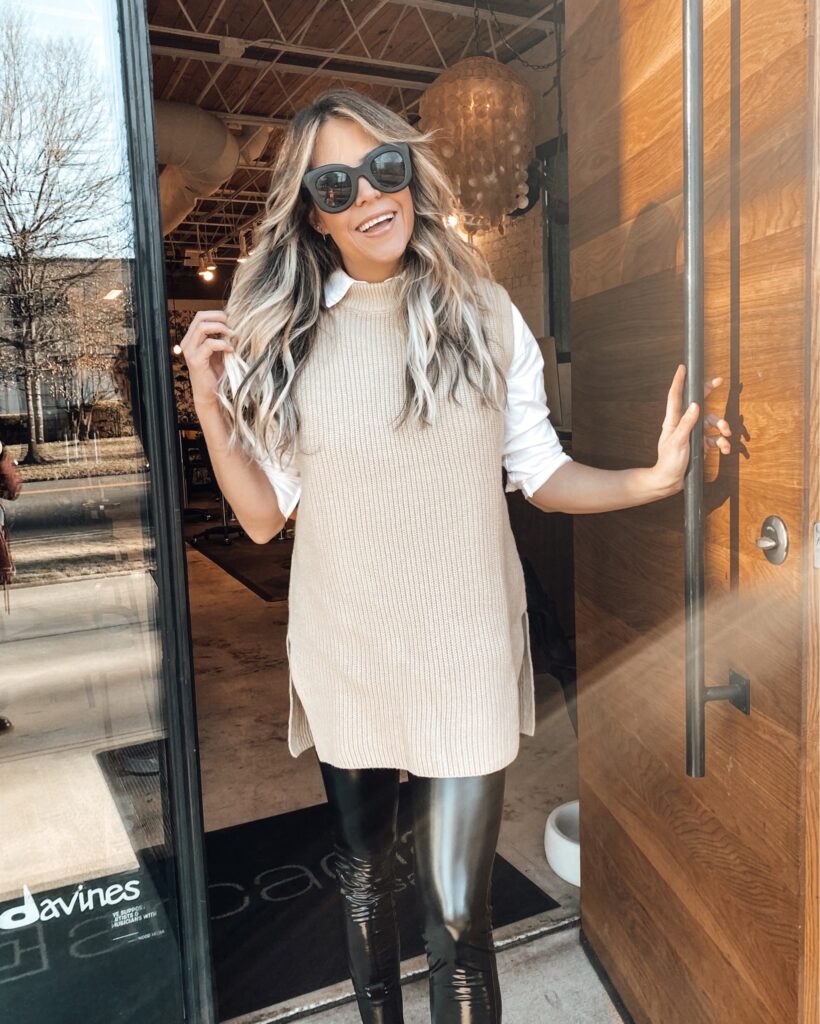 How to Wear a Sweater Vest
Sweater vets come in so many varieties nowadays, so I know anyone can work these into their wardrobe, no problem! Before we get to the outfits, here are a few tips on how to wear and style a sweater vest for 2023!
Think Outside the Box
By this I mean get rid of all your preconceived notions about sweater vests. Don't think about the pastel argyle and pleated skirts. Instead, ya'll, dream with me about all the possibilities! Sweater vets can conform to any style, whether you're into heals and soft neutrals or combat boots and leather. Sweater vests will work for you, ladies.
Tuck it in or Don't
Sweater vests can be tucked into jeans or skirts to create a flattering silhouette and unique shape. They can also be left untucked for a more casual look. I especially like to wear an oversized sweater vest that can hang over leggings or skinny jeans. It's like wearing a loose-fitting hoodie on a lazy day, but it looks high end! SO functional!
What to Wear with a Sweater Vest
Pair Prints with Basics
Sweater vests can be toned-back and neutral, or popping with a vibrant pattern! Whether your sweater vest is brightly colored or basic, try pairing it with the opposite in your ensemble. If you have a bold pattern, think about neutrals for bottoms and shoes. If you have a solid, soft neutral sweater vest, be brave with printed leggings or statement jewelry!
Play with Volume and Fit
As you're putting together your outfit, think about how you can manipulate volume and fit. A crop top sweater vest might pair well with a flowy, oversized button up. A large sleeveless sweater vest might fare well with a tight bodysuit underneath. Think about contrasting shapes and fit to make your unique and modern sweater vest outfit! (Tip: if you're rocking an oversized sweater vest, avoid baggy wide leg pants that might throw off your outfit's balance.)
Accessorize
Of course, you need accessories! I love a necklace with a sweater vest. Something thin and dangly for a sweater vest with a high collar, and something short and chunky for a v-neck. If your vest works great on its own and is full of lots of cool textures, consider a handbag or some shades. (You know I like my shades).
Sweater Vest Outfit Ideas
Hopefully now you have some idea of how to add sweater vests into your wardrobe. While those creative juices are following, take a look at some of my absolute favorite sweater vest outfits. There are SO many ways to rock these things, and so many items you can pair your sweater vest with.
One way to wear a sweater vest is to grab a beautiful oversized v-neck (only $35 from Amazon!) and wear it over top of a loose button up. The smooth, light texture of the button-up compliments the chunky knit sweater vest, balancing the outfit beautifully!
Add some subtle jewelry (or don't, it can stand on its own!), and pair it with some jeans or leggings. To further define the outfit, really consider what shoes you want! Heels, boots, or tennis shoes will decide if this is casual, professional, or date night!
If you want another unique way to use a sweater vest, make it a dress! Abercrombie has this super cute (and inexpensive!) sweater dress you could style with a pair of tall boots and a jacket (leather, denim, whatever you got!) This look is dramatic and can be business casual or perfect for a night out!
To further accessories, I'd definitely recommend a ring or two and a good sized handbag. Your outfit won't be too heavy, so let your handbag carry some of the outfit's drama! P.S. If the high boots are a little too adventurous, this would be equally cute with some heels or a cute pair of white tennis shoes.
Layered Warm Fabrics
We've been talking about balancing heavy and lightweight fabrics, but I also love layering thick warm weather fabrics! This sleeveless, relaxed-fit turtleneck sweater vest paired with a dramatic wool wrap coat or cape jacket is the perfect winter look.
It looks luxury and is so comfortable! You could do this look with prints or monochromatic colors. I particularly like it with browns or grays, but you can make it totally your own. To finish off this look, add a pair of short boots.
Ya'll, I LOVE this look! Take a sweater vest and do the ol' French tuck into a pair of leather pants. With a solid long sleeve shirt underneath, these textures just pop! There is something about the mixture of knits and leathers that is so edgy and fabulous!
If you're wearing leather pants, you're already screaming glamor and red carpet, so you might as well add some flashy jewelry! Heavy necklaces, bold rings, and large watches can all compliment this look beautifully. Combat boots are the best choice for shoes with this look.
Much like the last one, don't be afraid to mix fabrics that are surprising! Shiny leather leggings can work just as well as leather pants with an oversized collared sweater vest and a loose classic white blouse. You could also mix in textiles like denim as a jacket or pants. Or, you could add a chiffon dress or blouse underneath a sweater vest and make an outfit with great volume and shape!
I love this solid neutral cream sweater vest because it is SO versatile! Plus, crop tops are in! But you don't have to worry about flashing that belly if those days are already behind you (or it's too cold). You can take a sweater vest crop top and layer it over a loose, oversized white button up for a super cute look! 
You could add leggings to this look or wear it as a dress! Accessorize with chunky shoes, large rings, and a small clutch-style handbag for a look that is sure to turn heads.
This is a classic look, but boy, is it cute! Maybe for this one you can pull out that argyle again (MAYBE). A regular-length sweater vest over a tennis skirt is youthful, fabulous, and appropriate for any season!
Sweater vests have made a comeback, and adding these classic pieces to your wardrobe is easy for any style!
Winter is still here, and that chill isn't breaking any time soon. So what better time to add a sweater vest to your collection? Wearing a sweater vest isn't difficult and can be styled with any wardrobe and trend! Try out these looks and let me know what you think! Here are some sweater vest options I have been obsessed with recently. For a sweater vest that's really era, try your local thrift store!
For more style and fashion inspo, connect with me on social media!