Sequin Bomber Styled Two Ways
---
SHOP THE POST
SPORTY CHIC
SEQUIN BOMBER JACKET | VEGAN JOGGERS | PLATFORMS | STUDDED CLUTCH | VELVET CHOKER
EVENING GLAM
SEQUIN BOMBER JACKET | BLACK, SILK PANTS | VELVET PUMPS | SILVER DESIGNER SUNGLASSES | LAGOS GOLD AND SILVER CAVIAR BRACELET | LAGOS GOLD AND SILVER INFINITY RING | BLACK MONOGRAMMED CROSSBODY | SPIKE EARRINGS

---
SEQUIN BOMBER STYLED TWO WAYS
Hey babes, I hope you all are having a great week. A lot of you have asked me, "what are some of my ABSOLUTE fall favs?" Right now, I CANNOT get enough of 1) Velvet anything (from sneakers to tops to boots) 2) Chokers and 3) THE BOMBER JACKET!! Yes, this is the same jacket I wore to Birmingham Fashion Week and will be wearing to our annual Tum Tum Tree Foundation wine event this week. In today's post, I am partnering with Alice and Trixie and LAGOS to show you this sequin bomber styled two ways: sporty chic and evening glam.
SPORTY CHIC
I am absolutely LOVING all things 90's right now. Give me all the chokers, all the track pants, and all the platforms. For the first look, I am keeping my bomber sporty, yet chic. This is a great way to wear sequins from day to night. I wore this outfit to Birmingham Fashion Week and received so many compliments. Worried about wearing a crop top? Pair this bomber and these vegan [aka faux leather] track pants with a casual white tee. You can do the front tuck or tie it on the side for a cute, girly option. I love the idea of styling your hair in a ponytail with this outfit. I am terrible at pony tails, but if this is your jam, then definitely do it. Keep your accessories minimal, and let the jacket do the talking.
---
EVENING GLAM
See how versatile a bomber can be? It's all about how you style it. As I mentioned, Ryan and I will be attending the annual Tum Tum Tree Foundation wine event this week (more on this at the end of the post), and this is the outfit I am wearing to the black tie event on Friday night. It seems like as I get older, I have more black tie events to attend. Clearly, I cannot afford to buy a new dress every time, so I have been forced to get creative. I already owned the sequin bomber, these amazing black silk pants, and these swoon-worthy oxblood, velvet pumps (budget friendly, best dupe ever, velvet pumps here). I just needed a way to tie them together without spending a fortune. With me being obsessed with velvet right now, I was immediately drawn to this gorgeous velvet bodysuit that I knew I could wear over and over again. Pair this shirt with a simple, black blazer (my ALL TIME FAV) for work or mom jeans and a moto jacket for date night. SO many options.
ACCESSORIES
I opted to keep the accessories minimum in both looks. In the sporty chic option, I paired with my black and white, vintage Chanel earrings and a sleek clutch, since it was a nighttime affair. You could also pair with a cute cross body or sporty backpack (50% off) to complete the look.
For my evening glam look, I wanted to add some classic pieces to balance out my outfit. I don't know about you guys, but I love mixing metals. This outfit has a ton of silver, but I added a hint of gold via my LAGOS Gold and Silver Cavier bracelet and LAGOS Gold and Silver Infinity Ring. There is something so luxe about gold, don't you think? Both these pieces are simple and timeless yet current and stylish. I love the juxtaposition of my spike earrings (on sale!) and fashion rings with my more traditional LAGOS pieces. These pieces are the PERFECT gift for Christmas, anniversary, or birthday and something I will be adding to my upcoming gift guides.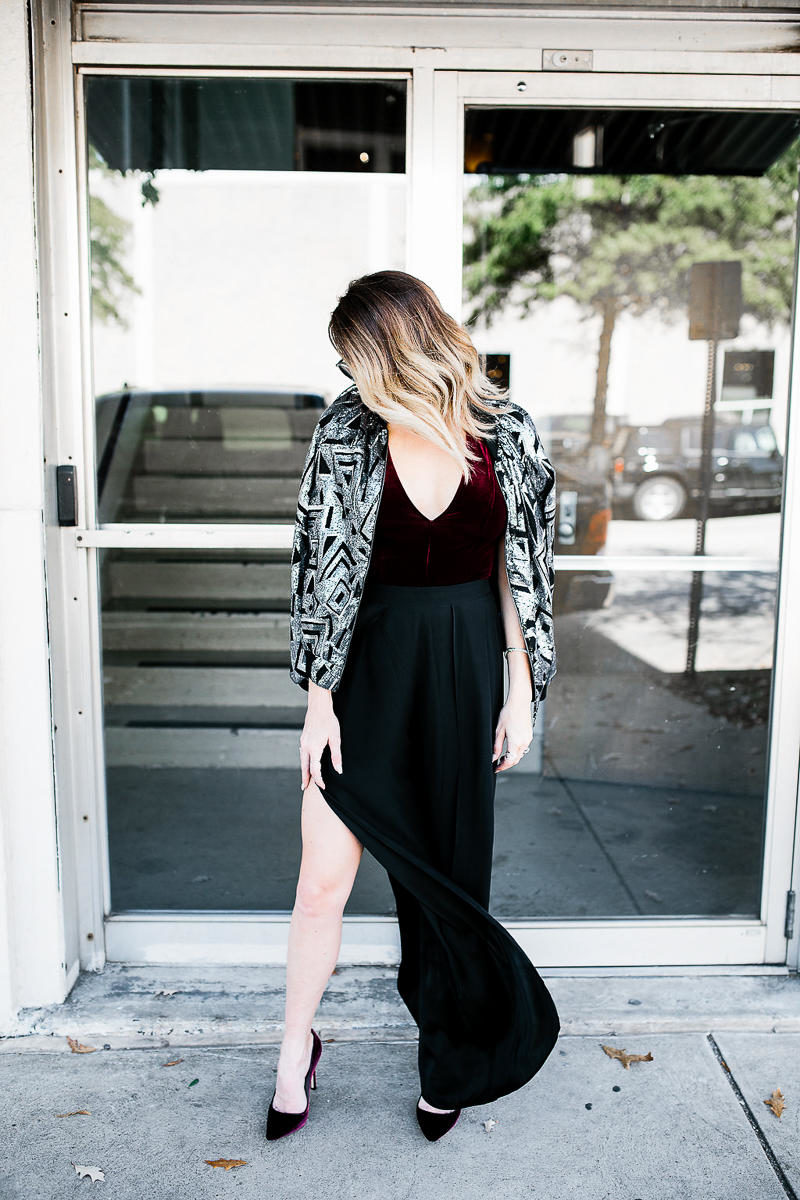 ---
TUM TUM TREE FOUNDATION
Ok, I am going to get a little emo here for a minute. Did you really think I would make through an entire post without some sort of life lesson or sappy diatribe? All joking aside, I do want to say a few words about something that is very near and dear to my heart. This weekend, I was reading about an adorable little girl who is suffering from DIPD, which is a terminal form of brain cancer. Per usual, I broke down. It just doesn't seem fair that these children have to suffer like this. It literally keeps me up at night, and I hate it. I can't fix it, but surely I can help improve their lives SOMEHOW. This is where the Tum Tum Tree Foundation comes in. 
The sole mission of the TumTum Tree Foundation is to provide funds focused on improving the lives of Alabama children. Through America's longest-running wine auction supporting children's charities, the TumTum Tree Foundation has donated over $10.5 million dollars toward fulfilling its mission.
Do you love wine? Are you looking for a way to support local Alabama children' charities? Then this event is for you. It is a BLAST! Stretched over three days, the event consists of a wine tasting and silent auction on Thursday, followed by a my favorite part of the weekend: private winemaker dinners held at local restaurants across the city. On Friday, we get all dressed up and head to The Club for dinner and the most amazing live auction. On Saturday, the crew will head down to Auburn for the Vandy game. Each event is unique and SO. MUCH. FUN. For more information and to purchase tickets, visit tumtumtreefoundation.org, OR shoot me an email at [email protected]. You can purchase tickets for each individual event or all the events. I would love to see you guys there!
Event: TumTum Tree Foundation Annual Charity Wine Auction Weekend
Dates: November 3-5, 2016
Thursday, November 3 Wine Tasting and Silent Auction [$75 per person]
Thursday, November 3 Private Winemaker Dinners [$150 per person]
Friday, November 4 Dinner and Live Auction [$200 per person]
Saturday, November 5 Tailgate Party in Auburn [$100 per person]
---
SHOP THE POST
Per usual, I have linked all the pieces shown throughout the post. In order to make this easier for you, I am also linking them at the very beginning and the end as well. Have a question? Please feel free to shoot me a message or a comment. Lastly, I have added a lot of pinable fall content, so make sure to follow Life Lutzurious on Pinterest. Don't feel like reading blog posts? Instagram is a great way to feel inspired, laugh on a bad day, or just look at pretty pictures, so don't forget to follow Life Lutzurious on Instagram as well.
SPORTY CHIC
SEQUIN BOMBER JACKET | VEGAN JOGGERS | PLATFORMS | STUDDED CLUTCH | VELVET CHOKER
EVENING GLAM
SEQUIN BOMBER JACKET | BLACK, SILK PANTS | VELVET PUMPS | SILVER DESIGNER SUNGLASSES | LAGOS GOLD AND SILVER CAVIAR BRACELET | LAGOS GOLD AND SILVER INFINITY RING | BLACK MONOGRAMMED CROSSBODY | SPIKE EARRINGS

---
THANK YOU!
Lastly, and MOST IMPORTANTLY. I just want to say THANK YOU for all the support this year. Never in a million years did I think this little hobby of mine could turn into a such a fabulous community filled with women who are inspired to step outside our comfort zones to be our absolute best selves!! Your support means the world to me and truly keeps me going in the crazy world of blogging!
---