#rStheCon Recap + 6 Things I Learned

SHOP THE POST (budget friendly dupes included!)

Hey guys! If you follow me on Instagram and Snapchat, you know the past few weeks have been a WHIRLWIND. First, Atlanta for the Atlanta Apparel Mart (you can read my post HERE), then off to Italy for the most amazing trip of my life, and finally, to Dallas for #rStheCon. My Italy post is going to take me awhile, so I want to jump ahead to the Reward Style Conference held in Dallas this past weekend.
Let me start off by giving you a little background on RewardStyle. RS is an "invitation-only end-to-end content monetization platform for top-tier digital style influencers and brands around the world." Ok, in laymen's terms, please. Basically, I earn a small commission when people shop my Instagram, blog, etc through this platform. Photography, web design, site hosting, etc all cost money, so this income helps keep Life Lutzurious afloat. So, THANK YOU to everyone that shops the blog! And I really mean that. I literally would not be able to keep the blog going without your support! With that being said, each year RewardStyle hosts a conference for their top influencers. Getting invited to this conference was one of my TOP GOALS in 2016. And you guys helped me make it happen…dream. come. true.
---
WAIT. WHAT DO YOU MEAN, SHOP YOUR OUTFITS? HOW?!?
You can shop ANYTHING I link on Instagram, the blog, Pinterest, Facebook, you name it. Here's how to shop everything you see me wearing:
SHOP via the SHOP PAGE on the blog. There are specific shops listed, including my INSTAGRAM SHOP.
SHOP the blog simply by clicking on links and images!
SHOP via SCREENSHOT or LIKING on Instagram by downloading the LIKEtoKNOW.It app. Once you download the app, anything you screen shot (from me and all your fav bloggers) on Pinterest or Instagram will show up in your app.
Would you guys be interested in a detailed blog post about this? Let me know!
---
DAY 1
Check In
Of course I forgot to take a picture of my outfit for check in. It was super cute though! I rocked these Marissa Webb army shorts, a striped tee, and my go-to metallic blazer and sparkly Golden Goose sneakers. During check-in a lot of girls are mingling and drinking champagne. I have to admit, it was slightly intimidating, BUT I made the decision before I left to be confident in myself, to be proud of the brand I have built, and to be kind and inclusive to others. Imagine being around some of the most beautiful, talented, and successful bloggers across the country. Let's just say I had to remind myself about the confidence part seeeeeveral times throughout the weekend.
Sole Society Rooftop Pool Party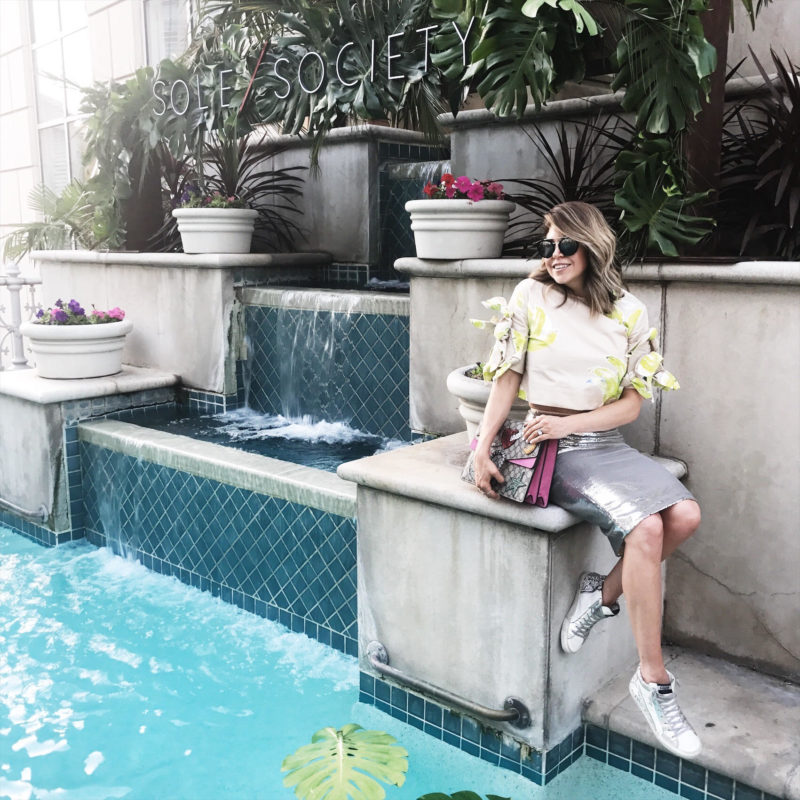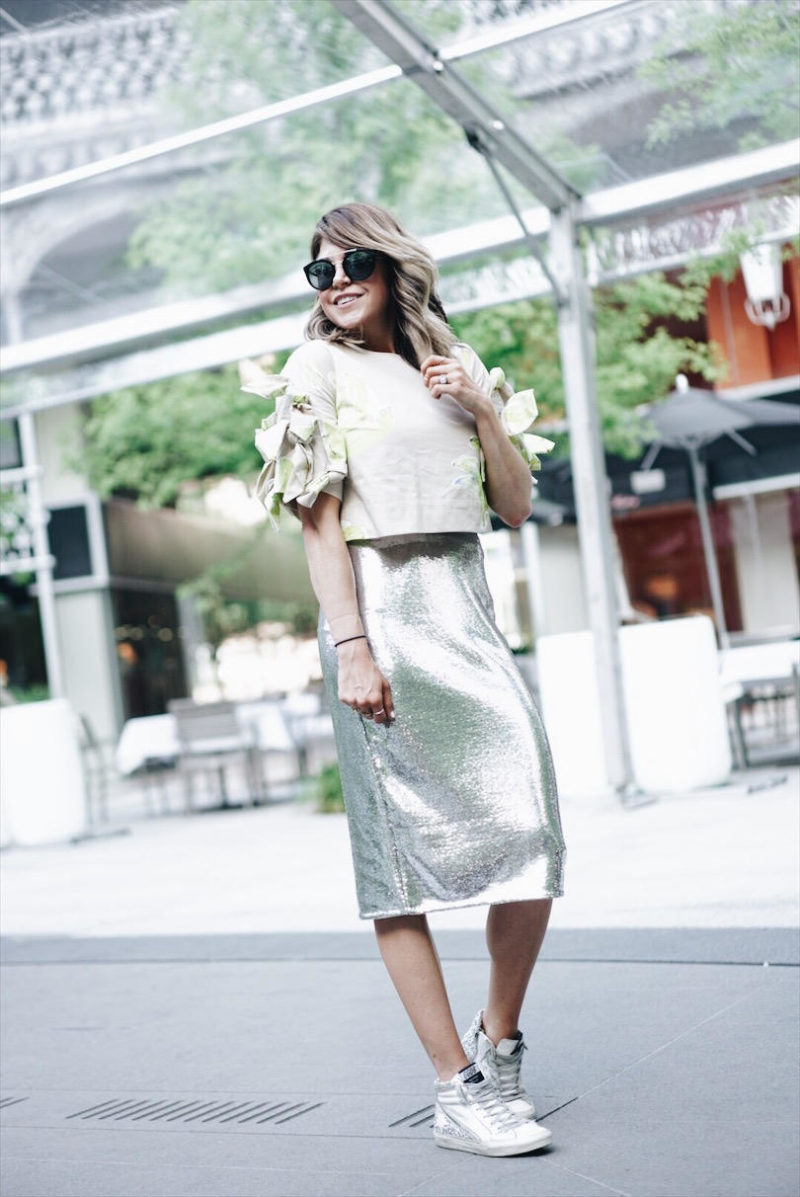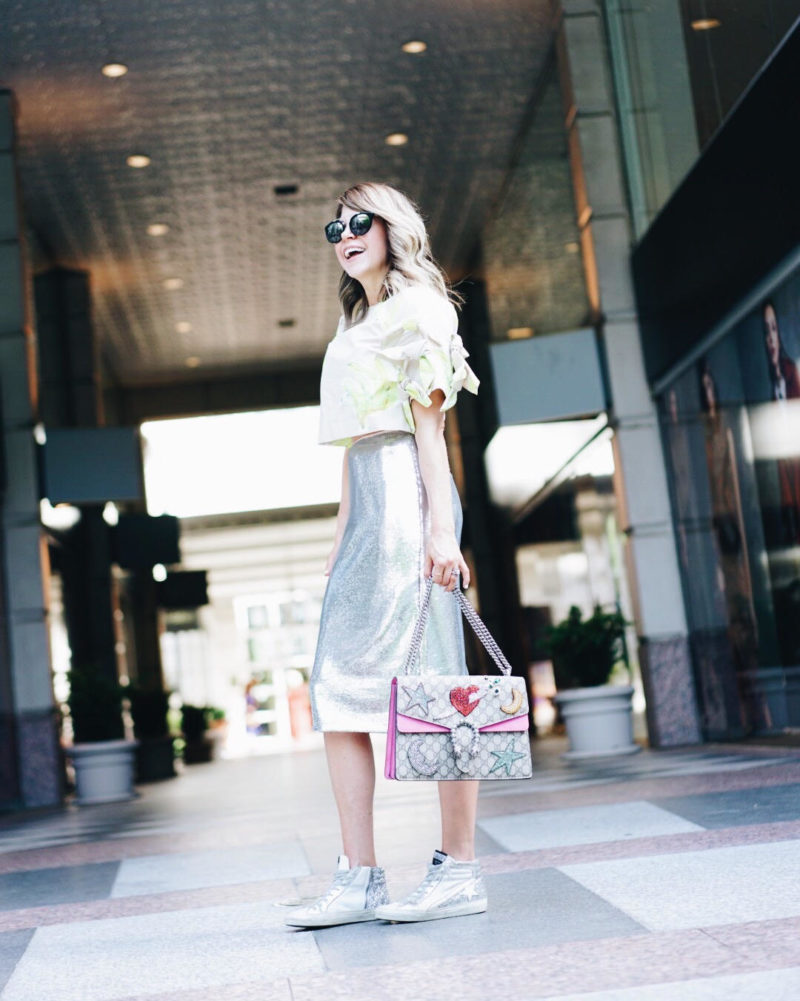 OUTFIT DETAILS
CHRISTIAN (Christian Blair Style): CROCHET MINI DRESS (size up, runs small) // NUDE STRAPPY SANDALS
LAURA (Styled Adventures): LACE DRESS (similar) // NUDE SANDALS // AVIATOR SUNGLASSES // TASSEL EARRINGS
ME: SEQUIN PENCIL SKIRT (budget friendly silver sequin skirt) // TIE BANANA CROP TOP // GUCCI EMBROIDERED BAG // GOLDEN GOOSE SPARKLE HIGH TOPS // ROUND AVIATOR SUNGLASSES

Y'all, this party was a BLAST…and HOT AF. We were all chugging cocktails to stay hydrated (makes sense, right?) all while fighting boob sweat and frizzy hair. The struggle was real. All jokes aside, Sole Society put on a FAB party. Set in "Tulum," there was a taco bar, spicy margaritas, and the cutest decor. It was great to run into friends I had met at #NYFW and to FINALLY meet all the girls I have blogged with over the past few years, IRL aka in real life.
My outfit for this party had Lindsey written ALL over it: a sequin pencil skirt (budget friendly option here), glitter sneakers, and the cutest banana crop top you ever did see. At this party, you really saw a little bit of everything. Casual, dressy, beachy…you name it. I am still so obsessed with what I wore and can't wait to rock this skirt with a white cropped tee for a fun date night look.
---
DAY 2
Opening Session
This 4 hour mesh was extremely motivating. We heard from speakers from RewardStyle, Bumble, and even the CEO of RS, Baxter Box. My biggest takeaway? Influencer marketing is JUST getting started.
Banana Republic x Shake Shack Picnic
You guys, how cute was this party? If you were following my Instastories, you saw all the fabulous deets. Banana Republic rented out Shake Shack to create the most adorable picnic. I think in my Instagram post, I called it babes + burgers. The food was relish, the company was a blast, and the backdrop was perfect. And how perfectly did my gingham skirt match the picnic theme? And isn't this the most adorable scarf they gifted us?
Brand Meetings
My first brand meeting of the weekend was with Storets. If you aren't familiar with this brand, you MUST check them out. My FAVORITE piece of theirs was this gray sweater with tulle that Cheryl from Walk In Wonderland wore! Stay tuned for future collabs with them!
OUTFIT DETAILS
CAMO SWEATER // GINGHAM MINI SKIRT (EXACT replica gingham mini skirt for $55)// GUCCI SLIPPER  // GUCCI EMBROIDERED BAG // ROUND CAT EYE SUNGLASSES // BEST NUDE LIPSTICK EVER

Bumble Cocktail Party
Ok, two words: yellow carpet. Talk about feeling like a supastar! This party was too much fun. Cocktailing, mingling, and of course all the eating. Afterwards, we headed to Nobu for sushi and wine.
I was obsesssssssssssed with my outfit this night. I have owned these Alexis pants FOR YEARS, because they go with everything. And price per wear, y'all. I splurged on this black and white striped off the shoulder top, but I just had to have it. I originally planned on rocking some sky high heels, but #Gucci. My mules were comfy, stylish, and such showstoppers.
OUTFIT DETAILS
BLACK AND WHITE STRIPED CROP TOP (budget friendly $72 striped off the shoulder top and dress) // ALEXIS FLOWY BLACK PANTS WITH HIGH SLIT // GUCCI SILVER KITTIE PEEP TOE // GUCCI SILVER AND GOLD MINI CROSSBODY BAG // SILVER AND GOLD MIXED METAL NECKLACE // THE BEST RED LIPSTICK EVER // ROUND CAT EYE SUNGLASSES

---
DAY 3
Breakout Sessions + Brand Meetings
The breakout sessions were excellent on Day 3. I learned all about GETTING ORGANIZED and completing successful collaborations. Honestly, one of the key take aways I heard all weekend was BE AUTHENTIC. You guys know that is something I am pretty passionate about and one thing I can say I am very proud of with the blog. I think you all can agree that I work with brands and clothes that I not only love, but that I would (and have) purchase myself. In terms of organization, I am considering hiring someone to be part of the Life Lutzurious team. I am obviously very passionate about managing people and am getting to the point where I need a second set of hands, eyes, and perspective. It's exciting that LL has grown to this point, so I will keep you all posted.
My brand meetings included Banana Republic (hello, goals!) and Colleen Rothschild. I have been searching for a skincare regimen, desperately. When I walked up to our meeting, they immediately asked about our Tesla. I was blown away that they had done their research about me prior to our meeting. This husband and wife team were pretty damn amazing, and their products are INSANE!! I have my first shipment coming in this week, and I CANNOT wait to share them with you.
TOPSHOP Lunch
This was honestly one of the cutest lunches I have been too. Imagine flowers ev-er-y-where, twinkling lights in the trees, and the most gorgeous blooms on each table. THAT FLOWER WALL THOUGH. Our meal consisted of a kale salad, salmon, and the most relish quinoa.
For my daytime outfit, I wore my favorite look of the weekend. I paired literally the best fitting "mom jeans" ever with a GINGHAM CROP TOP layered with a leather shell. SWOOOOOON. The catch? The weather was CRAZY this day. We all hovered under blankets, because it was legit 40 degrees outside…in DALLAS. The Topshop ladies literally stole every blanket from the hotel to keep us warm.
OUTFIT DETAILS
GINGHAM CROP TOP // MARISSA WEBB LEATHER SHELL // HIGH RAISED FRAYED DENIM // GUCCI PRINCETOWN SLIPPER // GUCCI EMBROIDERED SHOULDER BAG // BANANA REPUBLIC SILK SCARF // PRADA ROUND AVIATOR SUNGLASSES

LIKEtoKNOW.It Finale Party
Ok, I have been to some pretty insane parties in my days, but let me paint this picture for you. First, we were greeted by handsome guys in suits, who escorted us down several ramps (glass of champagne in hand, of course) and onto an elevator. They took us up to the 10th floor, where we were met with servers passing around delicious hors d'oeuvres. The setting was beautiful. It was a chilly (ok, let me rephrase that…cold AF) night set atop one of the hippest areas in Dallas during the golden hour. Gorgeous bloggers dressed to the NINES, mixed and mingled for about an hour and a half.
At that point, we are led onto an elevator that legit could have held 20 of us. Imagine the perfume, hairspray, and fashion in that small space! They let us off into a warehouse-type event space. Huge balloons lit up the room with the LIKEtoKNOW.It logo and champagne overflowed. About an hour into the party, they told us to "GET OUTSIDE!"
As we danced, a marching band arrived. They then serenaded us up the hill and around the corner to an outdoor glass tent-type space, where the band and an amazing DJ helped us dance the night away. Cocktails were a flowing…and all the hamburger sliders and fries you heart desired. Let there be dancing, they said! Of course, in typical Lindsey fashion, I marched right up the DJ booth and gave it a shot…with his help of course. The night was FULL of celebration, and we had a BLAST.
For my final outfit, I opted to wear my go-to white, lace dress. You may remember seeing me pair this dress with velvet Stuart Weitzman booties and a leather moto jacket for our annual Tum Tum Foundation event AND a few weeks ago in Florence. This time I dressed it up with black Valentino Rocketed heels and Dannijo statement earrings. I have worn this to at least 5 events and to countless dinners. Yes, this dress ain't cheap, but you guys, I have gotten such great use out of it. And it is still in excellent shape. I have even worn it with sneakers and a denim jacket for a more casual date night look!
OUTFIT DETAILS
WHITE LACE DRESS // VALENTINO ROCKSTUD HEELS // THICK, VELVET CHOKER // DANNIJO STATEMENT EARRINGS (on sale!!)

---
MY 6 KEY TAKEAWAYS
Honestly, you guys, the weekend was a dream. This was one of my top goals in 2016, and I seriously feel so blessed that I was invited. Yes, I was a VERY small fish (a minnow, really) in a very big sea, but to be in the presence of these girl bosses was truly a dream. We learned a ton, and we formed friendships that will last a lifetime. As I mentioned at the beginning of this post, it is very east to get intimated and overwhelmed in these types of situations. BUT I urge you to be confident, be proud, and most importantly, BE YOURSELF. Now onto the takeaways:
AUTHENTICITY: You guys know how important this is to me. How often do you see celebrities or bloggers blog about something SO random? Yes, we must keep our businesses going (another topic for another day), BUT it is key to BUILD TRUST with our followers and create content that is consistent with our vision and our voice. Bloggers, we have worked hard to get where we are…so by all means BE YOU. It is hard to turn down lucrative collaborations, but if they do not fit your brand, I urge you to weigh the pros and cons before accepting. This will benefit you in the LONG RUN, will build trust with your followers and brands, AND provide consistency across your brand.
BLOG, BLOG, BLOG: In this INSANE world of Instagram marketing, it is easy to neglect your blog and head down this path. Trust me, I have been guilty of it. It feels like it isn't as time consuming to throw up an Insta post, but it literally takes HOURS a day to build a large Instagram following. I spent many sleepless nights creating content and engaging with followers and other bloggers, constantly trying to beat the next algorithm. It's exhausting and can be counterproductive. Here is the important piece to this: you OWN your blog. You DO NOT OWN Instagram. Remember MySpace? Yep, what if Instagram were to shut down tomorrow? Your blog is yours and is where you should invest your time. Create convertible content (more on that in a minute), invest in your mobile site, and BE CONSISTENT. I know I am preaching to the choir here, but those are 3 keys to growing your audience beyond Instagram.
CONVERTIBLE CONTENT IS KEY: I MUST do a better job with this! Try mixing up your content…flat lays, anonymous shots (withOUT your face), and seasonal items perform the best. Our followers trust us to give them the information they are seeking out. Paint the picture, so they can imagine themselves wearing the outfit or taking that trip of a lifetime. This will help them make decisions and help you build credibility.
TRAVEL OFTEN: I witnessed this FIRST HAND in Italy and then in Dallas. My engagement skyrocketed! Everyone loves to follow along vicariously (I know I do!), so take your followers along with you on your journey. Make sure you engage, use relevant hashtags and geotags, and tell your story!
TELL THE STORY: Ok, you have heard me say this 10 times by now. But long story long…BE REAL. TELL YOUR STORY. We are all human beings and love to be part of something fun and exciting. By staying true to yourself and telling YOUR story, you will be able to invite your readers into your life. Again, this builds trust and credibility. Also, it is more fun! Think outside the box…local city guides, what to pack, a day in the life…paint the picture and invite your followers along for the ride!
VIDEO: I know I need to do it. My followers are BEGGING me to do it. I don't know what I am waiting on, but video is something we MUST add to our portfolio. Did you know that 64% of users are more likely to purchase after watching a video? Someone please hold me accountable!
I hope these tips help you! If you have any additional questions, please feel free to contact me. I could spend hours going over everything I learned, but I wanted to keep it short (somewhat) and concise.
---
HOW DO I ATTEND?
For bloggers wanting more information, please feel free to reach out to me via email or just DM me on Instagram. I assume they invited around 500 bloggers that are part of the RewardStyle program (again, email me if you are interested in becoming part of this community) and approximately 210 were able to attend. They honestly went above and beyond with the content, the parties, the food, the brand interaction, and the networker. Everything was absolutely gorgeous, organized, and a lot of fun. I challenge you to make this part of your goals in 2017 and happy to answer any questions you may have! The 2018 rStheCon is already on my bucket list for 2018! Again, THANK YOU to all of you that have supported me over the past 2.5 years to help me get to this point! I love you all!
---
SHOP THE OUTFIT
WHITE TIE CROPPED TOP // BLACK AND WHITE STRIPED MIDI SKIRT (UNDER $ 20 exact replica!)/ GUCCI BELT // GUCCI SLIPPERS // CHLOE OVERSIZED ROUND SUNGLASSES // SINGLE STAR EARRING // GUCCI EMBRODERED SHOULDER BAG // BANANA REPUBLIC SILK SCARF

---