---
SHOP THE POST
---

OVERALLS ($100) | STRIPED TOP (budget friendly army green high neck) | BODYSUIT ($35) | OFF THE SHOULDER TOP (on sale less than $100) | SNEAKS (budget friendly, just as chic sneakers) | CHOKER ($6.50) | SUNNIES (adorable $50 pair here) | BAG (sold out but similar Prada clutch less than $500) | CELL PHONE CASE | FAV WHITE PUMPS EVER (on sale) or budget friendlier white pumps here
---
---
Happy Monday Loves!  OH WAIT, it's Tuesdaaaaaaaaaaay. I mean if today isn't the most Monday Tuesday ever. We JUST got back from a fabulous trip to St Simons, GA. honestly, I had big plans to Instagram the entire trip, but that just didn't happen. I took lot's of pictures (and Snapchatted a bunch), but I really just disconnected and tried to live in the moment. And that was MUCH needed. Mini absolutely loved his time at the beach, swimming in the ocean, playing in the sand, and hanging with his best bud Forrest. They were THE CUTEST. He did such a great job on his first plane ride, and it was a lot fun traveling WITH him, instead of leaving him at home. I honestly can't wait for our next trip! We are glad to be home, but I am already dreaming of our next adventure. I am really wanting to go to Santorini or return to St.Barths. We just can't decide! Going to Santorini will be a big trip, obviously. We are not sure if we can take that much time off from work, but we would both love to go. Where are your favorite destinations? Keep reading to learn how to see overalls styled 3 ways, and scroll to the bottom to enter an AMAZING giveaway, just in time for the Nordstrom NSALE!
Last week, I posted a couple photos of my favorite overalls on Insta. I know what you are thinking. Overalls, really? I have always loved a romper or a jumpsuit, so this is my 2016 version! Y'all, these overalls have been my uniform this year.  In this post, I am going to show you how to style these overalls 3 ways: 1) cute and casual 2) hipster chic 3) date night glam. The best part, these overalls are only $100 (plenty of sizes linked)! The skinny leg ups to chic factor and both shoes add instant style to each look. A lot of you said this outfit really challenged you to think outside the box and step beyond your comfort zone. That's what I am here for you guys!!  Let's get creative to come up with fresh looks, using staple items. Here we have 3 very different looks you can wear 3 different ways, pairing what you already own with a fun not so basic staple item.
---
CHIC AND CASUAL
I wore this outfit to one of Asher's schoolmate's 1 year old birthday party. I wanted to keep things casual (and comfy),  but also look chic. This striped, high neck top (LOVE this army green top for only $10 too) dresses the overalls up a bit but my sneakers keep the look casual. Pair with some simple earrings and a fun pair of sunnies, and you are good to go!
---
HIPSTER CHIC

When I think of overalls, I immediately think of Urban Outfitters. To me, they are instant hipster, but that doesn't mean they can't be chic! I LOVE this bodysuit, but I needed to make this outfit more "Lindsey." I added the mirrored sunnies, my fav star sneaks, and some cute jewelry. This would be a great outfit to wear on a day date or even out for cocktails. Also, with overalls, I tend to like a more fitted top like this blush bodysuit (only $35), because something too baggy pops out the sides (just like in the outfit above)…annoying. Blush is SO on trend right now too.
---
DATE NIGHT GLAM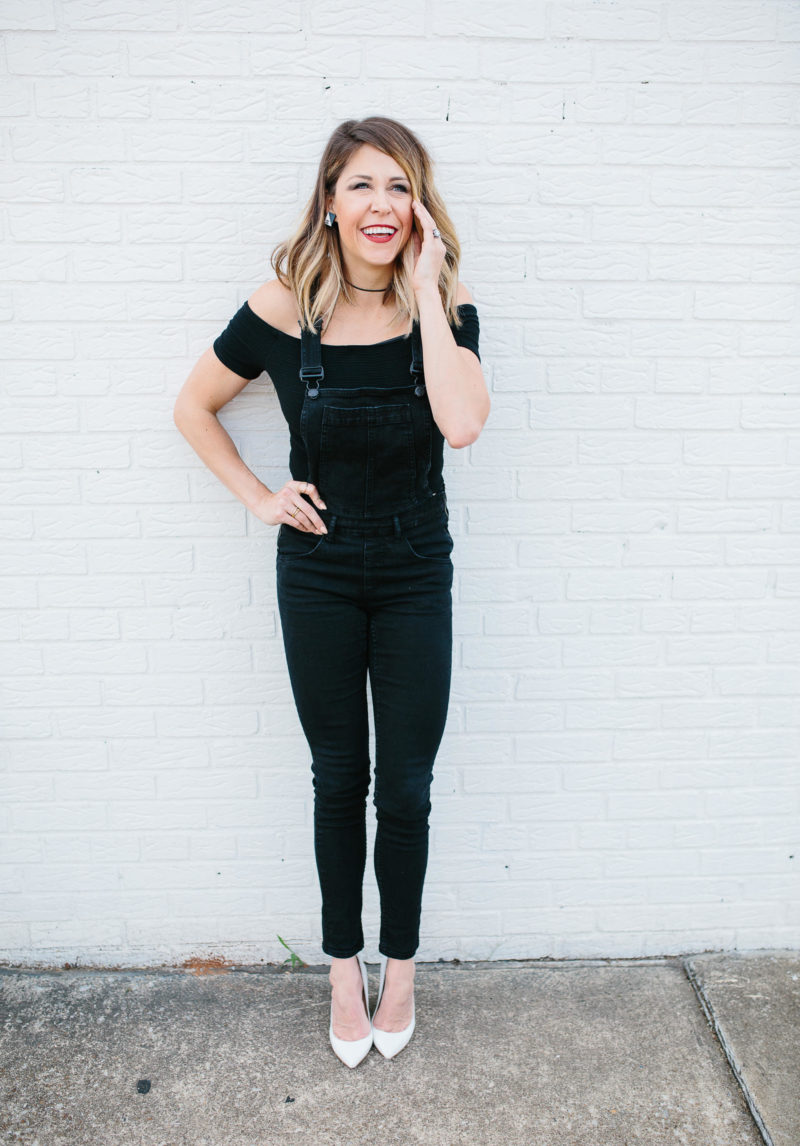 Out of all 3, this is my FAVORITE look. I know what you are thinking…how in the WORLD would you pull this off?  3 things make this possible: 1) The skinny leg. Think outside the box. What goes perfectly with skinny jeans? A pointy heel or a pair of stylish sneaks. 2) Black. You can pull these looks off with a denim pair of overalls, but the black denim increases the chic factor. 3) Off the shoulder top (on sale for less than $100). As I mentioned earlier, the off the shoulder top is very on trend right now. Keeping it simple dresses up this outfit. I love the choker because let's be honest, choker's are everything right now…and this one is less than $10! The red lipstick and Chanel earrings complete the look perfectly.
---
SIMPLE, YET STYLISH
A lot of 90's throwback in all 3 of these looks, am I right? I am ALL about 90's fashion right now. To summarize, let me ask you this question. In addition to the overalls, what is the one consistent factor that pulls these looks together? Simple, yet stylish tops. All 3 tops represent a few of the biggest trends right now: stripes, blush tones, and off the shoulder (How to Rock Off the Shoulder). You are instantly making these overalls feel fresh and on trend by pairing with pieces you have probably already purchased this year. I LOVE getting creative with my outfits. BE YOURSELF, and I promise it will work. Feel free to email me with any questions!! As always follow me on INSTA and SNAPCHAT for more outfit inspo!!
MAJ NORDSTROM GIVEAWAY
Now…it's time for a fabulous giveaway!
I've teamed up with an amazing group of bloggers
to give YOU a chance to win:
a $500 Nordstrom shopping spree, just in time for the Nordstrom NSALE!

Simply enter below by completing the rafflecopter.
You'll receive one entry per completion.
This giveaway is open internationally and runs until 7/19.
Winner will be announced here. Good Luck!
Hosted By:

The Styled Fox


Makeup Life and Love | Accessory Jane | Urban Blonde | Chic Talk | Sophistifunk


30A Street Style | Stylish Sassy & Classy | Two Peas in a Blog | Classic & Bubbly | A Vintage Splendor

The sTORIbook | The Fashion Brief | Wishes & Reality | Maggie a la Mode | Dots and Honey

Life Lutzurious | Glamour-Zine | Wild One Forever | How 2 Wear It | SheSheShow

The Styled Press | Christian Blair Style | Adaleta Avdic | Live Love and Read | Bree West

---