NORDSTROM ANNIVERSARY SALE: SAVE VS SPLURGE
SHOP MY OUTFIT
embroidered military shirt (runs large, wearing an XS) // ripped denim cutoff shorts // Gucci double G belt // leopard clutch ($45 leopard clutch) // Gucci Princetown Slippers // Karen Walker round cat eye sunglasses // the best red lipstick ever

---
NORDSTROM ANNIVERSARY SALE: SAVE VS SPLURGE
Alright guys, this.is.it. It's time for the FINAL COUNTDOWN of the Nordstrom Anniversary Sale, and for my last edition, I am bringing you 5 items to SAVE on vs 5 items you MUST SPLURGE on. In addition, my favorite favorite FAVORITE top from the sale. You guys loved this outfit on Insta, and it's finally hitting the blog. Really quick…to prep for this SAVE VS SPLURGE post, please read PRICE PER WEAR: How to Invest in Your Wardrobe to get yo mind right. Also, make sure you scroll all the way to the end of the post for a fun surprise!
A few CRUCIAL things to remember:
These are BRAND NEW FALL items. The prices WILL INCREASE on August 7th.
Nordstrom's return policy is insanely so amazing. Buy what you think you may want in multiple sizes, and then you can return once the sale is over. This will ensure you get exactly what you want in the sizes you need.
Check out the Nordstrom Anniversary Sale tab at the top of the blog to see all my other #nsale posts, styled outfits, and also picks for each category.
Make sure you follow my Instagram Stories TODAY (Sunday) to catch a few more items that arrived on Friday. Also, I will be around my phone for the rest of the sale. So please reach out to me via Instagram DM, Facebook DM, Snapchat DM, text, email, snail mail, WHATEVER. I will be so happy to answer your questions. In fact, I have legit purchased pretty much everything from the sale. So I def know how this stuff fits.
[full_width]
[/full_width][one_half padding="0 2.5 0 0″]
[/one_half][one_half_last padding="0 0 0 2.5″]
[/one_half_last]
TOP 5 ITEMS TO SAVE ON
Basic Tee
No need to splurge here. These options are all super soft, comfy, and also under $50. In fact, I bought all of these!

Cardigan
There are some really nice high end sweaters that are also part of the sale. But honestly save your money. The save options are LEGIT.

Boots
I am including both SAVE and SPLURGE boots in the category. Determine your budget and then shop from either section. Or shop from both! TIP: If you are going to SPLURGE, look for basics that you can wear with jeans, skirts, dresses, etc. I also tend to lean towards brands such as Stuart Weitzman and Marc Fisher. But I will link those in the next section.

Leggings
The CUTEST, also most versatile leggings you ever did see. Here are my absolute, top 5, MUST HAVE.

Slides/Mules
So you guys know how much I wear my Gucci slides. Don't want to splurge on this trend? Here are some adorbs under $100 options.

[one_third padding="0 3px 0 0″]
[/one_third][one_third padding="0 3px 0 0″]
[/one_third][one_third_last]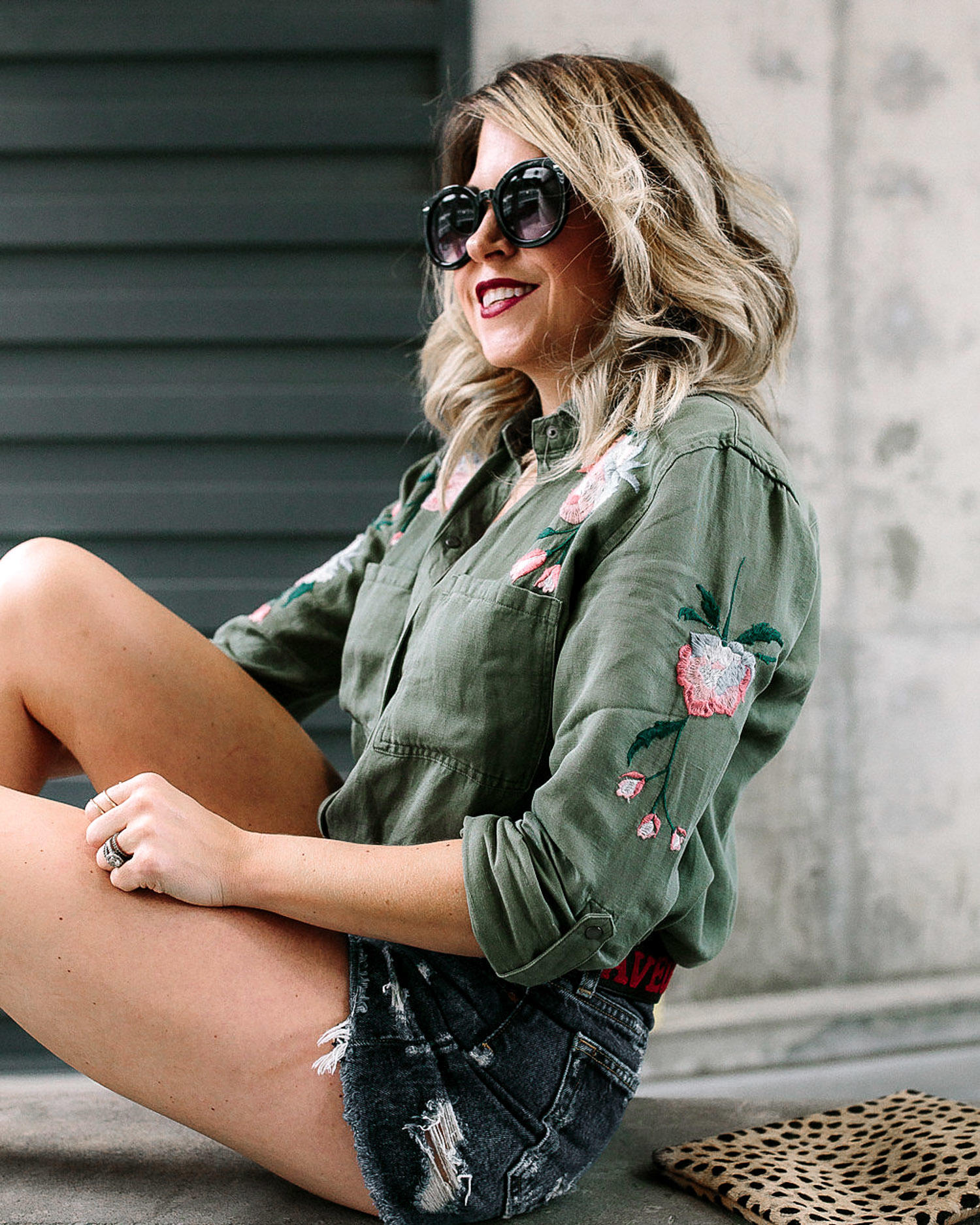 [/one_third_last]
TOP 5 ITEMS TO SPLURGE ON
Boots
My fav SPLURGE boots. You guys, they are so worth the price. So if you are looking to INVEST, now is the time. Save money on your investments and then reap the benefits all year.

Fall/Winter Coat
Y'all, these coats are SWOON WORTHY! In fact, I have no words and literally died when I unboxed the Ralph Lauren trench. #priceperwear

Crossbody Bag
Invest in a bag that you can use for work or for play. These crossbody bags scream style, versatility, and also functionality.

Classic Button Up Top
You will want a few of these for fall. So trust me.

Designer Denim
I typically use this sale to stock up on denim. In fact, I purchased several of these pairs shown below and am LOVING the undone hems.

---
MY OUTFIT DETAILS
[full_width]
[/full_width]
embroidered military shirt (runs large, wearing an XS) // ripped denim cutoff shorts // Gucci double G belt // leopard clutch ($45 leopard clutch) // Gucci Princetown Slippers // Karen Walker round cat eye sunglasses // the best red lipstick ever

---
INTRODUCING MY YOUTUBE CHANNEL
Ahhhhh, for my first video, check out this fun compilation we filmed over the last few weeks. Thanks so much to Iron City Photo for being my camera crew!
SaveSave
SaveSaveSaveSave
SaveSave
SaveSave
SaveSave
SaveSave