MATERNITY JUMPSUIT FOR SPRING
Happy Thursday, yall! Man, I was doing so well in January, pumping out weekly posts, keeping up with my Instastories, then BAM, life happened. I am feeling much better now, but after an INSANE few travel weeks, then THE FLU, my body said WHOA kimosabe. This past weekend we designed the nursery and ordered the crib, glider, and dresser. Talk about last minute, but I mean, I do my best work under pressure. Also, #kidnumber2probs. We also moved my office into one of the guest rooms, and started Asher's big boy room. CUE THE TEARS. I can't wait to show you the reveals!
MATERNITY JUMPSUIT FOR SPRING
[full_width]
[/full_width] [one_half padding="0 2.5px 0 0″]
[/one_half][one_half_last padding="0 0 0 2.5px"]
[/one_half_last] [full_width]
[/full_width]
Mamas, are you looking for the perfect maternity jumpsuit? I am sharing the most comfortable and super stylish maternity jumpsuit for spring you need ASAP! Keep reading for all the deets. And how to transition this piece to Spring.
---
MATERNITY JUMPSUIT: HOW TO TRANSITION TO SPRING
I don't now about you guys, but I am OVER winter. It was fun while it lasted, but bring on Spring! I am already starting to purchase Spring transition pieces to bridge the gap, and there are some AMAZING things out there already. Did you see my Shopbop Sale picks? Definitely check that out to get some great deals. When transitioning to Spring attire, I tend to focus on neutrals, chic basics (such as a stellar pair of high-rise, straight-leg jeans), high-waisted trousers, sleek, slip-ons, and fun jumpsuits. The outfit featured in this post incorporates a lot of the above.
Since I am almost 37 weeks pregnant, there aren't a ton of stellar pairs of jeans out there that fit me. So, I am living in jumpsuits, sweater dresses, and lot's of leggings. Also, accessories, such as fun shoes, statement earrings (LOVE THESE), a trendy bag, or a great jacket, can really vamp up your basics. I loved adding a puffy sleeve tee to wear under this chic jumpsuit. Also, the lucite bag (hello Spring trend) and white pumps totally complete the look. This floral dress would be SUPER cute for Spring as well, and it's 60% off!
---
MATERNITY JUMPSUIT FOR SPRING: BAE THE LABEL + SHOP THE POST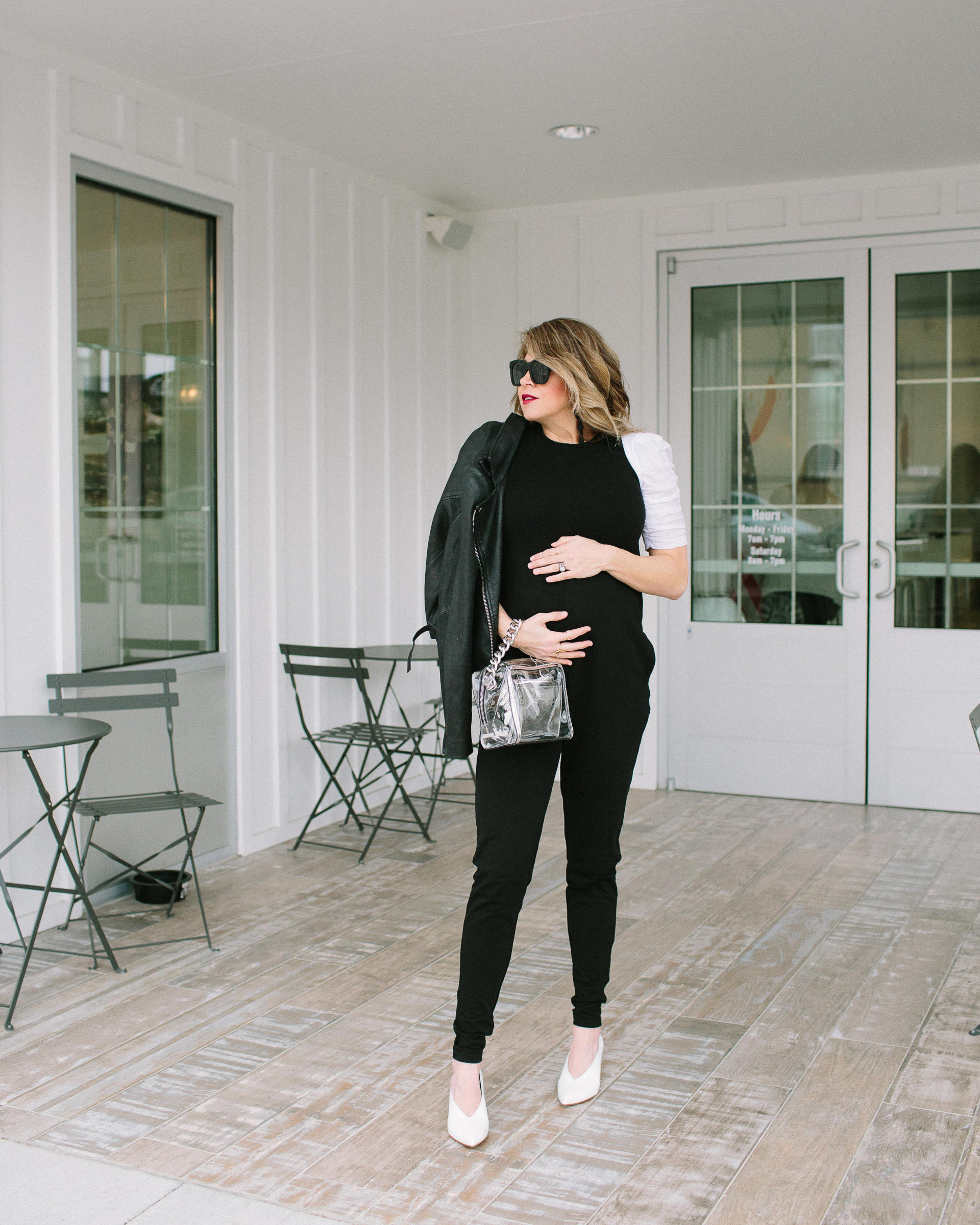 Remember When Jumpsuit // puff sleeve tee (up to 25% off)// black leather moto (up to 25% off) // white pointy toe pumps (up to 25% off) // lucite earrings (up to 25% off) // lucite clutch (sold out, but here is a FAB lucite bag) // best red lipstick // Quay After Hours sunglasses

Have you guys checked out the brand Bae yet? Their maternity options are chic, comfortable, and accessible.  I love that they don't even look maternity but will get you through your entire pregnancy. And are perfect for the dreaded 4th trimester. You mean I won't lose this baby bump as soon as the baby is born? This black maternity jumpsuit can be worn all year, to be honest. The material is luxe, and it hugs in all the right places. Not to mention, it may be the most comfortable thing I own. I have worn it 3 times in the past 2 weeks! For the colder months, pair with a fitted sweater.
For this Spring transition look, I paired it with the cutest puff sleeve tee (only $65 during the sale and non-maternity). But to me, the shoes and the bag took this outfit to another level. Lucite will be HUGE this Spring. If you aren't an early adopter of new fads, these lucite earrings are a great way to try the trend without full on committing. These Tibi pumps were a splurge (up to 25% off right now), but here are some pointy toe white booties that are JUST as cute and more than half the cost.
FIT TIPS: Order your normal, pre-preggo size in the jumpsuit. It is pretty stretchy, so it will stretch with the bump but will also work perfectly after the baby. My shoes and tee run TTS!
---
MOMMY MARCH
If you noticed, January was ALL about Whole30, fitness, and healthy living. Every Sunday (ok, sometimes Monday or even Thursday like today), I posted something around Whole30, such as my highly repinned Whole30 Tips. This got me thinking. Why not focus on a different category every month. This will not only hold me accountable and keep me organized, BUT it will help you guys stay focused on that specific month. SO, February was SUPPOSED to be ALL about FASHION. I mean DUH, it's the kick off month for ALL the fashion weeks and the perfect time to start shopping for Spring.
So, every Sunday, I will was planning on putting up a FASHION post. Then life happened.
Oh well! A series I DID start was SAVE vs SPLURGE. I will pick an item that you guys have asked me about (think beauty, travel, fashion, mom, whatever), and give my honest review on the SAVE version vs the SPLURGE version. First on the list: BLONDE SHAMPOO! I conducted a mini study for the past 3 or so months, and the results are in! Make sure you check it out.
SO, moving into March…since Baby Lutz #2 is due in less than 3 weeks, I am dedicating the month of March to all things Mom. This is something I have debated for awhile, because you guys are pretty split on the idea. Half of you are moms, half of you aren't. However, I will still try to make the posts relevant for you or someone you know. And of course all the fashion! I have an updated beauty routine in the works, nursery and big boy rooms planned, new mama must haves to go live, and of course THE PROMISED 10 minute, everyday makeup routine! Stay tuned, and as always THANK YOU SO MUCH FOR READING!!
---
GIVEAWAY
Money Can Buy Lipstick | Street Style Squad | Le Fab Chic | Polished Closets
Sunflowers & Stilettos | Pineapple and Prosecco | Tall Blonde Bell | So Heather
Blush & Blooms | The Middle Page | Brandi Soileau | Blondes & Bagels
Briana Anderson | Kathryn Hadel | In D-fens of Fashion | Lizzie in Lace
Britt + Whit | Effortlessly Sophisticated | Visions of Vogue | Living Life Pretty
Life Lutzurious | The Samantha Show | January Hart | Dress Me Blonde | Little Bit of Living
Today, I am teaming up with my favorite bloggers again to bring you a $700 Nordstrom gift card giveaway. Use the widget below to enter. The more tasks you complete in the widget below, the more entries you will receive! We will be verifying all entries.