LUTZ LIST: WHERE TO DRINK IN FIRENZE
Where to Drink in Firenze
SHOP THE POST

Happy Friday babes! For this week's installment of Lutz List, I am taking you back to my Italy trip…YAY! One of my favorite parts of the trip was wining and dining our way through Florence aka Firenze. Ryan planned much of our trip, but I told him to leave Florence up to me. I dreamt of wandering through the city wine tasting, sharing rooftop cocktails, and finding unique bars. So, for this post, I am telling you exactly where to drink in Firenze.
WHERE TO DRINK IN FIRENZE
GURDULU
Image by elizabeth minchilli in rome
Located in the up and coming Santo Spirito neighborhood, Gurdulu is incredibly hip, innovative, and of course, delicious. On a cold evening, you can sit inside the swanky restaurant, or if it is warm, head outside to their adorable patio. Ryan and I enjoyed our craft cocktails (bourbon for me, tequila for him) al fresco for several hours. It really was an amazing end to our trip!
You could really tell the bartenders took pride in their craft. The drinks were insanely yummy but also very creative. Our one regret was not eating there for dinner…I highly recommend. This is a MUST during your next trip to Florence.
---
ENOTECA PITTI GOLA E CANTINA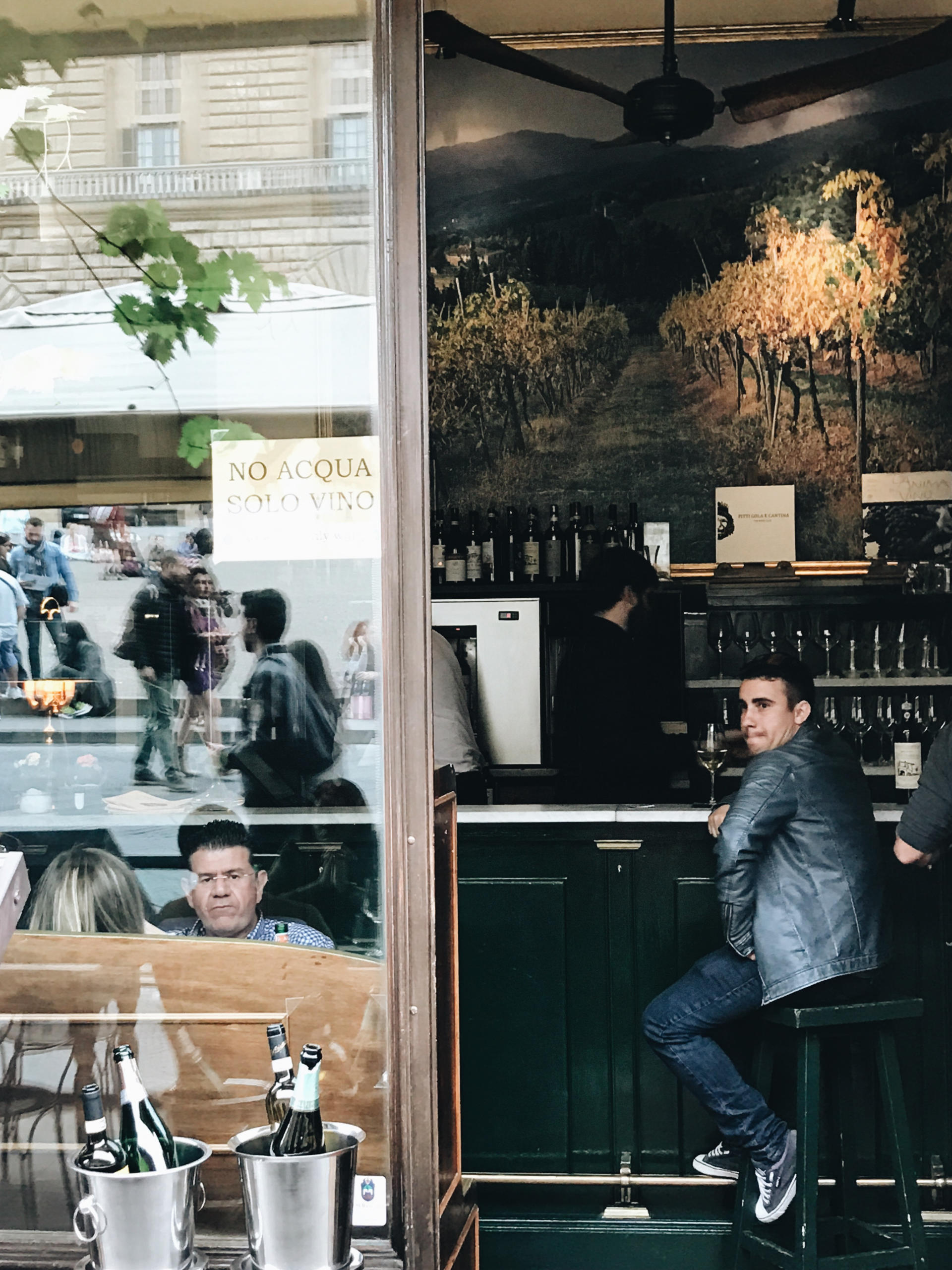 This is HANDS DOWN the BEST wine bar in Florence. Located near the historic Oltrarno quarter of Florence's city center, they focus on small production, handcrafted Tuscan wines. And these guys know their shit. The best part? You can get some very old vintages that you could never taste anywhere else BY THE GLASS. Winos rejoice!
"The shelves of the Enoteca are lined with small production, high-end wines that are hand selected to meet their ridgid standards."
There are a few seats indoors or outdoors, but I highly recommend dining or wine tasting al fresco. They have a FABULOUS wine tasting lunch that consists of a 3 course meal paired with 4 tasting glasses of wine. Ryan was blown away by the owners knowledge and selection of wines, and I loved the buzzy atmosphere and hip location!
---
LA TERRAZZA
Swanky, buzzy, and stylish is exactly how I would describe the scene at La Terrazza. The first time we tried to visit, there was a line of 50 people ahead of us, so I highly recommend going early. This is the see and be seen spot in Florence, and the cocktails were right on point.
From Conde Nast…"The bar is perched atop a 13th-century medieval tower, and has undergone a redesign at the hands of Florentine architect Michele Bonan, who used 1950s Italian cinema as his inspiration for the super-chic makeover. With the Ferragamo-owned hotel featuring black-and-white Emilio Pucci photographs on the walls of its suites, this is a place that takes style seriously."
The bar is located on the rooftop of the super stylish Continentale Hotel. Snack on chips while cocktailing your way to sunset overlooking the beautiful city of Firenze. One would insane to not have this on their list of "best views of Florence."
---
Cheers, everyone! If you have any questions, please feel free to reach out to me via email. In the meantime, check out my Let's Go to Italy post. I will be crafting Italy recaps and city guides over the next few months, so make sure you sign up to be a VIP to be notified when the posts go live!
---
SHOP THE POST