---
SHOP LACE + SUEDE

---
ALL ABOUT TEXTURE
How was everyone's Memorial Day weekend?  I hope it was FAB!  Ryan had to work ALL weekend, so Asher-man and I spent a lot of time together.  We did our usual thing on Saturday…the Farmer's Market, Bottega for lunch, swinging and laughing, and a park date with one of my besties!  Yesterday, we spent the day at the pool with another bestie and her Mini! After a long weekend, I seriously missed him all day today!!!  Want a glimpse into our weekends? Follow me on Snapchat.  Honestly, it's mostly all about Asher. That is not by design, but he's just so snapable!  And of course there's fashion, laughs, and lot's of cocktailing mixed in.  Make sure you follow me (actually Asher) @lifelutzurious.
Tonight, I am featuring one of my FAVORITE tops and showing you how to pair LACE + SUEDE.  It's all about that texture, you guys.  Scroll to end of the post for budget friendly buying options that look JUST like this outfit!
---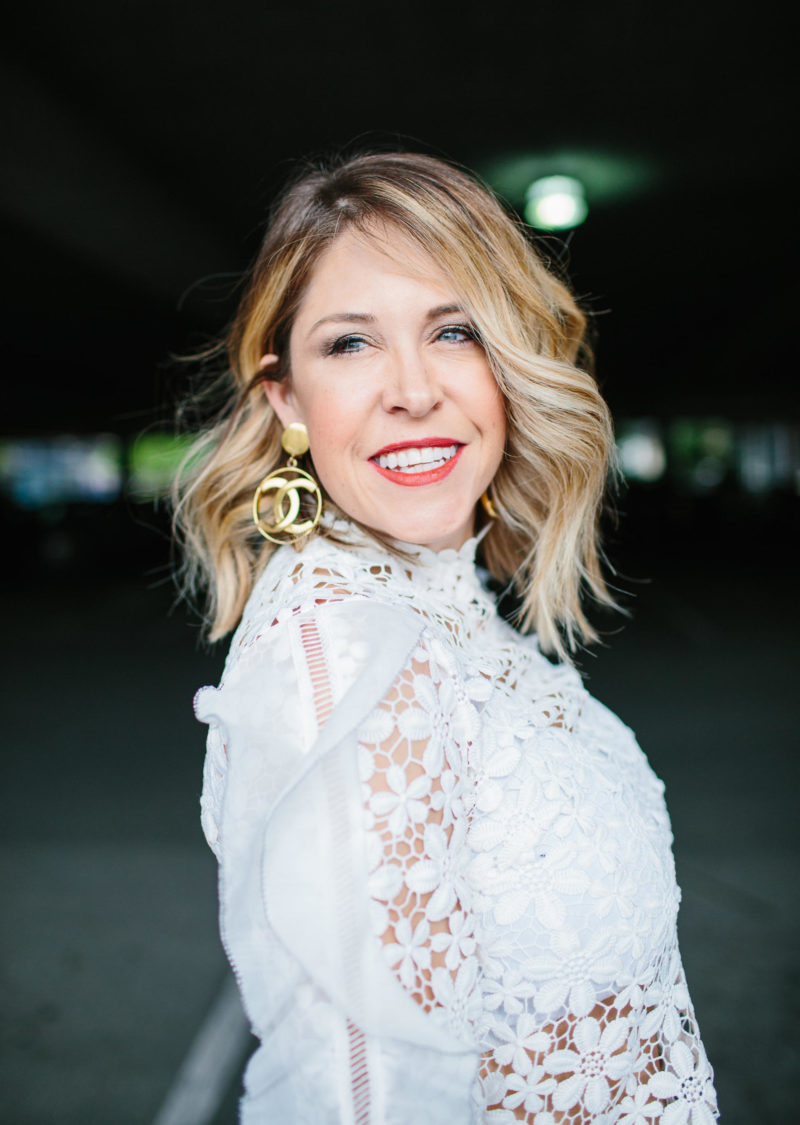 ---
ADD A LITTLE EDGE
I typically do not wear a ton of lace, but I literally died over this top.  Had. to. have. it.  And the lace trend is HUGE right now.  It was definitely a splurge, but I have worn it a million times. Price per wear, remember?  You guys know I am ALL about texture.  If you do not have a super feminine style, try pairing lace with either suede or leather to add a little edge to the mix.  The intricate detail of this top presents a completely different take to the traditional "lace top." The pointy toe and wooden heel on my pumps add another element of detail to this look. Pair with gold jewelry to step up your luxe game.  See, style mixing is THAT simple!
TOP | SKIRT | BAG | SHOES (back in stock and ON SALE 30% off after you guys sold them out last time!) | EARRINGS [vintage Channel] | BRACELET | RING | RING | RING | LIPSTICK
---
OTHER STYLING IDEAS
For a casual look, try pairing this shirt with denim shorts or frayed denim culottes and sneaks.  I literally died over these culottes I purchased from Intermix (additional 40% y'all).  How cute would they be with this lace top?  Just another example of how you to take an expensive top and create several looks to get you through the season. Cost per wear is typically how I justify my bigger purchases.
---
LACE + SUEDE BUDGET OPTIONS
Alright, I have searched high AND low for budget friendly styling options for this look.  The look featured in the widget below is almost identical and costs MUCH less.  I am OBSESSED with the lace bodysuit that is less than $50 paired with this suede skirt or with these suede shorts, which are $99 with an additional 40% off.  I can't even.  I am also including two flowy lace options that are MAJ on sale, less than $100 HERE and less than $50 and off the shoulder HERE.

TOP | SKIRT or SHORTS | RING | WHITE HEELS (less than $100, plenty of sizes) |  | GOLD EARRINGS (love these Jenny Bird's for less than $100)
---
I hope you babes have an awesome SHORT week (hell yeah)! Feedback question for y'all…would you be interested in a hair tutorial? I get asked that a LOT…let me know in the comments. And don't forget to follow me on Snapchat @lifelutzurious for all things Asher, fashion, cocktails, and annoying pictures of my food. xoxo
---