HOW TO LOVE YOUR PREGNANCY: First Trimester Pregnancy Tips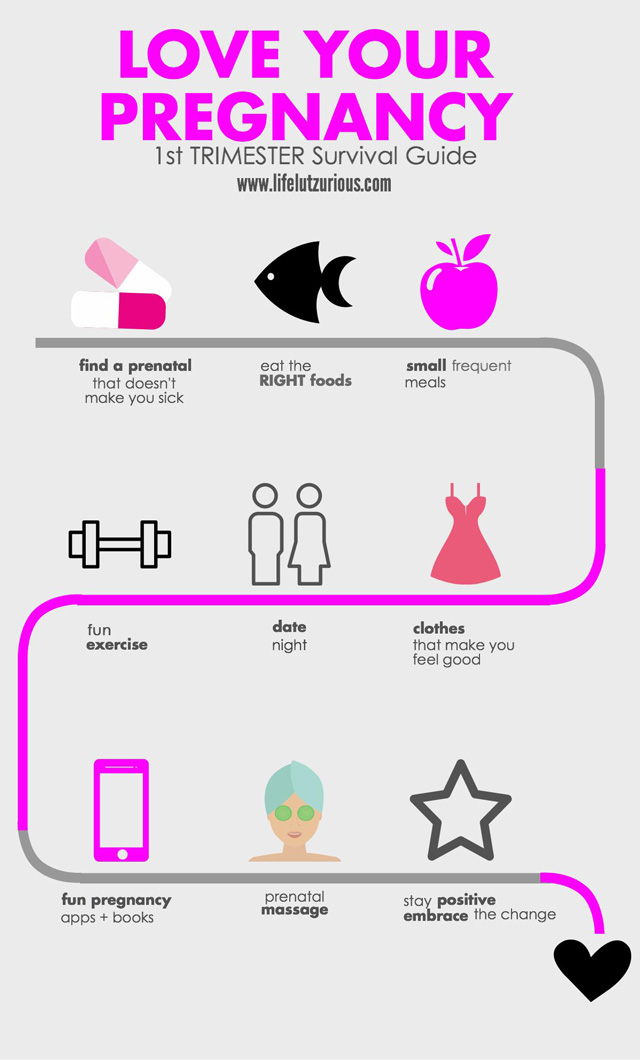 First, CONGRATS on your pregnancy! It will be one of the most amazing times in your life…I promise! I was one of those people that DREADED pregnancy my entire life. But it does not have to be bad…it truly is one of the best things you will experience. I know what you are thinking: how will I ever make it through the 1st trimester? Well, it does not have to be completely miserable…so, consider this your 1st TRIMESTER SURVIVAL GUIDE. The 2nd part in my HOW TO LOVE YOUR PREGNANCY series will feature product must haves, lifestyle changes (or lack there of), and extras to make you comfy! (Can you say prenatal massage?)
Now, I do want to preface this post with a disclaimer. Some women are VERY SICK during their first trimester. And I don't mean the occasional bout of morning sickness. If this is you, I am SO sorry. This article probably won't apply to you, but maybe you can find a few things to get SOME relief. I am not an expert on this topic but simply want to let you know what worked for me.
First Trimester Pregnancy Tips
1) Find a PRENTAL VITAMIN that does not CAUSE nausea.
You may not even realize it, but your prenatal vitamin could be causing your morning sickness. I tried 3 or 4 different types before I found that worked for me. I chose to go the "raw, natural" route, and I SWEAR by these: Garden of Life Vitamin Code RAW Prenatal. They support healthy digestion AND ease nausea, in addition to providing you and your baby nutrients you need.
2) Eat good food.
I know, this is the LAST thing you want to hear. But honestly, eating tons of fattening, greesy foods will only make things worse. Not only will you suffer from indigestion, but your energy levels will be brutal, especially if you are not used to eating this way. I learned this the hard way. When I would tell people that I had not changed my Paleo diet much, I always got the same lecture: "Are you crazy? Now is the time to splurge and eat what you want." Well, I tried it for 2 weeks…and I felt AWFUL. So, what should you eat? I absolutely loved FRUIT during the 1st trimester. It was so refreshing and delicious. While it can have a lot of sugar, fruit is very nutritious and can satisfy your sweet tooth. Another great "sweet splurge?" DARK CHOCOLATE. Make sure you check the labels and look for chocolate that is at least 72% cacao and only contains a few ingredients. Here are 2 of my favs: Alter Eco – Dark Blackout Organic Chocolate
and Equal Exchange Organic Panama Extra Dark Chocolate
. When you don't feel well, you will crave carbs. Although I ate pretty-Paleo, I did incorporate more carbs into my diet. I loved RICE, POTATOES, and QUINOA. All were healthy options that filled me up and kept my nausea at bay. AVOID carbs in the form of processed foods. If you absolutely need crackers, just find a healthy option. I LOVE the Absolutely Crackers (Gluten-Free). You can buy them at Whole Foods or online: Absolutely Gluten Free Original Crackers. So, we all know that VEGGIES are our friend. Stick to veggies that do not cause gas and ones that you do not have an aversion to. I had an aversion to cooked greens, so I avoided them like the plague. Veggies that cause gas? Broccoli, asparagus, cabbage and Brussels sprouts. The best way to figure out which ones do not cause discomfort is through trial and error. Keep a food diary to help you rule out foods that make you sick or gassy. Lastly, LEAN PROTEIN is very important. A lot of people have aversions to meat during the 1st trimester, but find one that works. I really loved wild caught salmon, pasture-raised rotisserie chicken, and grass-fed flank steak. If you do not eat meat, find a source of protein that will fill you up. For more healthy eating ideas, check out the first part of my HOW TO LOVE YOUR PREGNANCY series HERE. I even provide a sample menu to give you some food inspiration!
3) Eat small, frequent meals.
I can't say this enough. It makes ALL the difference in the world. Eating large meals to the point of misery will not help your situation. Eat small, frequent meals throughout the day and make healthy choices. This will not only help with digestion, but it will help support a healthy weight gain. I LOVED apple slices dipped in almond butter, a small handful of grapes with some almonds, or half an avocado sprinkled with salt and pepper.
4) Belly Balm.
Look, no one knows for certain if belly balm helps prevent stretch marks or not. But why not use it? It feels GREAT on your tummy and if it helps you worry less about stretch marks, then I highly recommend it! My bump twin and one of my best friends, Lauren, purchased me the Honest Co. Organic Belly Balm, and I have LOVED it. You can purchase HERE
!
5) Prenatal Massage.
Listen to your body and treat yourself. As often as you can afford it. Trust me!
6) Wear clothes that make you feel NORMAL and CUTE.
I am not going to lie…shopping for clothes in the first trimester can be difficult. I PROMISE YOU DO NOT LOOK FAT! I constantly struggled with this, but looking back now, it was silly. Wear things that make you feel good and treat yourself to something new. Don't worry, I linked up a bunch of cute, flow dresses at the end of the post! ( + this roundup of chic pregnancy outfits!)
7) Belly Band.
If you do not buy anything else, invest in one of these. Not only will it help you stay in your regular jeans longer, it will also smooth out the bumps in your tummy as it grows. Life saver. Purchase this immediately! You can buy the Ingrid & Isabel Bellaband HERE.
8) Lemon Water.
I absolutely despise drinking water, but it really is crucial to stay hydrated. I have heard so many different "rules" about water consumption. Some people swear by 8 glasses of water per day; others say to drink half your body weight in ounces. The half my body weight was easy to monitor and adjust throughout pregnancy, so that's what I went with. Since I do not enjoy the taste of water, I added freshly squeezed lemon juice to it. It actually helped a ton! Get a cute water bottle (S'well is my fav! You can purchase HERE) and drink up!
8) Exercise.
Y'all, exercise saved me. Honestly. Make sure you talk with your doctor prior to starting or continuing any exercise program, but if he/she gives you the go ahead, get up and move. Whether it's a walk, a swim, or your favorite exercise class, I promise you will feel better. Even on my tiredest days, I would try to do SOMETHING. I would instantly feel revitalized and could make it through the night without crashing. Find something you enjoy doing, not something that you dread. Additionally, if you are SO tired you can't function, then take a short nap. Anything under 30 minutes will keep you refreshed without causing you to be even more tired. If your wondering where to start, try this in-home pregnancy workout.
9) Fun pregnancy books and apps.
I absolutely loved getting my daily and weekly updates. Some apps I love are OVIA, BABY CENTER, and WHAT TO EXPECT. OVIA even shows you a picture of the size of your baby's little hand. It is so cute! Books that I love:
10) Date Night or GNO!
Get out and live your life. The more normal you can keep your life, the better you will feel. Even if I was a little tired, getting out and about helped a ton. Get dressed up…head to your fav restaurant…splurge a little…and have fun!
11) Stay positive. Embrace the changes.
I know this sounds silly, but it really does work. How much easier is it to make it though a difficult time when you have something to look forward to? Just think, you will have a PRECIOUS little to love and cuddle with when your due date finally approaches . What other time in your life will you have people (even complete strangers) doting on you, offering to help you, and telling you how beautiful you look? You can seriously be having the fattest, worst hair, terrible skin day ever, and SOMEONE will tell you how great you look. It happens. AND, in just a few weeks, you will feel AMAZING! Honestly, the 2nd trimester brings so much energy, happiness, and strength. You CAN make it through the 1st trimester, and the reward is pretty awesome! ENJOY IT. EMBRACE IT. AND TAKE ADVANTAGE of all the LOVE you are receiving!
What to avoid during first trimester
In addition to my tips above, I thought I would also share some things I avoided during my first trimester of pregnancy:
1) Avoid HUGE meals. They will only make you feel more fatigued and tired!
2) Avoid too much caffeine intake. Like huge meals, too much coffee can make you feel even more tired.
3) Avoid junk food. But in the same breath – don't be afraid to treat yourself. I've found that healthier alternatives like the dark chocolate options I mentioned earlier work great to satisfy my sweet tooth.
4) Avoid sticking to the same foods over and over. Eating a variety of healthy foods divided into several small meals a day is the best way to ensure you're consuming all the nutrients required for a healthy pregnancy. Nutrients like folic acid, potassium, iron, niacin, and more. Just as an example, pregnant women should make sure to consume plenty of folic acid during the first 12 weeks / 13 weeks of pregnancy to help prevent possible birth defects and support baby's heart.
Subscribe below for weekly deals, outfits, and more!
---
[do_widget id=text-19]
---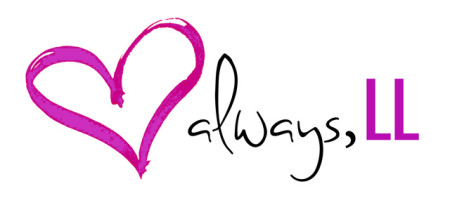 ---