WORK IT WEDNESDAY: THE OVERSIZED BLAZER DRESS
SHOP THE POST
denim oversized blazer dress // $225 black OTK boots // round cat eye sunglasses // lace trim cami // best red lipstick ever

---
In this post, I am showing you exactly how you can look fashionable at the office. So, without further adieu, allow me to introduce you to stylish workwear: the OVERSIZED BLAZER DRESS aka tuxedo dress. This can be worn SO many ways. For this post, I am adding a little edge, which is perfect for date night or a less conservative office. If your office is more business than casual, throw it over a pair of fitted black pants or even cropped trousers and pointy-toe flats. Want to go super fashion-forward? Style it with a pair of high-waisted flares for the ultimate fashionista look.
---
STYLISH WORKWEAR OVERSIZED BLAZER DRESS
STYLE THE BUMP
PREGGOS!! Honestly, back when I was pregnant, I had been searching for different dresses that I can wear for work and for play. When I ran across this one, I HAD to have it. It is oversized enough to hide the "am I pregnant or did I eat too much" bump AND will take me through my pregnancy. I wore this to a meeting with the best maternity leggings ever. It was chic, office-appropriate, and very comfy. FIT TIP: I did NOT size up, because this one is VERY oversized. I will link some less expensive options at the end of this post, so just make sure you read the fit tips and order accordingly. Don't forget to follow Life Lutzurious on Instagram for alllllll the fashion inspo you can handle!
[full_width]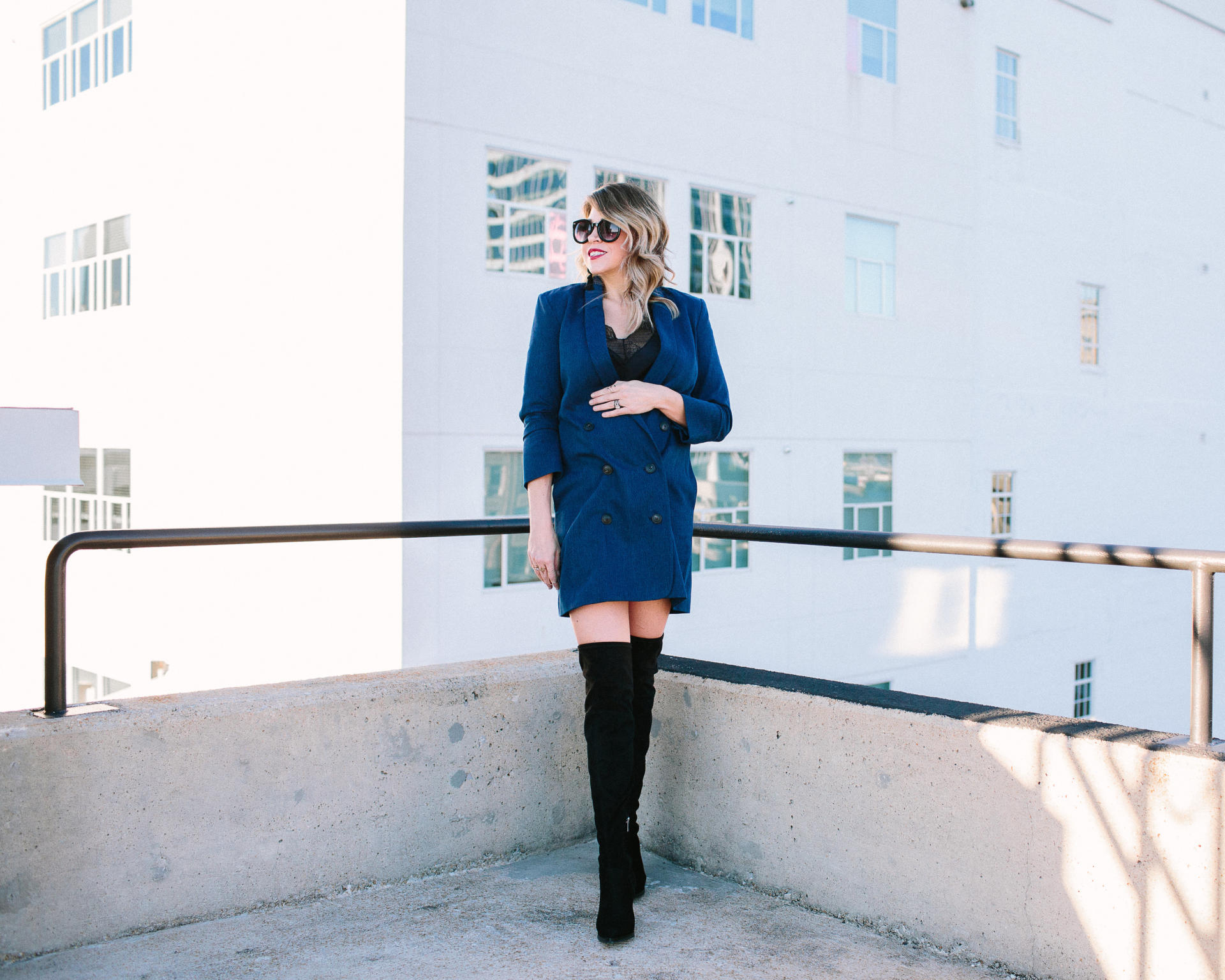 [/full_width] [full_width]
[/full_width] [one_half padding="0 2.5 0 0″]
[/one_half] [one_half_last padding="0 0 0 2.5″]
[/one_half_last] [full_width]
[/full_width] [full_width]
[/full_width]
How To Style An Oversized Blazer:
I want to leave you guys with plenty of inspo. So, here are some other ways you can style an oversized blazer for women.
As a dress.
We already covered this one – but we'll include it again for good measure. An oversized blazer is the perfect blazer-dress outfit opportunity. And the options are limitless. Add over-the-knee boots for a chic workwear ready look. Add heels for a sexy dinner party or date night outfit. Or, add your fave white kicks for a modern streetwear chic look. Grab a matching handbag and your signature shades and you're good to go. For an extra sexy look, go for a leather blazer dress in black. Or if you're really feeling frisky – opt for a pop of leather color. YASSSS.
With leather shorts & heels.
An oversized blazer with leather shorts & heels has date night written all over it. Start with a white long-sleeve shirt, high-waisted leather shorts, sheer black tights (if needed), and a grey oversized blazer. I love the play on textures here and it really brings the whole outfit together. The leather. The tweed. And the softness of the shirt – *chef's kiss". Shop the look HERE.
With a bodysuit.
Bodysuits are very trendy right now, slowing making their way from pilates classes only to everyday fashion. And I have to say, I am here for it. As you can see in this outfit I put together on my LTK page, the bodysuit/blazer combo can easily become a super chic ensemble. Start with a black sleeveless bodysuit and add a white, cream, or beige oversize blazer. With all these neutrals, only gold will do. So, make sure to add a couple gold-colored pieces to the neck & hands for a little extra something. Top this outfit off with a cute headband and your fav white sneakers.
With mom-jeans & combat boots.
The oversized blazer is basically a staple in chic streetwear. For a day of running errands or shopping with your BFFs, pair your oversized blazer with mom-jeans and combat boots. This is an outfit you can really play with. For backyard BBQ status, consider a white-tee with a tie-front and a creme oversized blazer and brown combat boots. Or, for an edgy grunge look, go for an oversized plaid blazer with a white or black graphic band tee underneath and black combat boots.
With a monochrome jumpsuit.
Okay y'all, I am still living for the matching sets trend. And, I am still seeing it everywhere. Start with a matching hoodie and sweatpants set of any color. Think brown, cream, lavender, baby blue, baby pink, even black. Then, add the same color oversized blazer for a full monochrome fit. Swoon. Monochrome blazer outfits are just as cozy as they are chic and they are truly having a moment right now. If you want to really lean into the athleisure look, add a matching ball cap.
With wide-leg pants & a crop top.
Okay – hear me out. You might think that an oversized blazer and wide-leg pants will lead to a loose-fitting, frumpy-looking outfit. But not when done correctly. With a form-fitting crop top, you can actually create a perfectly balanced outfit that gives all the 'girl boss' vibes. Start with neutral colored high-waisted wide-leg pants and add a black crop top. Add a matching oversized blazer (or another similar neutral works, too), heels, and a matching handbag and you're ready for whatever the day brings. See this outfit for inpso.
With a tennis skirt & sneaks.
Yes – you read that right. You can totally rock an oversized blazer with tennis skirt & sneakers, and here's how. I think the key to getting this outfit just right is using a mix of creams, whites, and browns. I love the look of a brown tennis skirt and oversized blazer. Add a lux white tee or tank, your fave white sneaks, a cream headband, and you've got a super trendy athleisure look.
---
SHOP THE POST
denim oversized blazer dress // $225 black OTK boots // round cat eye sunglasses // lace trim cami // best red lipstick ever

---
MORE OVERSIZED BLAZER DRESSES

---
PIN IT