#NSALE STYLE GUIDE: TWO DRESSES, EIGHT OUTFITS
If you watched my Instagram Stories this weekend, you probably noticed my theme for this year's Nordstrom Anniversary Sale is "how to style one piece multiple ways." So, in this edition of my #NSALE Style Guide, I am showing you how to get the most bang from your buck by styling eight different outfits from two dresses. These two dresses cost under $100 total during the #NSALE and will be your go-to pieces throughout the rest of the Summer and into Fall and Winter.
If you follow along with me over on Instagram (you can find me here to join in the fun) then you know I was in Nashville this weekend to shop the Nordstrom Anniversary Sale in person. I will share all of my must-haves throughout the week, but I wanted to start with two of the most versatile pieces in the sale- the Leith Body Con Dress and the Topshop Gray Long Sleeve Dress.
#NSALE STYLE GUIDE: LEITH BODY-CON DRESS
First up is one of the most versatile pieces of the entire sale. This Leith body-con dress comes in two colors, and I lovelovelove it. You can wear it year-round, and the quality is excellent for it's $50 price tag. I loved it so much that I found FIVE different ways to style it, just with items from this year's #NSALE.
#NSALE STYLE: EDGY
This is probably my favorite look of the five. I love the edginess that the waterproof black booties and the moto jacket adds to this look. I think these black booties are my favorite purchase from the sale and are a fantastic dupe for my Prada booties that you might remember from my how to style a slip dress post. If you can only buy one thing from the sale, the booties are my #1 recommendation!
#NSALE STYLE: WORKWEAR
I actually did not have this blazer on my wish list initially, but they did not carry the Topshop Plaid Blazer I wanted in the Nashville store. I went ahead and ordered that blazer, and ended up loving this one so much that I bought it too. This blazer is a MUST have if you are an Auburn fan. It would be perfect for game day with the orange and blue colorway. I will compare this one and the Topshop blazer when I get it in and give you the low down.
#NSALE STYLE: WEAR NOW | WEAR LATER
This is the perfect wear now option for this dress. This braided belt was on my wishlist, and I loved it in person. It 100% came home with me.
#NSALE STYLE: FALL TRANSITION
Who says you can't wear a body con dress to work? Paired with this faux leather blazer, it is the perfect fall work outfit. I do want to make a note on the blazer. The one shown here is a cognac color, but the one that is listed on the website looks more camel-colored. Not sure if they are the same color or not, but I did want to give you a heads up.
#NSALE STYLE: DATE NIGHT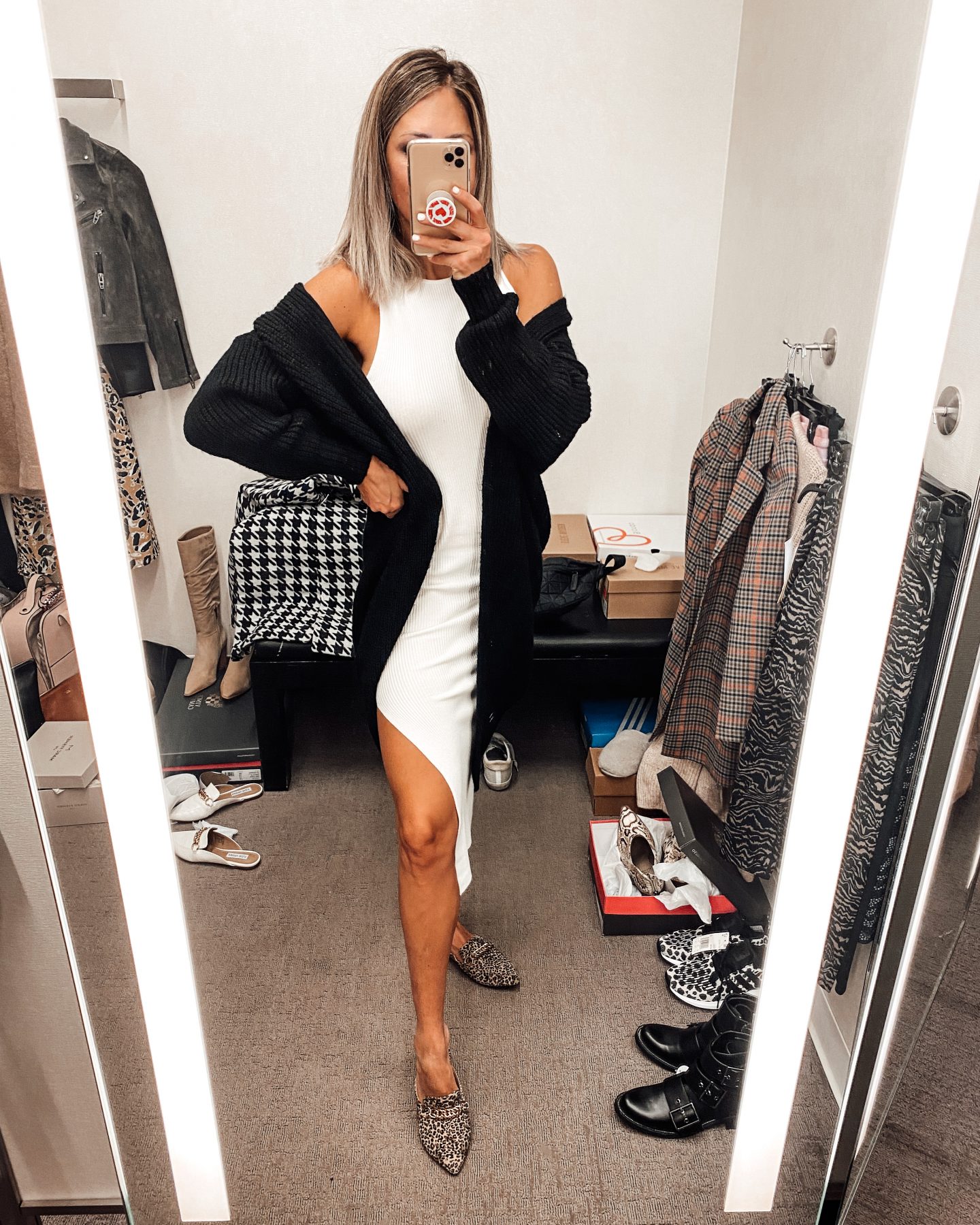 The perfect cozy fall look. Do you notice the slides I am wearing? I am wearing them in three of the five looks- that is how much I love them. They are a perfect fall staple, and I loved them so much I had to get them in both the white and the leopard. I would recommend ordering up a half size for length. For $50 they are a MUST HAVE for your fall wardrobe.
#NSALE STYLE GUIDE: GRAY LONG-SLEEVE DRESS
This dress is so soft and will definitely be in heavy rotation in my closet. It comes with a belt that you can tie in the front or the back, but I also think it would look so cute with a statement belt added like this black one or this leopard print one– both included in the sale!
This is a very simple-yet chic-way to style this dress. It's a great outfit option for work, church, date night, wherever! This mushroom, knee-high boots are definitely one of my favorite pieces from the sale. They are extremely versatile and flattering, so grab them while you can!
THIS TRENCH THOUGH
I have searched high and low for a trench coat that I love AND fits me properly. This trench is so flattering and made of a luxe material. It is water repellent, but it doesn't feel stiff or coated at all. I have needed a raincoat for forever, and I have finally found the one!
STYLE: EDGY
Does this look seem familiar? I styled this very similarly to the edgy look with the white dress. This proves that these pieces can be mixed-and-matched and worn over and over again. I am actually wearing the Topshop Leather Jacket in this outfit, instead of it the Blank NYC version I styled with the white dress. I actually preferred this one, so I bought it instead. This is one of my favorite looks from my #NSALE Style Guide.
EVERYTHING I BOUGHT
I found SO many versatile pieces that can be worn multiple ways, throughout the rest of the year. Scroll through to see what I bought!

#NSALE GIVEAWAY
I have teamed up with an amazing group of bloggers to give YOU a chance to win:
a $1,000 Nordstrom Gift Card to shop the Anniversary sale!
Simply enter below by completing the rafflecopter. You'll receive one entry per completion. This giveaway is open to the U.S. and Canada only and runs until 8/17. Winner will be announced here. Good Luck!
Void where prohibited. By entering the giveaway you acknowledge that you are agreeing to complete each task, which involves following, liking and subscribing to newsletter's.