10 THINGS I LEARNED AT NEW YORK FASHION WEEK
Photography by Paige Nicolle Photo
---
RACHEL ZOE JUMPSUIT (call Gus Mayer at 205-870-3300 | LOVE this less than $200 option here) | CHANEL EARRINGS (vintage but shop other options here)  | BLACK PLATFORM HEELS (call Gus Mayer at 205-870-3300 | LOVE these Steve Madden dupes for less than $150)
SHOP THE POST

---
Hey babes!! It's here, it's here! My FIRST NYFW post! Only 2 weeks late (insert eye roll). For my first post, I want to show you one of my FAV outfits, PLUS share with you 10 things I learned at New York Fashion Week. I took away even more than what is listed below, but I definitely feel like these are the TOP 10. First of all, I will say it was an ABSOLUTE blast, extremely exhausting, and truly a dream come true. After it was all said and done, I am already eager to go back. Heading back to reality was tough, but work was SO busy that I had no choice but to acclimate quickly. I sure did miss Asherman and Ryan too, so I was so happy to be back with them.
OUTFIT: Showstopping Black Jumpsuit
In honor of the Gus Mayer + Linly Heflin Fashion Show this week (more about this at the end of this post), I am showing you look #7 from NYFW. I wore this outfit to the LiketoKnow.It x Milk Studios event (AND to night 1 of Bham Fashion Week). This jumpsuit is EVERYTHING, y'all, and it was PERFECT for NYFW. Chic, comfortable, and the perfect fit. It is so hard for me to find pants long enough, but this jumper was the perfect length. I loved the gold detailing and the front tie! This allowed me to keep the accessories minimal and let this show-stopper do the talking. I paired with black, suede platform heels and my vintage Chanel earrings. I think this jumpsuit would be beautiful with your hair back, but I kept mine simple with my go-to loose waves. Jumpsuits can be tricky, but here are a few tips: 1) Buy a different size and get it tailored if you can't get the fit you want. This jumpsuit fit me perfectly everywhere, except for the chest. So instead of getting a bigger size, I had them let out the chest. 2) Opt for simple jewelry if you want the jumpsuit to shine. Jumpsuits are typically a statement piece, so I tend to keep my accessories minimal. 3) Be confident. A lot of people said to me: "I could never pull this off." YES. YOU. CAN. Jumpsuits are extremely comfortable and come in various shapes, sizes, and fabrics. Try on several until you find one that works. Because of their versatility, you can wear them casually or formally. I wore a black lace jumpsuit to a black tie event and fit in perfectly while showing my individuality.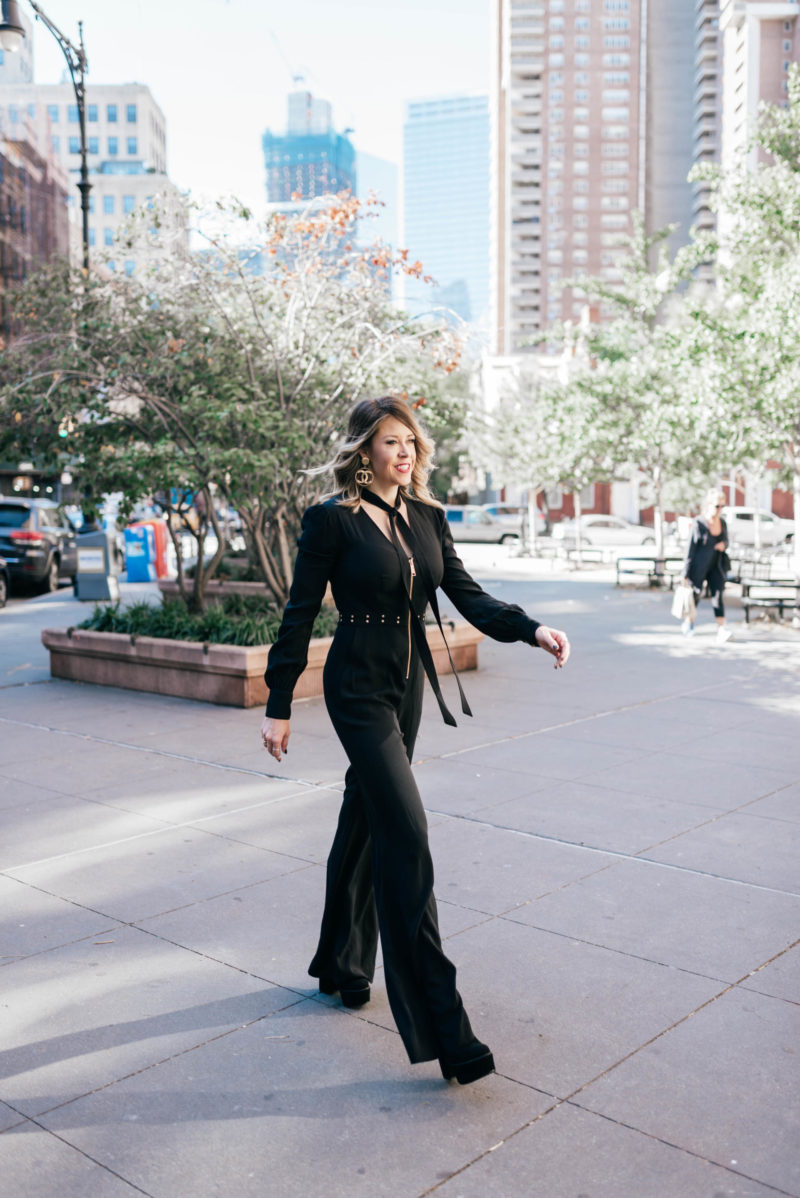 SUPRISE GIVEAWAY!!
Lastly, here is another SURPRISE for you. Scroll all the way to the bottom to ENTER to win ONE of THREE $175 gift cards to Sephora. You're welcome. 😉
Biggest Takeaways from New York Fashion Week
SO, with out further adieu, here are the 10 things I learned.
ANYONE can attend NYFW. I am not even lying, yall. ANYONE can go. It takes some work, but there are PLENTY of shows and presentations that you can attend. Also, the networking, brand meetings, events, and collaboration meetings are all a big part of NYFW. All my friends ask me if I got invited or if I paid my way to get in the shows. I got invited. Which brings me to my next point.
It DOES take some work though. To get into a lot of shows, you must be invited. However, that does't mean sit around and wait for people to contact you. The weekend prior to NYFW, I sent out over 100 emails to different brands requesting access to shows and setting up showroom visits. I also reached out to my RewardStyle and Chloe Digital reps to set up times to meet. Lastly, I networked with other bloggers, including happy hours, dinners, attending shows together, etc. There are ALWAYS presentations you can attend. AND you can wait in line to see if the invited guests do not make it to the show.
The days are long and meals are rare. Each day I was up by 6:30 and usually did not get in bed until midnight. I scheduled photoshoots each morning prior to getting my day started, so I could shoot my morning and evening looks. This made it less stressful than trying to manage photoshoots in between shows and meetings. Look, you guys know how much I LOVE to eat. And I am telling you right now, if you do not put meals on your schedule, you simply will not eat. I recommend packing RX Bars or something similar to at least give you SOME sustenance. Lastly, events in NY for whatever reason do not serve food…just chips. So, I was living that model life: coffee in the morning and cocktails and chips at night.
Get your mind right. I am going to be honest with you. It was extremely intimidating for me. I went completely by myself and am a TINY blogger compared to most…AND this was my first time. It is easy to go down the rabbit hole of the comparison trap. But just don't do it. I made that mistake and felt horrible. There is ALWAYS going to be someone "bigger" than you. And there is always going to be someone that looks like they have their shit together more than you. BUT it is SO important that you don't compare your beginning to someone else's highlight reel. Everyone has had their "first NYFW" at some point. Have fun, learn from your mistakes, and strive to make your experience even better next year.
It's HOT in NY in September. This is the understatement of the year. It was BRUTALLY hot. Boob sweat, back sweat, and frizzy hair was basically how I rolled. But it is what it is. You are inside a lot but some shows are outside, and you walk A LOT. Style your hair accordingly, drink lot's of water, and bring deo for your BO with you. You probably won't have the opportunity to go back to your hotel room, but a lot of brands and companies have hair and makeup stations set up that allow you to fix yo'self during the day.
Fill your days with shows, meetings, and showroom visits…and stay organized. It is pretty expensive to travel to New York, and you are only there for a limited time. So my strategy was to FILL my days to the max. I utilized every single hour to either shoot outfits, attend fashion shows and presentations, meet with brands, post to social media, attend events, and NETWORK. If even it is a quick coffee break, meet up with other bloggers and people within the fashion industry to build your tribe. I entered everything into my Google Calendar and kept it organized by color coordinating everything. Include the date, time, any contacts you need to meet, and the street address. When rushing around with very limited cell service, it is too difficult to search for an email with contact names and numbers and street addresses. Having everything on your calendar will keep everything organized. I even included my outfits, so I could schedule in time to change.
NETWORK. That brings me to my next point. BUILD YOUR NETWORK and MEET PEOPLE. I am apart of 3 groups that I made sure to meet up with and spend time with: RewardStyle, ShopStyle Collective, and Style Collective. If you are interested any of these three groups, let me know, and I will be happy to discuss a referral with you. Blogging can be extremely lonely. It is always amazing to network with likeminded individuals to strategize, collaborate, and even vent with. I was SO fortunate to finally meet all the fabulous ladies "in real life," that I have been working with virtually for the past 2 years. MAKE TIME to meet with your tribe for meals, cocktails, to share an Uber, whatever. While the shows are fun and provide amazing content, I would say networking with people was the most important part of NYFW, for me at least.
Schedule some down time. I did absolute ZERO of this, and I really regretted it. One night I unfortunately missed a dinner with my Style Collective girls, because I was so exhausted and just needed to take a break. Make a few minutes for yourself each day to rest, exercise, or just regroup.
Build a tribe before you go. Something that I noticed that I wish I had done…build your tribe and travel WITH them. I was SO fortunate to be able to attend events and shows with my Style Collective squad. SO SO thankful. But a lot of girls split hotel rooms, scheduled meetings and showroom visits together, shot outfits together, etc. Granted, I decided in the 11th hour (literally the weekend before) to go, so I was pretty rushed. But next time, I will plan this better! Power is in numbers!
Build in travel time between shows and meetings. The Uber situation during NYFW is pretty ridiculous. There was always a surge, 30-45 minute commutes, and just nonstop traffic. What I wish I had done: 1) Scout out the Subway situation. By the time I was there, I really didn't make time to do this, so I was stuck paying out the ass for Uber. 2) Plan my meetings a little better. For the most part, I keep meetings and shows close together, but even 1 mile is a long way in NY. 3) Don't over extend yourself. SHOCKER. I ALWAYS overextend myself, so I will try to fix this next year, but let's be real. It ain't gonna happen! Oh, and 4) Secure early check-in. As soon as I arrived in New York, I had exactly 2 hours to get to my hotel, change, and travel to my photoshoot. Y'all, this is not enough time. I ended up being about 45 minutes late, got ready in the hotel bathroom (while hanging my dress in a hot shower to steam it out in another bathroom), and literally sprinted Usain Bolt-style in the 95 degree heat to make it to my shoot. Again, the subway would be have been more ideal, but I had way too much crap to do this. Oh, and I didn't tell you. I had the stomach flu that day. It. Was. Awful. But I powered through and actually had a fabulous day. I may have been throwing up between shows, but it is what it is!
So, that is the lowdown on what I learned. If you guys are interested, I will be happy to create a mini eBook to teach you how to get into shows, what to expect, and other tips…IF this is something that would be beneficial to you. Thank you for reading and stay tuned for more NYFW content!
Linly Heflin + Gus Mayer Fashion Show
So, what is next on my agenda this week? WORK WORK WORK. BUT, I am SO honored to announce that I was elected as one of the Rachel Zoe x Gus Mayer featured influencers. So, Wednesday night, I will be sitting front row again at one of Birmingham's most amazing events: Gus Mayer + Linly Heflin Runway Fashion Show (of course featuring RACHEL ZOE). Make sure you are following along on Insta-stories to get all the behind the scenes action. I would LOVE to see you all there, so to purchase tickets, head to their official website.  Lastly, I am running a contest on my Instagram for the event, so be sure to check it out and SHARE with your friends.
SEPHORA Giveaway
AND, as I promised…if you know someone that would be interested in this giveaway, please share this post with them!
Now…it's time for a fabulous giveaway!
I've teamed up with an amazing group of bloggers
to give THREE WINNERS a chance to win:
a $175 Sephora Gift Card!
Simply enter below by completing the rafflecopter.
You'll receive one entry per completion.
This giveaway is open internationally and runs until 10/17.
Winner will be announced here. Good Luck!