THE ULTIMATE, UNFILTERED NEW MOM Q AND A
Ladies, do you have questions about pregnancy, birth, and/or becoming a mama? Well, I am here to give you the ultimate, unfiltered new mom Q and A to help you navigate your way through motherhood. Honestly, it's all so exciting and SO SCARY. It reminds me of Saved by the Bell episode when Jessie Spano cries through "I am so excited…I am so scared." HA, for real, right? Today, I am partnering with Heather from My Life Well Loved and Kindred Bravely to answer ALL your questions relating to pregnancy, birth, and braving new motherhood…no-holds-barred.
NEW MOM Q AND A
[full_width]
[/full_width] [one_half padding="0 2.5px 0 0″]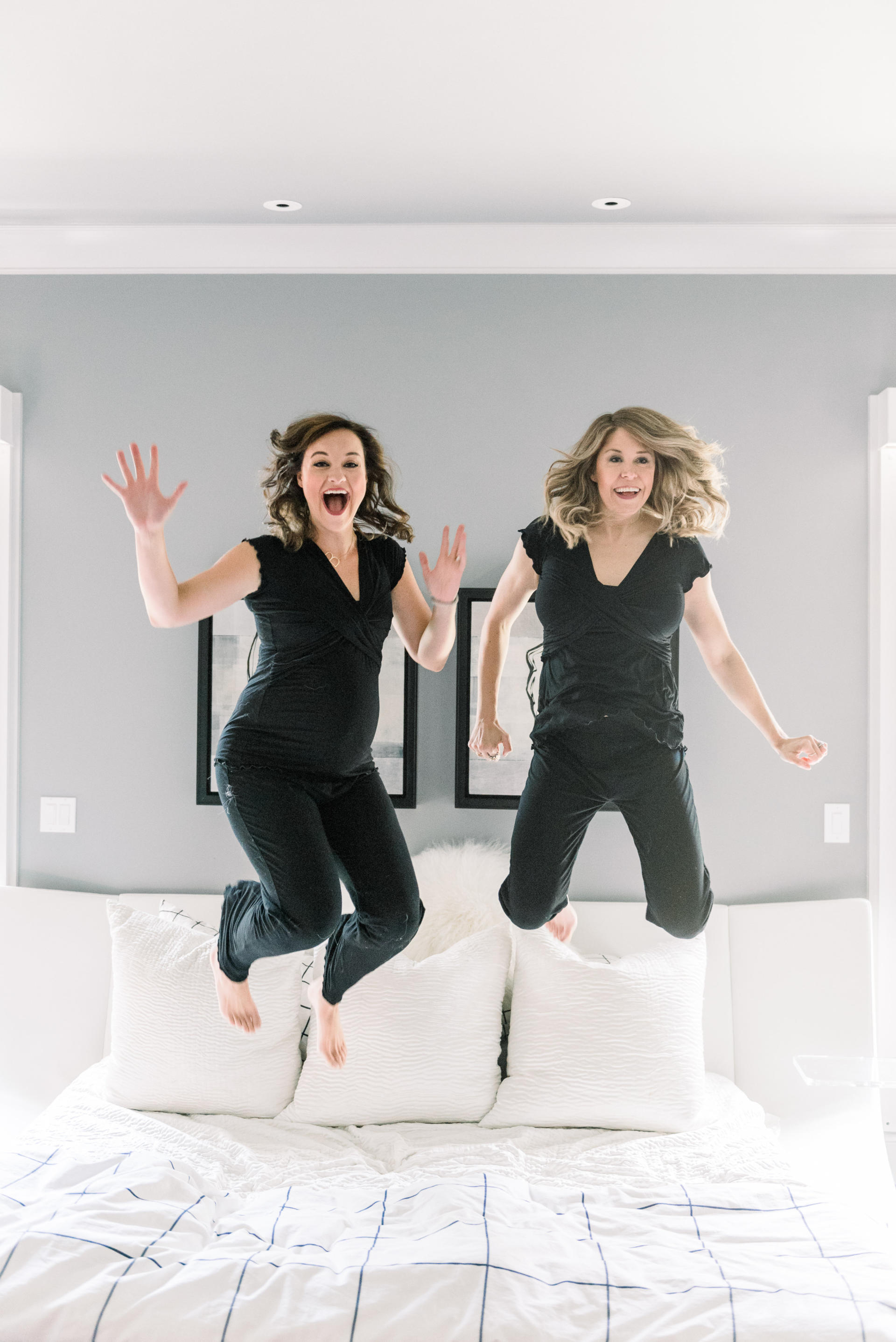 [/one_half][one_half_last padding="0 0 0 2.5px"]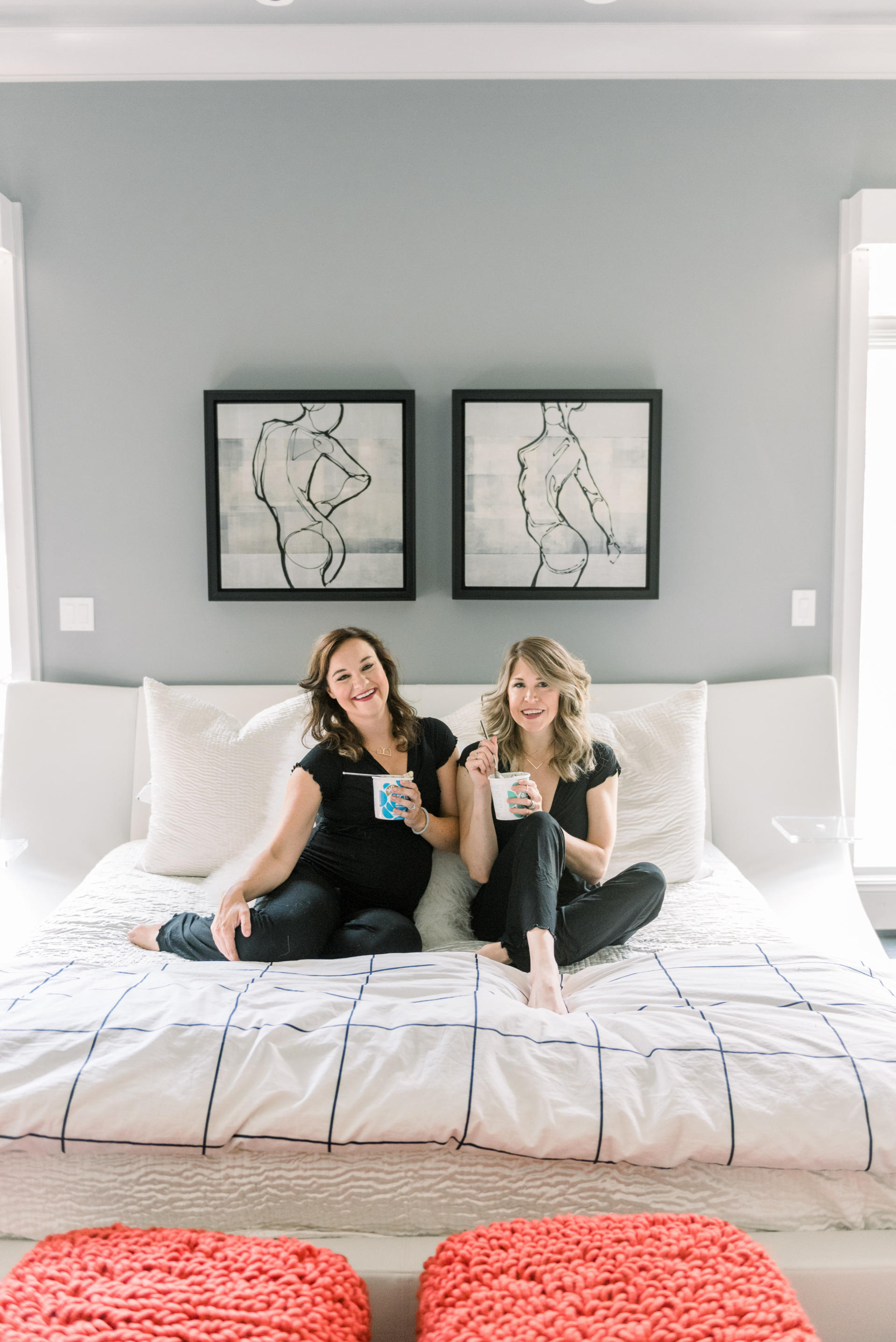 [/one_half_last]
[full_width]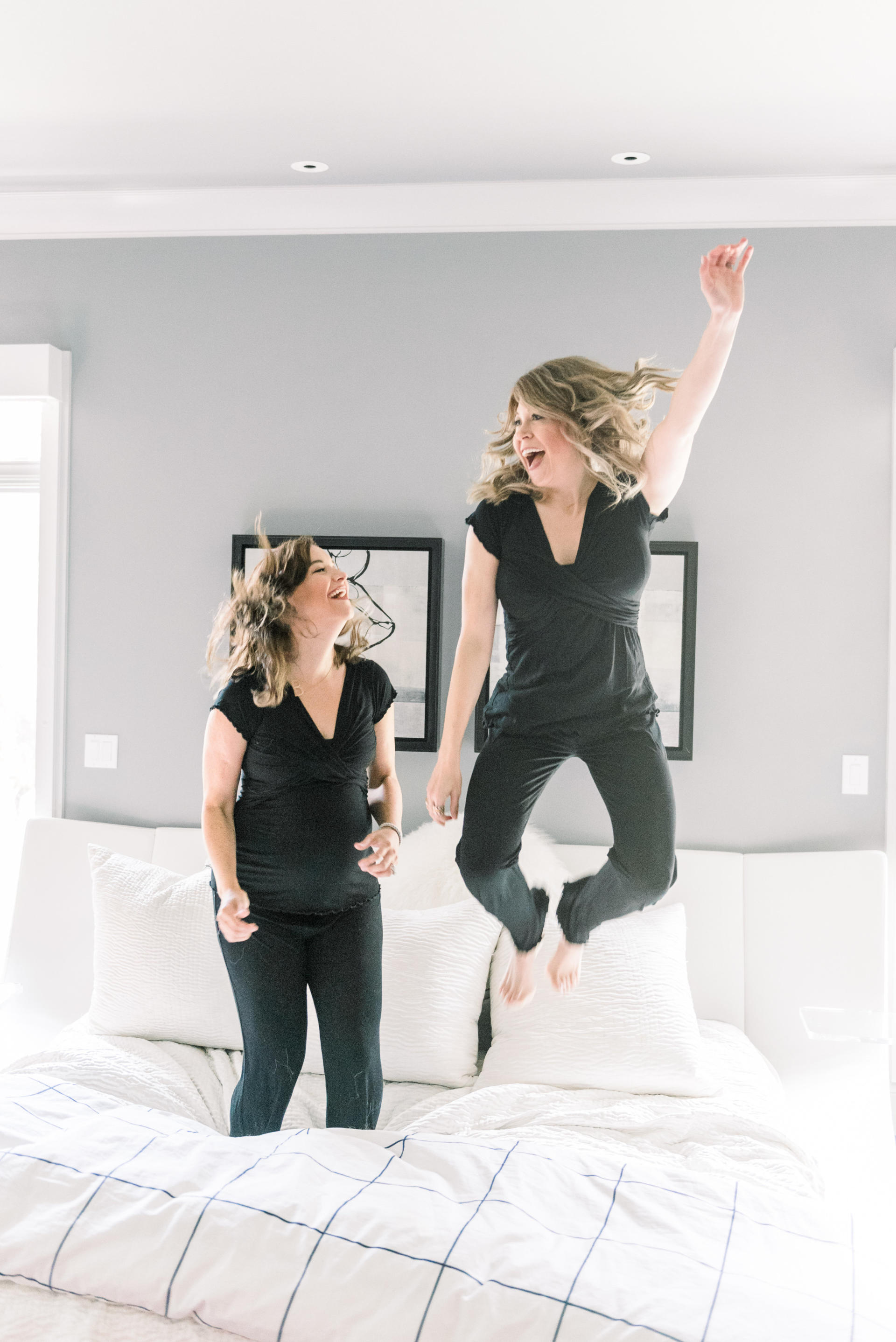 [/full_width]
SHOP Kindred Bravely Pajamas HERE with CODE LIFEKB20 for 20% off
First of all, for those of you that don't follow Heather, let me ask you, why not?! Ha, here is a little more about her. She lives in Birmingham, has a son named Leyton (who is Asher's age), teaches Pure Barre, and has an AMAZING lifestyle blog filled with recipes, mom fashion, and healthy living tips. You will love following her Instagram Stories and connecting with her on Facebook. She and I connected via Instagram through blogging but finally met in real life (we think) at our OBGYN office getting our pregnancy check ups. SMALL WORLD! Like I said, you will absolutely love following her and her growing family. She is due with boy number 2 in August, so our boys will again be close in age!
Kindred Bravely is a collection of maternity and nursing wear that enables moms to transition from the bump to breast and beyond. Their fabrics are SO soft, and their styles are super flattering. I love the fact that you can purchase these items at the beginning of your pregnancy and wear them during your postpartum stage and beyond. They share the same sentiment as me: our job as mama is the MOST IMPORTANT job in the world. But it ain't for the faint of heart! It takes courage, bravery, and a lot of love and grace.
NEW MOM Q AND A: YOU ASK, WE ANSWER
Now onto the questions. We polled all of our readers and these were the top 6 questions you asked. We are getting down and dirty, no-holds-barred with our new mom Q and A. After you read my answers, make sure you head over to My Life Well Loved to read Heather's responses.
Q: How do I stay fit/healthy while pregnant?! I kinda "let myself go" with my pregnancy! Hoping to have a different perspective when pregnancy #2 comes along.
A: For me, I really focused on eating like I normally would (before pregnancy) during the week. I would incorporate additional calories throughout the day by eating an RX Bar, adding half an avocado to my breakfast and lunch, or adding some quinoa or rice to my dinners. On the weekends, I was more lenient, splurging on dessert and my favorite mocktail. The better I ate, the better I felt, so this helped me stay motivated. Make it fun and EASY! Try out new recipes or enlist in a food delivery service, such as Nourish Foods.
Do you have a sweet tooth? I LOVED having a couple of spoonfuls of Mint Nada Moo ice cream at night or making a chocolate butter crunch, which is sandwiching a piece of dark chocolate with almond butter between two Absolutely Crackers. YUMMMMM. And give yourself a break. If you splurge one night during the week, get back on the wagon the next day. Lastly, EXERCISE. I tried to do SOMETHING every day. Luckily, I was able to do IronTribe until the very end, but if you can't keep up your normal workout regimen, just get out and move. Go for a walk, take a new yoga class, or do a quick HIIT workout at home. Just stay active!
Q: My husband and I are expecting our first and just found out it's a boy! What's something you wished people had told you? It can be anything from the things people don't tell you about pregnancy/delivery/hospital stay to must have registries to tips/tricks for being a boy mom.
A: First of all, CONGRATS! Being a boy mom is absolutely amazing. They are so sweet and cuddly and truly fall in love with their mamas. Baby Holden is sound asleep in my lap as I write this post. So, let's get down and dirty with this one. Hospital must haves: really ANYTHING and EVERYTHING that makes you feel like you are at home. For me, this meant my
favorite jammies
, a
sound machine
, my makeup, some fun earrings, a
portable speaker
to play our favorite tunes, and
RX Bars
. Also, WHATEVER makes hubby comfy is a must have as well. I also loved having some cute outfits for both the boys to take pictures. OH and
Always Discreet
panty things. Just trust me on this one. They are SO MUCH BETTER than the hospital undies that make you feel like you are wearing a diaper.
And the first trick to being a boy mom: point "it" down when you put the diaper on him. And ALWAYS cover "it" up when you are changing your diaper. Boys love to pee on their mamas (insert hysterically laughing emoji). In fact, I think Holden's first laugh came from me bring rebellious and not covering it up. Yep, all over me, the wall, and his new outfit. My best friend gave me these tricks, and they saved my life…several times. Registry must haves would include
SwaddleMe Original Swaddle
(until he starts rolling over),
Baby 
Merlin's Magic Sleepsuit
(around 12 weeks old),
Becoming BabyWise
,
Nose Frida
,
BabyBjorn Bouncer
, a
sound machine
, and an
Owlet
if you are a nervous mama.
Q: How did you lose the pregnancy weight so fast?
A: Well, first of all, I haven't quite lost all of my weight yet. I think I have about 5lbs to go. However, staying healthy during pregnancy was probably the biggest factor in losing my weight so quickly. I gained about 30lbs during pregnancy, but it was all healthy weight. I lost about 15lbs right after baby. Then breastfeeding DEFINITELY helped with the next 10. I will tell you though, it is TOUGH when breastfeeding, because you are constantly hungry. My biggest advice for losing weight while breastfeeding is to always have healthy snacks in the fridge and pantry. Because if you don't, shit will hit the fan quickly. You will be starvin marvin, grabbing whatever you can find. Get additional calories with protein and healthy fats and drink lot's of water.
Again, STAY ACTIVE and get moving. After you are released from the doc, do some form of exercise each day, even if it is walking around the block. Lastly, here are two LL #lifehacks that will make you feel and look amazing after pregnancy. 1) Dress for your body. For me, I have skinny legs. So I may wear a baggy dress that is shorter to hide my tummy and show off my legs. Have a small waist but can't seem to lose the extra weight in your legs? Try belting a maxi dress with a cute pair of wedges or platforms. Lastly, HIGH-WAISTED anything is your friend. Size up 1-2 sizes and rock that high-waisted skirt, high-rise pair of jeans, or paper bag cropped pants. TRUST ME.
Q: When did you decide to hire/let someone other than family/friends babysit your babies? What age do you think the babysitter should be?
A: This may be the uncommon response, but my answer is "immediately." After my c-section, we enlisted the help of a night nanny a few times a week to help me recover more quickly. Ryan had to work the week we had the baby, so this helped me tremendously. Honestly, she was a game-changer. She would come from 7pm to 7am, so we were able to spend time with Asher and have some adult time. Remember, it is ok to ask for help. She also helped me determine sleep patterns and experiment with new things at night to get him sleeping well. Also, Ryan's parents have been a huge help for us. I didn't want to burden them with overnights until Holden was sleeping through the night, but they have been awesome with giving me breaks during the day and early evening, so we could take Asher to dinner or out to a baseball game.
Lastly, we have a babysitter that we love and trust, who helps watch Holden and Asher. I think Holden was about a month old when she babysat him for the first time. For us, we really wanted to make sure we incorporated the boys into our lives, not the other way around. Date nights and nights out with just Asher are both super important to us. We really worked hard not to completely turn Asher's world upside down, so that meant getting the baby out and about early on and enlisting the help of sitters we trust. With that being said, we have only used older sitters that have kids of their own. I am not sure what age the sitter should be, but for me, I have felt most comfortable with parents and older ladies that we have always used.
Q: How do I deal with family members who are non-supportive or over-supportive of my breastfeeding journey?
A: Oh gosh, don't get me started on this. Luckily, I have not had to personally experience this much, but I have heard nightmare stories. I think the most important way to combat this is to communicate your intentions UP FRONT and manage expectations. Explain to the family member exactly how you want your breastfeeding journey to look like. For example, if you want to exclusively breastfeed for 6 months, explain this to family members. Explain to them the importance of it and how you need them to support your efforts. Sometimes it is simply a lack of understanding, not necessarily someone trying to be rude.
I received a comment like this one time: "I am concerned Holden lost weight before he left the hospital. Maybe you should be patient with your body and [supplement] if you need to." Well, this person clearly didn't understand that almost all babies lose weight while in the hospital, and as long as he or she is back up to their birth weight by their two week appointment, everything is fine. In fact, Holden had gained a TON of weight by his 2 week appointment, and I was very glad I didn't take the advice of someone who had never breastfed and simply didn't understand how it worked. So, long story longer…you are the mama. You know what is right for your baby. Be confident in your decisions and stand your ground, but also communicate your plan and your expectations.
Q: What did your postpartum journey look like?
A: Gosh, as I sit here writing this post, I am literally in tears. I only have a week and 2 days left with Holden before I return to work. My postpartum journey has been nothing short of amazing. And by amazing I mean exhausting, scary, and anxious. But more importantly, it has been filled with happiness, pride (in myself, my body, Ryan, and Asher), cuddles, kisses, long nights, new experiences, tears (both happy and sad), faith, grace, bravery, and unconditional love. Some of my biggest anxieties I experienced during pregnancy were the fear that Asher would resent us. And the fear that I would not connect with Holden. The fear that I could not love Holden the same. And the fear that I could not love Ryan as much. Never in my life did I realize I could love 3 people as much as I love Ryan, Asher, and Holden.
Mamas, there is room in your heart for all the love.
It is an unconditional love that I cannot explain. It is a love that knows no boundaries and a love that will get you through the darkest times. I am so proud of what Ryan and I have done as parents. I am so proud of the boys we are raising. And I am so proud of how we have been a TEAM, 50/50. As I look at Holden's little fat rolls, his sweet smile as he sleeps, and the way he rests his hand on my tummy, I am reminded just how amazing the past 14 weeks have been. Have they been tough? Of course. Have they been stressful? Absolutely. But have they been worth it? More than you can imagine.
The past 14 weeks have forever changed me, and for this, I am forever thankful
for the struggles
and the unconditional love. The biggest piece of advice I can give is to give yourself a break; ask for help; snuggle in bed a little longer (with your husband, your other kids, and your newborn); forget the dishes; stay healthy (both mentally and physically); BE BRAVE…I promise you can do this; and cherish every single second. Because even the tough moments are blessings.
NEW MAMA Q AND A: WHAT WE ARE WEARING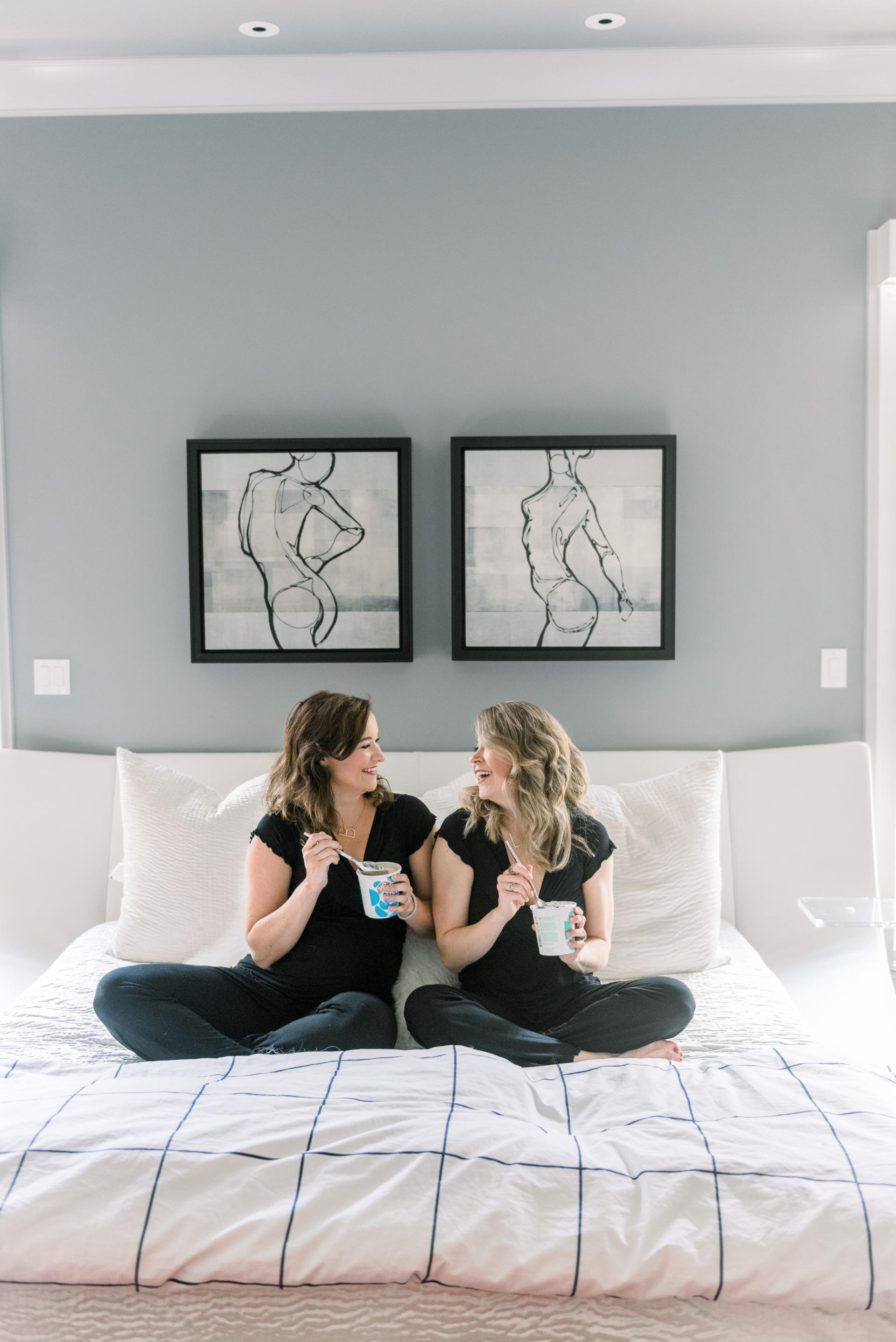 KINDRED BRAVELY PAJAMAS // MONOGRAM NECKLACE // GRID DUVET COVER // LEESA MATTRESS ($200 OFF USING CODE LINDSEY LUTZ) // FURRY PILLOW // ACRYLIC TABLE

Now that I am completely bawling my eyes out, I want to talk to you a little bit about what we are wearing in these photos. Heather introduced me to Kindred Bravely a couple of months ago, and now I am obsessed. I linked the jammies ($49.99) we are wearing in this post in my hospital must haves above, because whether you are pregnant or postpartum, these are the most comfortable, flattering, and versatile PJs I have ever worn. I will continue to wear them long after my postpartum journey is complete.
Kindred Bravely has been kind enough to give us a discount code (LIFEKB20) to share with our readers that is good for 20% off (one time use; excludes leggings) on both the Kindred Bravely website and Kindred Bravely Amazon page. Make sure you head on over to my Instagram to watch our Instastories on some of our FAV Kindred Bravely pieces! Annnnnd, if you are new to Life Lutzurious, make sure you give me a follow! As always, thank you SO MUCH for reading and following along. I hope this was helpful for you. If you have any additional questions, please feel free to comment below, email me, or shoot me a DM on Instagram.