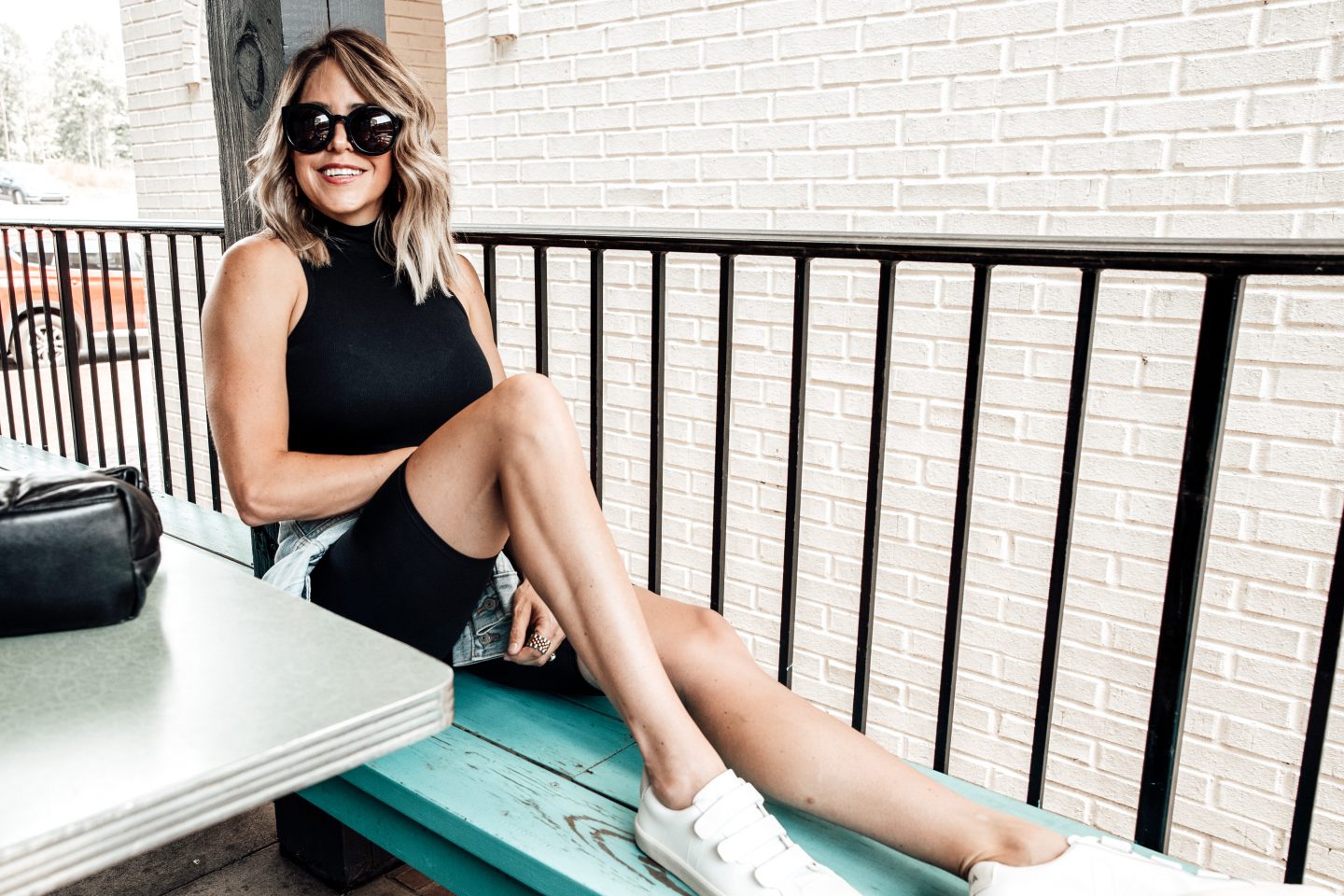 Who else LOOOOVES leggings? Ok, that's what I thought. Who WANTS to wear leggings in the summer, but it's just too damn hot? SAME, girl. Well, I have a solution for you: BIKER SHORTS. Yes, I know you have seen all the fashion girls rock these trendy little shorts. But I am here to show you exactly how to wear biker shorts in your everyday life, whether you are a fashionista, a mama on the go, or a girl that prefers more timeless pieces.
I am wearing two different pairs of bike shorts in this post. These Spanx biker shorts have been my ride or die for the past couple of years and are guaranteed to suck you in. If you aren't quite ready to pull the bike short trigger, try this adorable pair of Bermuda shorts. Same effect, but with a more timeless vibe.
HOW TO WEAR BIKER SHORTS OUT RUNNING ERRANDS

This is one of my FAV ways to wear biker shorts. There's nothing worse than being hot or uncomfortable while hopping in and out of the car all day. This lightweight, tie-dye sweater (sold out, linked similar) is the perfect piece to go with biker shorts. Throw on a belt bag, crossbody, or backpack to hold all your stuff without taking up too many hands. This sweater would be ADORABLE with a pair of Spanx faux leather biker shorts. And yes, they suck you in just as well as the leggings do.
THE SAFEST WAY TO ROCK BIKE SHORTS

I call this outfit "An Introduction to Biker Shorts." Throw on a black sleeveless top (on sale!) and tie a denim jacket (under $100) around your waist. VOILA, you are all set! This is cute for date night, brunch with the girls, or just running around town. This jean jacket is super affordable and versatile. My velcro sneakers are a perfect Golden Goose look for less option. If you want to splurge, my velcro GGDB sneakers are back in stock!
Want to step it up a notch? Trade out your sneakers for a pair of leopard heels ($120 off!!!!) and a woven bag (on sale for $60) for an ultra-chic way to wear biker shorts! This would be PERFECT for date night or happy hour.
HOW TO WEAR BIKER SHORTS FOR DATE NIGHT

What is a blazer, Alex? Correct. 9 times out of 10, I opt for a blazer when trying to dress up a pair of biker shorts. This light blue blazer (under $100) is so on trend but is a staple piece that can be worn all year long. The best part? It's priced at a cool $99. Style with strappy sandals and your favorite crossbody bag to complete the look. I would say this is the most common way to rock the bike shorts trend, and it gives off total boss babe vibes!
HOW TO WEAR BIKER SHORTS IF YOU ARE STILL HESITANT (HA)

I LOVELOVELOVE these Bermuda shorts. You will literally live in them. They are a less risky option, if you aren't quite ready to commit to bike shorts. Pair them with a fun band tee or a summer sweater for a day date or brunch with the girls. I am clearly obsessed with this belt bag (hurry, only 3 left!). It's simple, affordable, and versatile.
HOW TO WEAR BIKER SHORTS ON A CASUAL FRIDAY OUTING
This outfit is PERFECTION. This one of my favorite ways to style biker shorts. Perfect for running errands, shopping, casual brunch with the girls and more. Start with these comfy Alo Yoga biker shorts, a graphic tee, and some fresh white Veja kicks. Since the biker shorts are high-waisted, don't be afraid to throw on a band crop top instead. Throw on your mini-backpack and a cropped jacket and you're ready for whatever your Friday brings. Oh, and don't forget your sunnies!
AFFORDABLE BIKE SHORTS YOUR YOUR NEXT SUMMER VACATION

Alright alright, I get it. Biker shorts don't typically scream "let's go to the beach." BUT, you guys LOVELOVELOVED this Free People tunic, so I thought I would show you how to wear it over biker shorts, in case you prefer a little more coverage. And honestly, how adorable?! I styled it exactly the same as I did the first time, simply adding a pair of affordable bike shorts.
You could also opt for a white pair of bike shorts, but I just can't do it. I have tried and tried, and I just feel like they show a little too much. Ain't nobody got time for that! ha
DO YOU WEAR UNDERWEAR UNDER BIKER SHORTS?
A question I get A LOT when it comes to styling biker shorts. And the answer is: it's up to you!
Go commando! Heck – it might even be more comfortable. But if never go anywhere without undies, make sure you choose a pair with minimal lining for maximum comfort and minimal show. Because there is nothing worse than letting a pair of panties throw off your chic & stylish look.
Alright, now tell me…are you ready to rock a pair of bike shorts? If so, comment below about which biker shorts outfits you will rock first. Feel free to DM me on Instagram or comment below with any questions!