With everything going on right now, Father's Day has completely snuck up on me, and I am TOTALLY unprepared #sorryRyan. 2020 has been challenging (to say the least), but Ryan has been so beyond helpful and supportive. I honestly don't know what I would have done without him. From cooking meals to helping with the kids to keeping the house clean (so I could participate in 8 hours of Zoom calls a day), he deserves to be celebrated, as do all the dads in your lives as well. I have put together a Father's Day gift guide of the 13 gifts that I think Ryan would like the most. They vary across all different price points, and there's literally something for every dada out there. I have included a bunch of other gift ideas for all kinds of interests that your guy might enjoy. What is the man in your life asking for this year? Drop in the comments, so we can all get more ideas!
FITNESS-THEMED FATHER'S DAY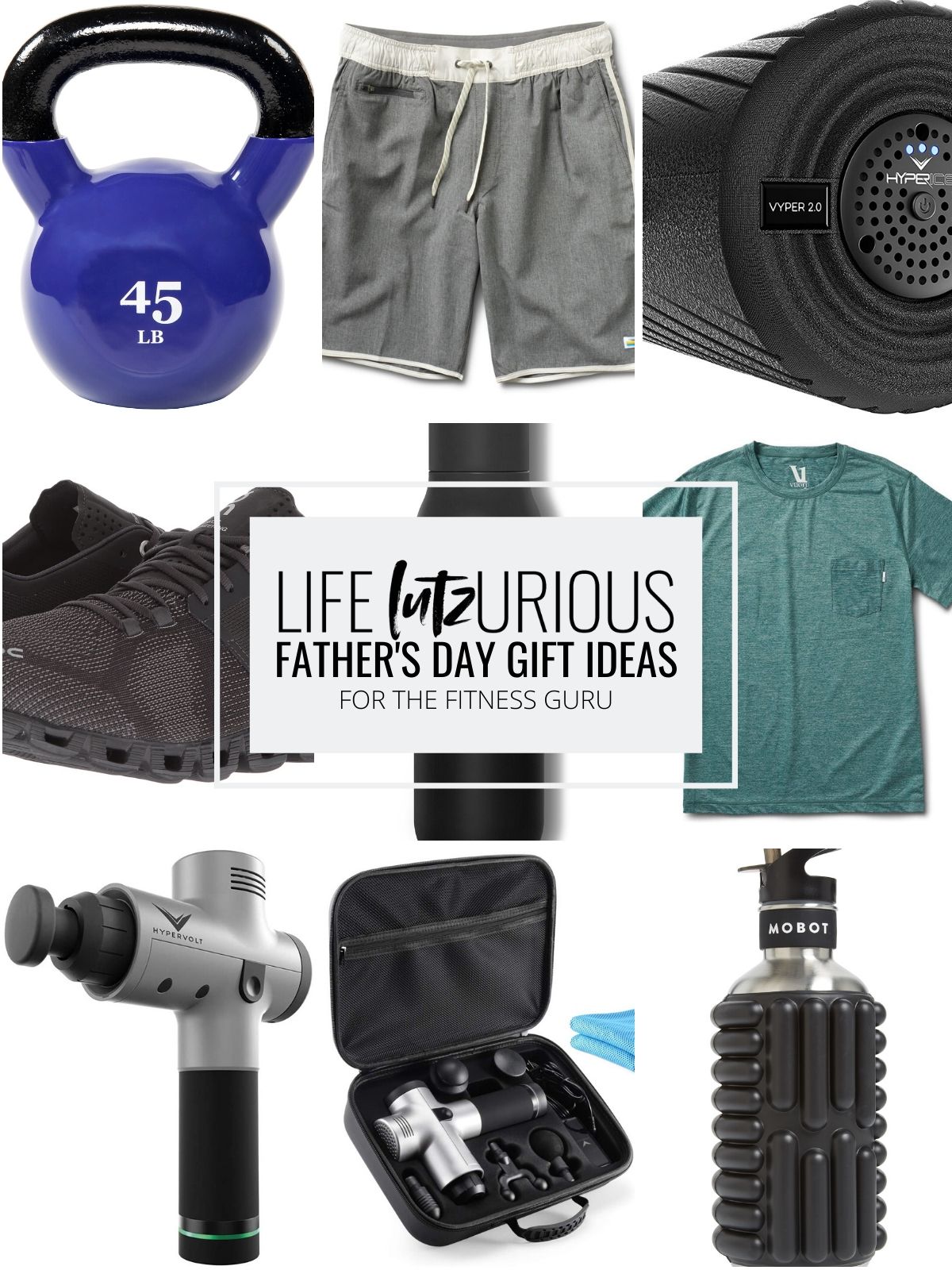 One item I HIGHLY recommend is this massage gun. Ryan (and all the guys at the gym) RAVE about this gadget. I also use it constantly. This is the brand one we own. It is actually $50 off and is guaranteed to arrive by Wednesday. You can also order the matching case to go with it, so he can take it to the gym, on a trip, to the office, etc. Here is a less expensive massage gun that gets great reviews as well.

I mention these below, but I definitely recommend these OnCloud running shoes. They come in several colorways and are perfect for urban running, HIIT/Crossfit workouts, or just running around town. We absolutely love ours and can't believe we waited so long to order a pair. Sizing tip: size up a half size, a whole size if his feet are wide. Ryan wears a 10.5 in Nike Metcons (HIGHLY RECOMMEND these as well) but wears an 11 in these. You could also purchase these workout shorts (Ryan's ride or dies), a kettlebell (I recommend 35-50lbs for men) for in-home workouts, this kettlebell exercise chart, and a water bottle with a foam roller attached for a fitness-themed Father's Day. I also LOVE this self-cleaning water bottle.

WINE-THEMED FATHER'S DAY
If your husband is a wine lover, I recommend the Coravin (on sale $60 off). He will LOVE it. It allows you to taste wines before opening or drink one glass and save the rest for later. That rarely happens in my house, but if you want white wine and your hubby is craving red, for example, you could use this device to pour a glass or two and keep the rest fresh for the next day. You could complete his gift with these insulated wine glasses to use by the pool or while grilling, a wine opener, and a set of Riedel stemless glasses.
If he loves to cook like Ryan, this Le Creuset cast iron skillet grill is mandatory, along with these silicone prep bowls and All clad measuring cups.

WHAT I AM GETTING RYAN
He has been wanting a nice Yeti cooler for awhile now. So, I am getting him this soft Yeti cooler and filling it with other goodies, including this carrying case for his massager, this vibrating foam roller, and a workout outfit from Vuori. He loves these shorts and these tops.

1 | 2 | 3 | 4 | 5 | 6 | 7 | 8 | 9 | 10 | 11 | 12 | 13
GIFTS FOR THE FOOD AND WINE LOVER

GIFTS FOR THE WELL-DRESSED MAN

GIFTS FOR THE MAN ON THE GO

GIFTS FOR THE GYM RAT

PIN IT!
Pin it to your favorite gift guide board for future reference!
1 | 2 | 3 | 4 | 5 | 6 | 7 | 8 | 9 | 10 | 11 | 12 | 13