---
How amazing has the weather been in Birmingham this week? We went from like 25 to 75 in no time. Lately, I have been OBSESSED with the Show Me Your Mumu Bam Bam pants. Like obsessed. So, I finally broke down and bought a pair this week. I had originally planned to wear them with my oversized cashmere sweater from Calypso St. Barth (post coming soon about this must-have). However, with our sudden turn to spring, I paired these cuties with my favorite denim button-up (another must-have). It's the perfect fall/spring/whatever you call this weather outfit. Of course my go-to sparkly boots were involved as well.
High-waisted pants were all over the Spring 2015 runways, and I could not be more excited. I know, I know…it's the 70's all over again. But they are flattering on EVERYONE. Bell bottoms, skinnies, you name it. They are hot. Pair with an oversized silk shirt or sweater to create the ultimate illusion. Your legs will look tiny. Trust me.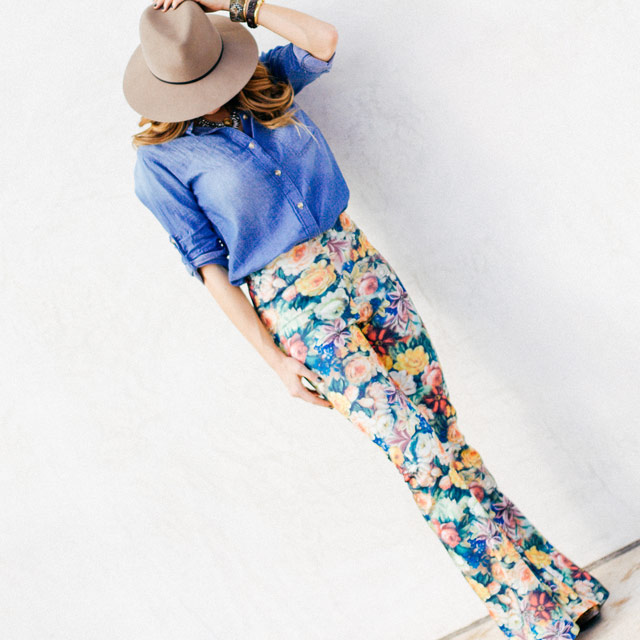 ---
I hope you all have an awesome week. It looks like we are heading back towards winter, but I can't wait to pair my Bam Bams with a huge sweater (yes, I will be a repeat offender). And of course my new favorite hat. Throughout the week, I will be posting several gift guides, including 2…let me repeat…2 giveaways. Make sure you stay tuned to my Instagram to enter. You will NOT want to miss these. Thanks for stopping by!! Oh, and let me know if you find an amazing pair of high-waisted bells!!
♥ always, LL
---
SHIRT Felicite (more options below ↓) • PANTS Show Me Your Mumu Bam Bam Bells • HAT Janessa Leone Lola • BOOTS Stuart Weitzman • Necklace Dannijo (HERE + HERE + HERE)
---
DENIM SHIRTS:
Current/Elliott The Perfect Denim Shirt • Current/Elliott • $198.00
Saint Laurent Denim Western Shirt • Saint Laurent • $690.00
Current/Elliott 'The Surplus Perfect Shirt' Denim Shirt • Current/Elliott • $218.00
Paige Denim 'Beckett' Shirt • Paige • $199.00
Treasure&Bond Destroyed Denim Shirt • $46.80
AG Adriano Goldschmied Dakota Denim Shirt • AG Adriano Goldschmied • $168.00
Current/Elliott 'The Prep School' Denim Shirt • Current/Elliott • $130.80
Topshop Moto Fitted Western Denim Shirt • Topshop • $64.00
Eileen Fisher Denim Shirt (Regular & Petite) • Eileen Fisher • $88.98
Eileen Fisher Long-Sleeve Denim Shirt • Eileen Fisher • $62.00