5 STYLING TIPS + FAST CARS + HOT FASHION
---

---
Last week I had the opportunity to partner with Tesla, The Summit, and Spark & Arrow Creative for an AMAZING day of fashion, fast cars, AND pops!  That's right…my day began with a delicious treat from Steel City Pops.  That was a definitely a perk of the shoot for this preggo.  Keep reading for my 5 Styling TIPS!
When they approached me about the shoot, I was super excited to not only get to drive the Tesla Model S but also have the honor of styling the shoot.  I immediately reached out to my good friend Brittany at Gus Mayer, and we went to town.  She and I have collaborated in the past when she was at Calypso, and let me tell ya…she rocks!  If you want to shop or pick her brain, go see her at Gus Mayer or call her at 205-870-3300 ext 130.  At first,  I have to admit, I was a little nervous…1) I am pregnant!  Will anything fit me?  Do they even went a preggo in their pictures?  2) Because of my INSANELY travel schedule, we had VERY limited time to get the shoot styled (I am talking a few hours), so it was crucial that we worked efficiently.  This definitely ended up being a positive though…I work much better under pressure. 3) This is TESLA!  The fashion MUST be as HOT as the cars!  I knew we wanted something high-end and striking but also comfortable. Shoes would be super important.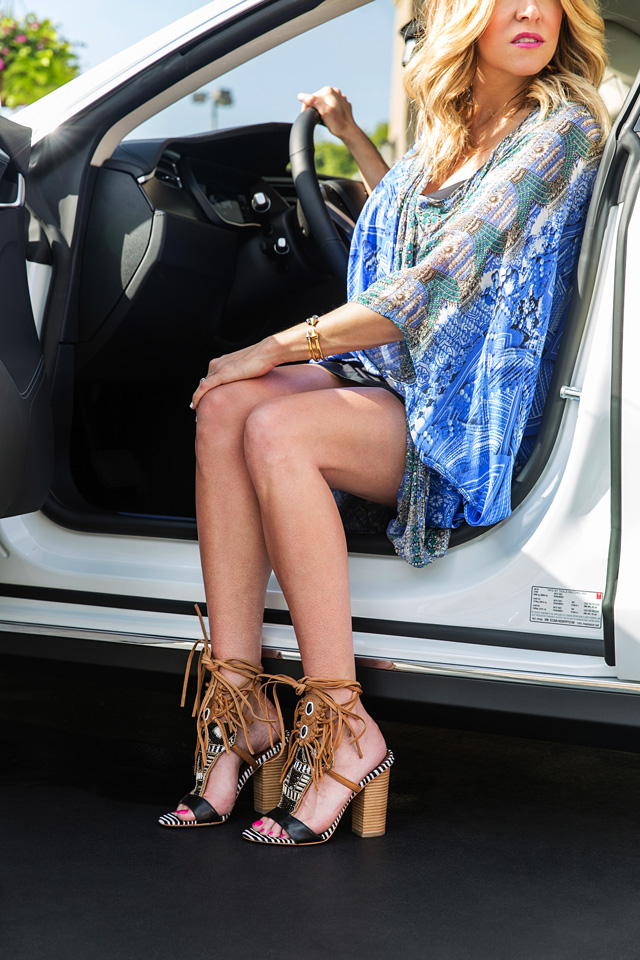 So, how did we style the shoot?  I was thinking of ways to turn this post into a HOW TO, and styling tips came to mind. How often are we faced with a last minute event, job interview, or date night and have NOTHING to wear?  I swear I have no room left in my closet but at the same time, nothing to wear. It's absurd.
Anyways, here are my tips to style your next date night or fancy event. Or even just a casual day in the park!
1) Make a plan.  This is so crucial!  A goal without a plan is just a wish, right?  Don't spend too much time or put a lot of detail into this. Simply take 2 minutes to brainstorm the vision of your outfit and must-haves.  For this shoot, I jotted down these thoughts:
Fabulous shoes
Flowy
Caftan
Shorts or skirt
High end
Simple, but striking accessories
Gold
Local items from the Summit
Bright colors
VISION: high fashion + touch of edge + local
2) Be flexible.  Ok, I know this has happened to y'all. You get an idea for an outfit stuck in your head, and nothing else will work.  Try keeping an open mind and be flexible. Let your creativity work FOR you, not against you.  Understand that you may have to make adjustments to your plan or even step out of your comfort zone.
3) Ask for help. Reach out to friends or a sales associate or look to bloggers for help. Communicate your expectations and MUST HAVES for the event and see what they come up with. Brittany and I were completely in sync, and it made the planning process so much easier.
4) Try stuff on and take pictures.  #selfie time!  At the store AND at home. If you are not purchasing anything new, try moving to a different room in your house to get a different perspective. You will be shocked at how different things look outside your usual environment.  Try different sizes as well…don't be a slave to your usual size. Things look different based on how they fit. Again, this goes back to being flexible. Try on and take pictures AGAIN the next day prior to the event. You will be shocked at how different things look on day 2.
5) Stay TRUE to YOURSELF.  It's ok to seek out inspiration from others but stay true to your own style.  Trends come and go, but YOU are the only thing that NO ONE else has. I have made this mistake many times. I get caught up on how an outfit looks on someone else and tend to get frustrated that I can't emulate it.  Be confident and rock YOU!
Thank you to GUS MAYER, THE SUMMIT, and TESLA for a fabulous day of fast cars + hot fashion. By the way, if you'd like to take a spin in this badass car, here's a link for a spot drive:
Also, follow The Summit Birmingham on Instagram for fun facts about the TESLA S.  My outfits and AH-MAZE shoes can all be purchased locally at Gus Mayer.  Follow them on Instagram HERE and their shoes HERE.   I have also linked everything up at the end of the post!
PS, that car is NO JOKE. I am currently trying to convince the hubs to spot drive one. Does anyone have any good negotiating/get what you went tips that I can use? 😉  We can trade styling tips for husband negotiating tips!
Happy Memorial Day Weekend!  If you have ANY questions or need help styling, feel free to email me at [email protected].
Unfortunately, I did not receive a free Tesla, but I was compensated for this post.  All opinions and styling are my own.
---
SHOP THE POST

---